Eighteen months ago Yemi Mobolade was a political newcomer who set out to become Colorado Springs' next mayor and break the status quo. On Tuesday night, he was poised to do just that — and was also on his way to making history as the city's first elected Black mayor.
Unofficial results released by the City Clerk's Office at 9:40 p.m. show Mobolade had about 57.5% of the vote, ahead of his opponent Wayne Williams in the race, who had 42.5%.
Colorado Springs runoff election: Mobolade headed to victory, Williams concedes
Mobolade's decisive victory represents a seismic political surprise in Colorado Springs, long known as a conservative stronghold. Though the city's municipal elections are nonpartisan, Mobolade, who is neither a Republican nor a Democrat, will be the first mayor not affiliated with the Republican party since Colorado Springs started electing mayors 45 years ago. He has promised a more "inclusive, culturally rich city."
"It's a new day in our beloved city. Do you believe that?" Mobolade asked a crowd of about 900 who had gathered to cheer him on at a watch party at the COS City Hub on Tuesday night. "Because I do. ... Colorado Springs will become an inclusive, culturally rich, economically prosperous, safe and vibrant city on a hill that shines brightly."
The last time a non-Republican candidate had a chance at the mayor's seat was in the city's first runoff election in 2011.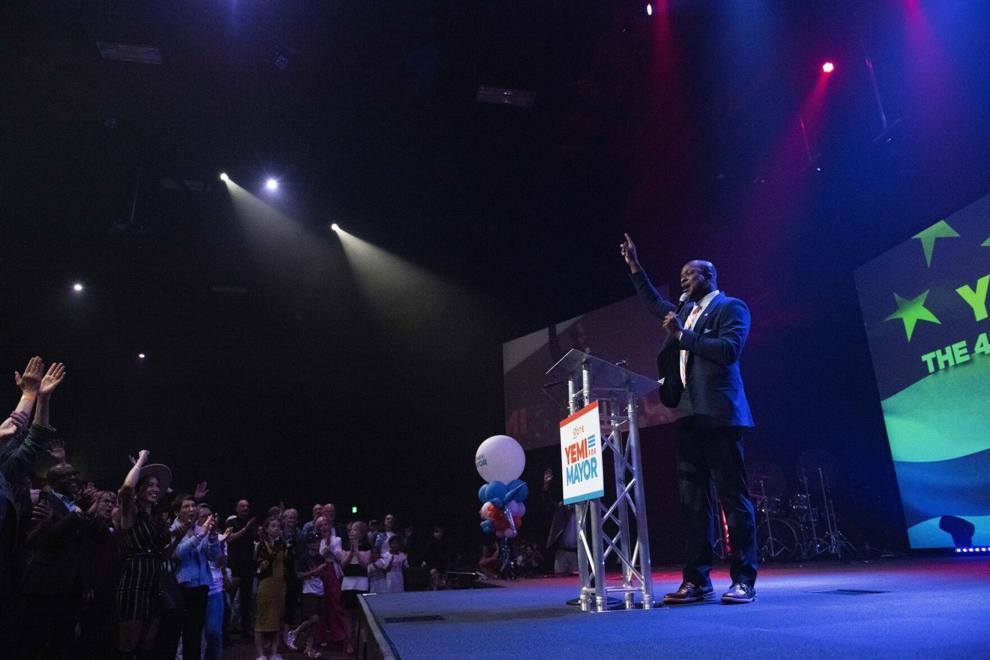 That year, Richard Skorman, a progressive who later went on to serve on the City Council, earned nearly 36% of the vote in the regular election. His opponent Steve Bach, a Republican, garnered just over 33% among eight candidates.
Later, in the runoff election, Bach soundly defeated Skorman. He took 57% of the vote to Skorman's almost 43%.
Mobolade, an immigrant born in Nigeria who first came to the United States in 1996, said the unofficial election results Tuesday night show that Colorado Springs voters are "hungry for a new type of leadership."
"The hunger is for a vision that transcends political party lines. The tiredness and frustration in our city and in our nation is around partisan divide and the fighting that happens," he said. "People are just ready for a new type of leadership that puts our quality of life ahead of party politics.
"This was always intended to be a nonpartisan election," he said. "...The city charter demands that a good mayor … needs to be nonpartisan. I'm glad that I could restore the spirit of the law that we should be abiding by."
Williams, a former Colorado Springs councilman, El Paso County commissioner, El Paso County clerk and recorder and Colorado secretary of state, said the city is moving in a different direction politically.
"It's clear Colorado Springs is less conservative than it used to be. When I was chairman here (of the El Paso County Republican Party) we had no Democratic state reps. Now we have three," Williams said. "So there are significant changes that have taken place and I congratulate Yemi on an excellent campaign."
Mobolade recently said making local history as the first Black mayor elected by Colorado Springs voters is an opportunity he sees for more inclusivity.
Leon Young served as the city's first Black mayor, stepping in as interim mayor in 1997 after former Mayor Bob Isaac retired early and resigned from the seat. Young was first elected to the City Council in 1973 and appointed vice mayor in 1981, a position he served in until 1997. After serving for a short time as mayor, Young continued to serve on the City Council until he died in 2001.
"I'm aware I am a Black leader and that tells a story," Mobolade told a Gazette reporter one recent Friday night ahead of Tuesday's election. "I hope the story it tells is that Colorado Springs is an inclusive city, that it's a new day for our city. ... Young African American kids have said they're excited to see someone who looks like them running for this office. I hope to inspire the next generation of minority leaders to do great things in this city, as well."
Denise Larzo, who wore a "Yemi for Mayor" sticker, said Tuesday night she's excited about the change she believes Mobolade can bring to the mayor's office.
"As a Black woman, I am incredibly proud," she said of Mobolade's yet unofficial victory. "It empowers little Black girls and little Black boys to know they can achieve their heart's desire. He is breaking the status quo. He's an (unaffiliated candidate) and that's why he is the people's mayor."
Mobolade will step into the mayor's office at a critical time, residents and local politicos have said in recent months. He will need to work with the City Council to make key decisions about growth, housing affordability, water availability, public safety, parks, transit and investment in roads and economic development.
In a speech punctuated by cheers from the crowd, Mobolade promised to "get to work" addressing public safety, homelessness, infrastructure, and affordable and attainable housing — promises he's made over the last 18 months on the campaign trail.
Tammy Maltby Melchisedeck,  a self-described conservative Republican who also sported a "Yemi for Mayor" sticker, said Mobolade was her preferred candidate because she felt he has the ability to unify people.
"Yemi is a bridger," she said. "... He leads with integrity. He's the American Dream story. He's somebody that overcame adversity. He's somebody that understands adversity and what it takes to rise above."
Around 7:30 p.m., Williams conceded the race to Mobolade.
"It was not a phone call you'd like to make as a candidate, but it was the right thing to do," Williams told a crowd of around 100 supporters at his watch party across town at The Pinery at the Hill. "Our city needs to go forward. I know a number of members of City Council are or have been here. I urge you to work with their next mayor to continue the progress we've been making."
Mobolade is Colorado Springs' former Small Business Development administrator, the Colorado Springs Chamber & EDC's former vice president of business retention and co-founder of café-style eateries Good Neighbors Meeting House and The Wild Goose Meeting House, as well as business consultant company Niche Coaching and Consulting. Mobolade served as a ministry leader at First Presbyterian Church of Colorado Springs, then later co-founded the nonprofit COSILoveYou and the CityServe Day movement that united more than 100 churches in service to the community.
Mobolade told reporters the first thing he plans to do after being sworn in on June 6 is to meet with city department heads and decide how to lead over the next four years.
"We will cast a vision for a great city and cast a vision for how we're going to work for our taxpayers," he said.
The Gazette's Brooke Nevins and Colorado Politics' Ernest Luning contributed to this report.