As anyone associated with History Colorado, CiviCO, and their new gallery is intimately aware, knowing the history of our state is important. Where we came from – and, most importantly, who we come from – is indispensable for knowing who we are and charting the course for where we are headed. And that knowledge is often best shared through the stories of the people who got us here.
CiviCO, Colorado's premier leadership development organization, is opening the new Owens Hickenlooper Leadership gallery, eponymously named for former Govs. Bill Owens and John Hickenlooper, at the History Colorado Center on Oct. 19.
The inaugural exhibit is designed to bring Colorado's story to life by featuring those individuals whose own stories make up the fabric of the Centennial State.
"What's Your Story", the exhibit that will launch the new gallery, seeks to connect visitors with dozens of the people who, in ways large and small built Colorado into the state it is today. Deliberately breaking the rules of a typical museum exhibit, "What's Your Story" presents Colorado's history in a relatable, interactive and inspiring way that is relatable to young people.
The 2,000 square foot space features a variety of multi-media displays, including digital poster creation stations, Buzzfeed-style quizzes, and a photo booth. Visitors get to meet 101 Coloradans whose personal journeys have made a contribution to the state. Those stories are told in a way that allows the exhibit-goer to not simply learn what happened, or how that person did, but also why they did it – even how the historical leader may have felt as they overcame the odds and did the impossible.
Both the subject matter and the interactive manner in which it is presented is geared toward middle- and high-school students, the aim being to connect Colorado's youth to those who came before them, in a way that is relatable, fun and ultimately a call to action.
CiviCO, and others involved with the exhibit realize the importance of creating a lasting bond between the state's next generation of civic, business and academic leaders and those of the previous generations.
Owens, for whom the new gallery is in part named for, expressed his own enthusiasm for the project and the devotion he shares with his fellow former governors for the gallery's mission: "It is an honor to be a part of this endeavor, and to lend my name and my unflinching support to the gallery and the work it will accomplish in promoting the true spirit of public service in Colorado," he said. "It cannot be overstated how important it is to instill, in our young people especially, that sense of who we are as a state and a people, and how important public service is to maintain that sense of community."
CiviCO's chairman Ryan Heckman elaborates, "Colorado's unique values are the secret sauce, and we wanted to honor these values with a special place to inspire future generations to go big and carry the torch."
Heckman continues, "Governors Owens and Hickenlooper embody our state's rich history of progress and citizenship, and we wanted to promote these virtues boldly in their name."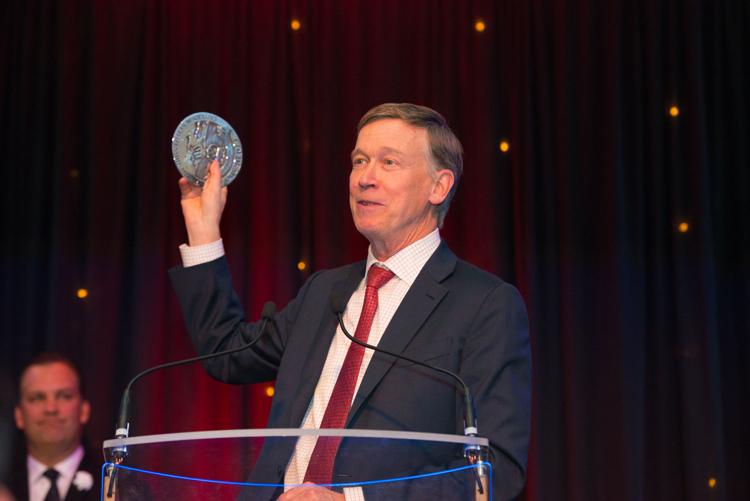 "What's Your Story? empowers visitors to see themselves alongside generations of Coloradans who have made an impact in communities throughout the state and across the nation," said Julie Peterson, public historian and exhibit developer. "Visitors will connect with others — from engineers to social justice advocates, from outdoor enthusiasts to public servants — who care about the same things that they do, and maybe share their superpower."
"Superpower" you ask? Throughout the exhibit, What's Your Story focuses on highlighting seven personal qualities – equated to superpowers – shared among the people whose stories are on display. These are courage, creativity, curiosity, determination, empathy, passion and resilience. Considering how each of those qualities was exhibited by the remarkable individuals featured, it becomes clearer how the connection to "superpower" was made.
Among the more than 100 compelling objects featured in the exhibit are a prototype for testing lead in drinking water developed by Gitanjali Rao, created when she was only eleven years old; the shoes worn by Tommy Caldwell when he completed the first free ascent of the Dawn Wall in Yosemite National Park, described as the hardest successful rock climb in history when it was accomplished in 2015; and a letter dating from 1894, written by women's rights activist Susan B. Anthony celebrating Colorado's extension of voting rights to women — approved by a state popular referendum more than 25 years before the ratification of the 19th Amendment to the U.S. Constitution.
Other prominent and influential Coloradans among the 101 featured in What's Your Story include Sen. Casimiro Barela, conductor Antonia Brico, preservationist Dana Crawford, musician John Denver, youth leader Juan Franco, Olympic swimmer Missy Franklin, Judge Ben Lindsey, artist Emanuel Martinez, Denver Mayor Federico Peña, astronaut Jack Swigert, and mountaineer Agnes Vaille.
Such a civically important and ambitious undertaking as the What's Your Story exhibit could only be made possible with the generous leadership and support of an organization like CivicCO.
Founded in 1999 as the leadership networking group Quarterly Forum, one of whose founding visionaries was none other than Hickenlooper, CiviCO has grown over the past five years under the stewardship of its Chairman, Ryan Heckman, to become a national model for non-partisan civic engagement. CiviCO runs a variety of leadership development programs, all focused on the confluence of personal, professional and civic development.
CiviCO also established, with the support of the current and all living former governors, the Governor's Citizenship Medal, modeled after the Presidential Medal of Freedom. Every year, since its creation in 2015, five of the medals are awarded, on a non-partisan basis, to exceptional Colorado leaders. The 2019 medals will be presented by CiviCO and Governor Jared Polis at the History Colorado Center on Saturday, October 12 and the winners will be featured in the museum exhibit.
As Heckman expresses, "Civico's mission is to develop Colorado's best leaders for Colorado's best future. The Owens-Hickenlooper Leadership Gallery will support the aspirations of young leaders to be the best versions of themselves."
This was the spirit in which both the Owens Hickenlooper Leadership Gallery, located on the fourth floor of the History Colorado Center, and its inaugural exhibit, What's Your Story were created. Like CiviCO's other programs and initiatives, this exhibit seeks to provide something of a respite from the often-toxic hyper-partisanship that seems to coat much of civic discourse these days. CiviCO, History Colorado, and their members and partners are offering and dedicating this new gallery and exhibit to Colorado middle and high- schoolers – and anyone else with an interest in discovering who we are as a state and who they can become in the future.