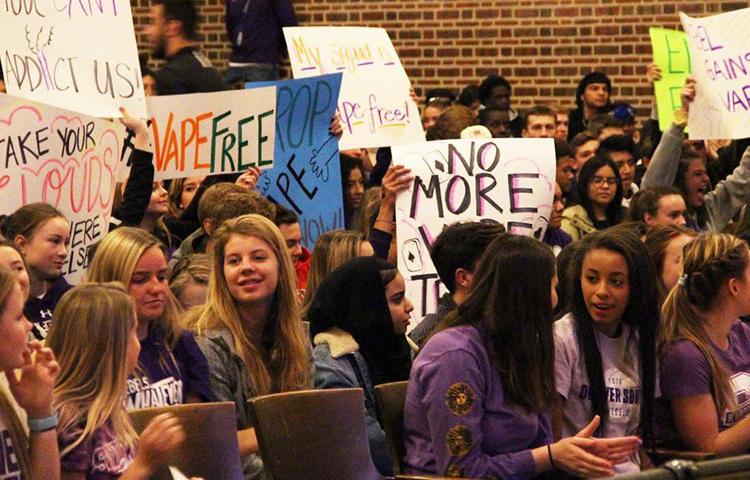 Colorado leads the nation in many things. Fourteeners. Sunny days. Colorado is the healthiest state in the nation in many ways. But now, Colorado has a distinction none of us can be proud of: Our young people putting their health at risk by vaping nicotine.
In 2017, the Centers for Disease Control and Prevention (CDC) Youth Risk Behavior Survey showed Colorado had the highest prevalence of teen vaping among 37 states surveyed, with more than one in four high school students reporting they had vaped in the last month. This aligns with results from the Healthy Kids Colorado Survey, which shows that vaping rates are not only very high among Colorado youth, but that vaping might be an indicator for other high-risk behaviors.
According to this survey, teens who vape are more likely to binge drink, use marijuana, use prescription pain medicines that were not prescribed to them and have sex with one or more partners.
Why are so many teens vaping? High school smoking has declined consistently in Colorado for over a decade. Today, only 7 percent of high school students report smoking cigarettes. That means our policies and tobacco control efforts are working. But the tobacco industry has developed a new way to hook an entire generation on nicotine — through vape products. And these products aren't regulated as closely as cigarettes.
Recent research from the CDC showed that eight in 10 middle and high school kids nationwide saw advertising for vape products. In convenience stores, online and on TV, our kids are learning to associate vaping with being cool and having fun — images they see in vape advertising. Many don't realize these products almost always contain nicotine, the same substance that makes cigarettes addictive.
Evidence shows nicotine is not safe when used in adolescence. Youth who vape are at risk for nicotine addiction, mood disorders, impulse control, attention and learning issues. Plus, teens who vape are more likely to start smoking cigarettes or cigars, products that kill up to half of their lifetime users.
Kids may also get the impression that vape products are less harmful because they're sold in candy and fruit flavors, like cotton candy, mango and gummy bear. The vape industry claims these flavors are instrumental in getting adult smokers to switch to vaping, but flavors have long hooked kids on tobacco.
In Colorado, while 27 percent of kids vape, less than 5 percent of adults do. The Food and Drug Administration has taken notice of this disturbing trend, announcing plans to restrict the sale of flavored e-products in convenience stores.
Colorado can do better. Parents can start by talking with their kids about vaping. Find out how at tobaccofreeco.org. And be sure to have vapor-free rules for homes and cars.
Schools can educate kids about vape and promote and enforce the tobacco-free policy, using in-school alternatives to suspension such as Second Chance for youth who violate the policy.
Policymakers can ensure that vape products are regulated similarly to other tobacco products. Vape products are not taxed in Colorado, which means they may be cheaper than cigarettes. They're also not included in statewide smoke-free laws, which may reinforce the perception that vaping is safe.
Health care providers can screen all youth for vape use and refer them to treatment, including free coaching offered for anyone age 12 and older through the Colorado QuitLine. They can also screen and counsel for other high-risk behaviors associated with vaping (including drinking, drugs, and risky sexual behaviors), if a teen reports vaping.
By taking the actions above, we can prevent vaping from becoming a social norm, the way smoking was in the 1960s. Together, we can reverse the epidemic of teen nicotine addiction.
Tista Ghosh is the acting chief medical officer for the Colorado Department of Public Health and Environment.