Democratic U.S. Senate candidate Dan Baer targeted fans of "Pod Save America" on Wednesday during a live taping of the popular political podcast with a series of parody ads poking fun at the show's regular advertisers, his campaign said.
The show's hosts — Crooked Media's Jon Favreau, Dan Pfeiffer, Jon Lovett and Tommy Vietor, all former Obama administration speech writers and press aides — talked politics Wednesday night at the Bellco Theater inside the Colorado Convention Center in Denver.
The Baer campaign used a technique called geofencing to deliver the ads within a small geographic region around the Bellco Theater on social media platforms Facebook, Instagram and Twitter, his campaign manager said.
"Dan is taking a novel, humorous approach to an audience that will recognize the sponsors and the signature 'Pod Save America' ad style he's riffing on," said Baer's campaign manager, Justin Lamorte.
Instead of ads for job-search site Zip Recruiter, meal-delivery service Blue Apron and clothiers Stitch Fix, for instance, Baer's ads tout "Flip Recruiter," "New Apron" and "MitchFix," respectively.
"Do you have a Mitch McConnell problem?" reads one of the parody ads. "With MitchFix, our stylists will match you with a public servant who can defeat Cory Gardner to take back the Senate and oust McConnell. Upgrade your Senator with someone who fits your style."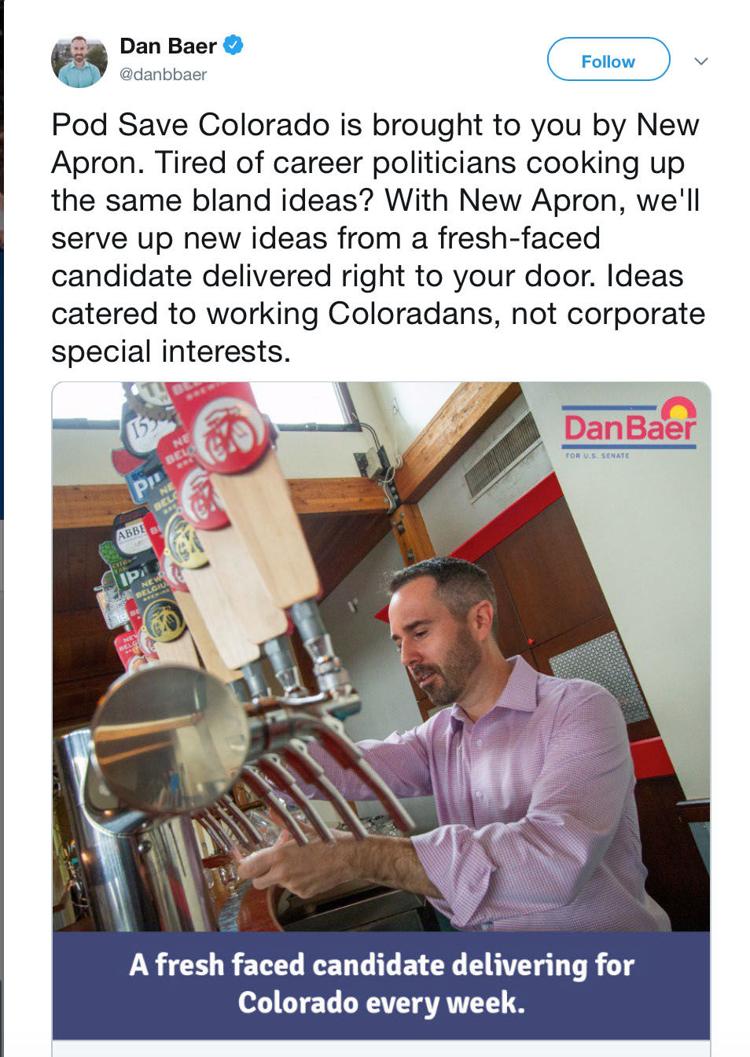 Vietor told Colorado Politics ahead of the show that the hosts planned to discuss Cory Gardner, the Colorado Republican running for a second term next year.
Baer is one of 10 Democrats running in a primary for the chance to challenge Gardner.