The average Colorado home now costs 77% more than a decade ago, but median income has only gone up by 4.5%.
This discrepancy is affecting both the mental and physical health of Colorado residents, a new report by the Colorado Health Institute says.
The study confirms what experts have been saying for some time — that the lack of affordable housing in Colorado leads to greater household issues. For one, housing instability can place strain on families by forcing them to choose between providing food, health care or housing, the study contends.
"As housing becomes more and more unaffordable or takes up a greater proportion of an individual or household budget, people often end up having to make really impossible choices or trade-offs between what we pay for," said Kyle Legleiter, senior director of policy advocacy for the Denver-based Colorado Health Foundation, to Colorado Politics last month.
When less housing is available, rents increase, which forces frequent moves and can lead to homelessness. People who experience chronic homelessness live 30 years less, on average, than other Americans, according to the report. 
For those who do find housing, they might end up sacrificing high-quality houses and taking what they can find in neighborhoods with more crime as well as less access to transportation, medical offices and jobs.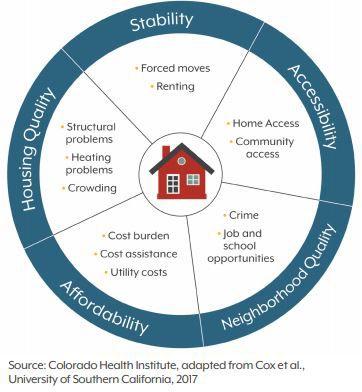 These issues affect communities of color more substantially than others, according to the report. While 26% of white Coloradans spend more than 30% of their income on housing, 39% of African Americans are equally cost burdened. Additionally, Denver has the second-highest rate of involuntary displacement of Hispanic residents in the nation.
"The good news is that across Colorado, people are working to build a more equitable system that will allow everyone to have a stable home, which in turn provides the foundation for good health," the report continues.
The report highlights 11 ideas for Colorado to adopt that could improve the current housing market:
convert manufactured home parks into resident-owned communities.
promote medical-legal partnerships.
prohibit source-of-income discrimination to expand the supply of affordable housing to voucher holders.
certify health workers to do building inspections to ensure the safety and quality of homes. 
incentivize the conversion of short-term rentals into affordable long-term rentals in resort communities.
give priority for affordable housing to qualified applicants from the neighborhood where the project is being built.
develop an investment fund to preserve naturally occurring affordable housing for Coloradans.
inform the distribution of Colorado's housing trust fund dollars.
create a tax rebate or credit for lower-income renters.
create "right to counsel" for tenants in housing cases.
support permanent supportive housing options.
"Now is the time to take steps to create a system where all Coloradans, including people of color, low-income people, immigrant communities, rural communities, families with children, and people with disabilities, have access to and can benefit from affordable, safe, and sustainable housing," the report concludes.