Have Colorado Gov. Jared Polis' signature blue sneakers been replaced — for good?
It seems possible, according to a Wednesday tweet from the tech entrepreneur-turned-politician, who posted an animated graphic of his dancing feet clad in Colorado flag-themed tennis shoes with red laces.
"How cool are these?!" the governor tweeted. "I'm loving my new Colorado shoes I got today!"
He did not state how frequently he plans to wear them, or if these shoes will replace the blue shoes he's become famous for sporting — so famous, in fact, that even out of state press like the Kansas City Star reported on them.
Polis' signature footwear, which he sported with regularity on the campaign train and through his inaugural ball — aptly dubbed the Blue Sneaker Inaugural Ball Celebration — have served as a light-hearted curiosity.
Opponents, who likely disagree with the governor on more than wardrobe, charge they're too informal, while fans argue that they're fashionable yet accessible.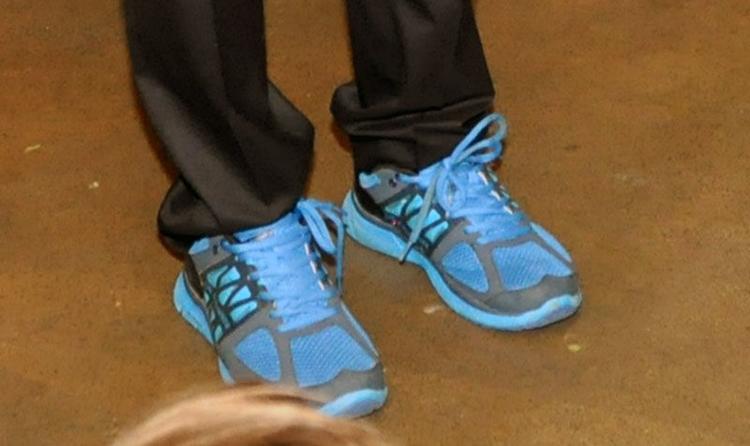 Others, like the journos at GQ, argue that Polis is simply poorly dressed in general — or was, at least, until a wardrobe upgrade several years ago. ("The dude was wearing a purple golf polo with a bow tie underneath a suit jacket," GQ's John Jannuzzi wrote in 2015, when Polis was a congressman. "It was an assault to America's eyes, a slap in the face of Lady Liberty, and a downright disgrace.")
A CoPo staff discussion this morning highlighted this insider tidbit, calling into question the governor's loyalty to those cerulean kicks:
He doesn't always wear them.
"I did notice when I saw him Tuesday that he wasn't wearing blue sneakers," our Marianne Goodland contributed, later admitting that she doesn't always pay attention to his feet. (It would be weird if she did, right?)
"He's been wearing other colors of sneakers for a while," the astute Ernest Luning noted. "The blue might have been a campaign thing." (He later pointed out that Polis wore tan sneakers at the recent Western Governors' Association meeting in Vail.)
As the incomparable Joey Bunch surmised: "Those were his campaigning sneakers. These are his governing sneakers."
Well said, Joey. Well said.
Are the lovable themed loafers here to stay? CoPo reached out to Polis press secretary Conor Cahill and asked the question we're all dying to know: 
Will he be sporting the new footgear regularly or intermittently?
"Pretty regularly — they have a lot of blue," Cahill said via email.
"These new sneakers are wonderful and promote Colorado in a unique way, but no shoe could truly replace the governor's blue sneakers."
The shoes were produced by Altra for the BOLDERBoulder 10k, he added.
In a sad turn of events, there's no sign of the shoes on Altra's website — or eBay, for that matter.
Polis isn't the only Colorado governor with fancy taste in footwear.
Remember these gems, from brewpub owner-turned-guv-turned-presidential-contender John Hickenlooper?