NEVADA
State wants feds to restudy seismic risk at nuke dump site
LAS VEGAS — Nevada's governor and congressional delegation are pointing to recent earthquakes in the California desert and calling for the U.S. Energy Department to look again at seismic risks of burying the nation's most radioactive nuclear waste at a site in the Mojave Desert.
In a letter, Democratic Gov. Steve Sisolak told Energy Secretary Rick Perry that 6.4 and 7.1 magnitude quakes during the July Fourth holiday near Ridgecrest, California, underscore safety concerns that Nevada first raised about Yucca Mountain in 2008.
Sisolak said the state is resolved "to fight any continued federal effort to use Nevada as the nation's nuclear dumping ground."
Ridgecrest is 108 miles west of Yucca Mountain, an ancient volcanic ridge at the western edge of the Nevada National Security Site. The site is a vast secure federal reservation some 90 miles northwest of Las Vegas where the U.S. used to conduct nuclear weapons tests.
Sisolak's letter also was signed by U.S. Sens. Catherine Cortez Masto and Jacky Rosen and Reps. Dina Titus, Steven Horsford and Susie Lee, all Democrats, as well as Rep. Mark Amodei, a Republican.
The government in 1982 began studying Yucca Mountain as a remote and secure repository for spent nuclear reactor fuel currently stored at 121 above-ground sites in 35 states. The site was designated by Congress in 2002 as the only site in the nation to receive the material.
But the project was shelved in 2010 under pressure from then-Senate Democratic Majority Leader Harry Reid of Nevada and President Barack Obama. They said nuclear waste should be stored in a state that wants it.
Nevada began arguing 11 years ago that Energy Department studies improperly downplayed the risk of earthquakes damaging a repository and releasing deadly radioactivity.
MONTANA
Judge recommends $14M award to neo-Nazi trolling victim
HELENA — The publisher of a neo-Nazi website should have to pay the victim of an internet trolling campaign over $14 million and remove all posts that encouraged his readers to contact the Montana real estate agent, a magistrate judge recommended.
U.S. Magistrate Judge Jeremiah Lynch called The Daily Stormer publisher Andrew Anglin's behavior reprehensible and atrocious in telling his internet followers to unleash a "troll storm" on Tanya Gersh, her husband and her 12-year-old son in 2016.
The magistrate judge's findings and recommendations must be approved by a U.S. district judge to take effect.
Gersh, whom Anglin accused of trying to run white nationalist Richard Spencer's mother out of the mountain resort community of Whitefish, said her family received hundreds of threatening, harassing and anti-Semitic messages.
She sued Anglin, who argued unsuccessfully through his attorneys that his writings were protected by the First Amendment.
Anglin, who lives outside the U.S., was found in default when he didn't show up for a deposition scheduled in April.
Lynch said the court should issue a permanent injunction ordering Anglin to remove the posts and photos because "the atrocious conduct directed at Gersh and her family has not entirely abated," the magistrate wrote.
Even if the federal judge approves Lynch's recommendations, it's questionable whether Gersh will see a dime if Anglin remains outside the reach of U.S. authorities.
Gersh said in a statement that Lynch's recommendation is a clear message to extremists that nobody should be terrorized for simply being who they are.
UTAH
Lad advertises 'Ice Cold Beer' at root beer stand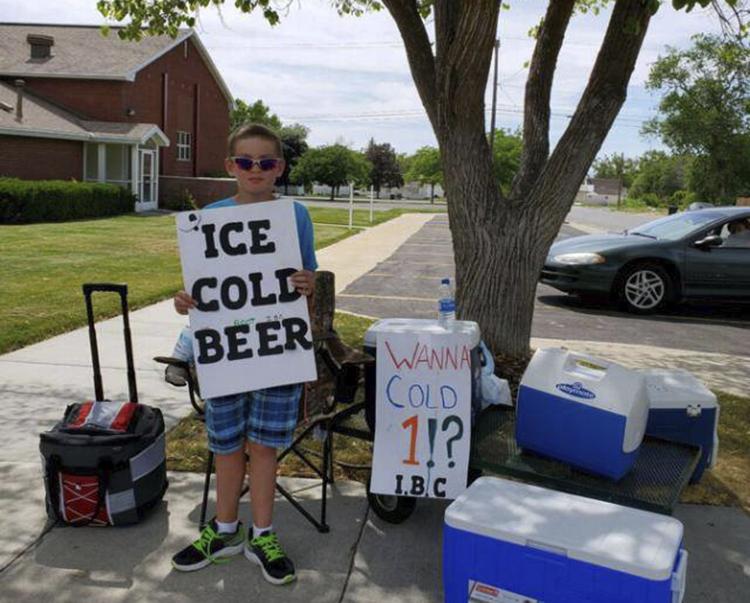 SALT LAKE CITY — A Utah boy has earned widespread social media attention for his neighborhood soda stand thanks to a sign he holds that reads "Ice Cold Beer" with "root" above the word beer in tiny print.
Several residents in the northern Utah city called police concerned about a young boy selling alcohol in front of a church, said Brigham City Police Lt. Tony Ferderber.
Officers who went to check it out realized that it was just a clever marketing ploy and posted pictures of 11-year-old Seth Parker on Facebook with the comment, "a twist on a lemonade stand."
U.S. Sen. Mitt Romney, Republican of Utah, tweeted a picture of Seth with the comment, "A lesson in reading the fine print! The future is bright for this young Utah entrepreneur."
Seth's mother Alexis Parker said the family is dumbfounded and excited by all the attention. She estimated that some 60 people a day come to the stand.
Seth decided to sell the soda because he is a root beer "fanatic," she said. He chose the sign with the tiny print as a little "wise crack."
The first day brought some scoffs and scowls, especially for people without good vision, she said, but people soon caught on to the joke.
NEW MEXICO
Senate seat passes to granddaughter of Navajo code talker
SANTA FE — The granddaughter of the late World War II Navajo code talker and state legislator John Pinto will serve out the remainder of his term in the state Senate through 2020, New Mexico's governor announced.
Navajo Nation member and educator Shannon Pinto was appointed by Democratic Gov. Michelle Lujan Grisham to represent a district that extends from the Four Corners to Gallup.
John Pinto died in May at the age of 94 after serving over four decades in the Legislature.
He voted this year in favor of a successful bill to expand background checks on gun sales and was a supporter of abortion rights.
In a news release, Shannon Pinto said she will fight as a senator for common sense gun violence prevention measures and be "a champion for efforts that support women and their personal health care decisions."
Shannon Pinto has worked as a middle and high school math teacher in the town of Tohatchi.
SOUTH DAKOTA
Nebraska woman arrested, fined for climbing Mount Rushmore
RAPID CITY — A Nebraska woman has been fined $1,000 for climbing the Mount Rushmore National Memorial in South Dakota.
Authorities say Alexandria Incontro scaled the massive granite sculpture July 12 with bare feet and no rope, making it to about 15 feet from the top.
The Rapid City Journal says Incontro chose a route between George Washington and Thomas Jefferson, whose faces are about 60 feet tall. Several signs at the popular tourist destination warn against trespassing on or climbing the sculpture, which was completed in 1941.
A federal officer and national park ranger convinced Incontro to come down, and she was handcuffed and arrested.
Incontro, from Omaha, appeared July 15 in Rapid City federal court, where she pleaded guilty to climbing the monument. Three other charges were dropped.