Denver's overall revenue increased by $239 million in 2018, says the city's Comprehensive Annual Financial Report, released Friday.
The city credits economic growth, increased tax revenues and incoming money to build the National Western Center.
The report outlines Denver's current financial situation, including how the city gathers and uses tax revenue.
"Denver residents have entrusted us to invest taxpayer dollars into the efficient delivery of critical city services using sound financial management practices," said city Chief Financial Officer Brendan Hanlon. "I hope each resident uses the reports to learn more about how the city's financial management helps shape our community."
Sales and use taxes went up 6.1% from 2017 and made up 52% of all tax revenue.

Property taxes contributed 32% of tax revenue, 69% of which went to Denver Public Schools.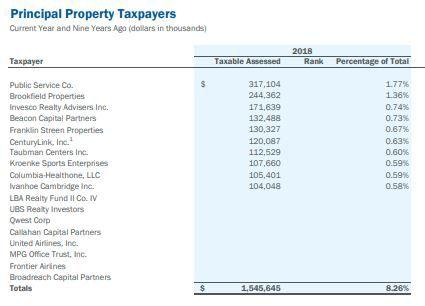 The city expanded its operations accordingly, with governmental activity expenses increasing by $51.5 million, going to more services and covering increased costs of goods and pension expenses.
The city worked in 2018 to advance goals on affordable housing, transportation, climate change and public health, Mayor Michael Hancock said in the report.
"Denver is truly a city on the rise," he said in the report. "Our residents are the city's greatest strength, and these strategic investments are aimed to benefit the people of Denver, furthering the trajectory of this great city."