JEFFERSON COUNTY
Officials abandon idea of demolishing Columbine High School
The Jefferson County School District, trying to stop people obsessed with the shooting at Columbine High School, nevertheless now says it won't demolish the building as a way to deter intruders.
Jeffco Public Schools Superintendent Jason Glass said that a community survey on what to do about the high school in suburban Denver showed mixed reaction to knocking it down.
The online survey assessed community support for a ballot measure earmarking $60 million to $70 million for a Columbine construction project. Roughly 57% of 6,962 respondents said they felt negatively about the proposal and 60% said they would likely vote against a bond measure.
The district had floated Columbine's demolition because of what Glass called its "inspiration" for people with a dark interest in the 1999 shooting that killed 12 students and a teacher.
Officials cited a constant presence of people trying to enter the building or being on the grounds without authorization, including a record number this year on the 20th anniversary of the shooting. This year, security staff contacted more than 2,400 "unauthorized" people on Columbine's campus.
In April, a Florida teenager who authorities say was obsessed with the shooting and may have been planning an attack in Colorado just ahead of the 20th anniversary was found dead in an apparent suicide.
A search for the teen prompted officials to close public schools throughout the Denver area.
Glass said Wednesday that the district will create a better-defined perimeter around the school to deter intruders and increase student privacy, among other measures.
THE ASSOCIATED PRESS
PAONIA
Activist wins again in retaliatory-speech lawsuit
A court has rejected another attempt by a Texas energy firm to punish an environmental activist for exercising his free speech rights.
A three-judge panel of the Colorado Court of Appeals on July 25 denied a petition by SGI Interests to have the full court consider complaint against Paonia resident Pete Kolbenschlag.
SGI sued Kolbenschlag for libel in 2017 after he posted comments about its activities on public lands on the website of the Glenwood Springs Post Independent.
In June, the appeals panel upheld a lower court's dismissal of the complaint as frivolous.
The appeals court, in addition to denying SGI's bid to have the full court rehear the case, published its previously unpublished its June ruling to add to legal precedent.
The case helped lead to a new Colorado law to protect citizens from so-called "SLAPP" lawsuits (Strategic Lawsuit Against Public Participation) intended to stifle their First Amendment rights.
GRAND JUNCTION DAILY SENTINEL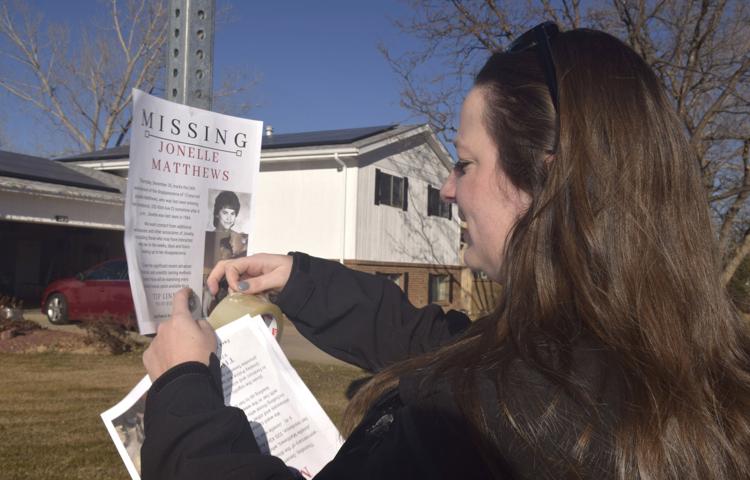 GREELEY
Remains ID'd as those of girl missing 34 years
The disappearance of 12-year-old Jonelle Matthews shortly after singing "Jingle Bells" with classmates at a 1984 Christmas concert stunned Greeley. Her case attracted the attention of the White House, and came at a time when the faces of missing children across the nation were being placed on milk cartons.
On July 25, police announced that human remains found by construction workers were that of the little girl who would have been 47 now, answering one question that has haunted police and others for decades but reigniting a gnawing mystery of what exactly led to her demise.
Jonelle, a member of the Franklin Middle School Honor Choir, stood on a garland-adorned staircase during the concert. She was a 7th grader, active at the Sunny View Church of the Nazarene.
After the concert, Jonelle was taken home by a friend and the friend's father.
She was last seen at 8 p.m. on Dec. 20, 1984, entering her family's simple ranch-style home with a detached garage, the front yard blanketed by snow. No one was ever arrested. Jonelle lived with her father, Jim, her mother, Gloria, and a sister, Jennifer.
Months later, the lack of answers surrounding the case of Jonelle and other missing children was taken up by then-President Ronald Reagan, whose administration helped open a national center for missing children that ran a toll-free hotline. More than 1 million children disappeared each year, Reagan said, urging members of the National Newspaper Association to publish pictures of the nation's missing children as a "mission of mercy."
Tuesday's discovery near Jonelle's hometown of Greeley was the first significant development since police announced last December — on the 34th anniversary of her disappearance — that they were ramping up their investigation and hoped to use modern technology to solve it.
Workers were constructing a new pipeline along a rural route southeast of Greeley when they discovered bones. Weld County Sheriff Steve Reams said his deputies were treating the case as a homicide investigation.
THE ASSOCIATED PRESS
FRASER
Town sued over 'unconstitutional' sign restrictions
The Grand County town of Freser is being sued after prohibiting residents from displaying political signs on their property.
The American Civil Liberties Union filed a lawsuit against Fraser's sign codes.
Authorities say Melinda McWilliams and Alan Jensen posted eight displays in Jensen's front yard in January 2017 protesting President Donald Trump and calling for climate change action.
The ACLU says Town Manager Jeffrey Durbin warned the pair in September 2018, saying they could face fines and jail time for violating the sign codes if the displays were not removed.
ACLU officials say the permit restricting sign content, size and placement violates the First Amendment.
DENVER POST
STATEWIDE
Colorado's Bustang service records more riders, plans expansion
Colorado transportation officials say ridership on the state's Bustang transit service is exceeding expectations as it marked its fourth anniversary.
Bustang has recorded more than 238,000 riders in 2018-19, continuing to grow from the more than 102,000 riders recorded in the service's first year.
Bustang program manager Mike Timlin says the number of passengers has continued to outpace what the state Department of Transportation plans for each year.
The service is planning more expansion, starting with weekend pilot routes in the fall from Denver to Estes Park and Rocky Mountain National Park.
It aims to launch services to Pueblo and the Interstate 70 corridor in December.
Timlin says Bustang also is recruiting resorts for seasonal direct routes to ski areas.
SUMMIT DAILY
GREELEY
Colorado firm to pay fine over unauthorized drilling
The U.S. Attorney's Office for the District of Colorado says a Greeley oil and gas firm has agreed to pay a fine over claims it didn't seek a federal lease or permit before drilling on U.S.-owned land.
The office said that Mineral Resources Inc. will pay more than $210,000 to settle the claims.
It says the firm didn't seek permits from the U.S. Bureau of Land Management before drilling an oil and gas well in a Weld County railroad right of way in 2012. Mineral deposits there are owned by the federal government.
A BLM lease to pay for the minerals is required. A BLM permit also is required to drill in such situations.
A U.S. attorney's statement says investigators didn't determine the incident was willful.
THE ASSOCIATED PRESS
DOLORES
Archaeologists find Native American artifacts in state park
Archaeologists have found new sites in a Colorado park containing Native American artifacts that are likely more than 1,000 years old.
A team of archaeologists and volunteers surveyed a 450-acre area in Lone Mesa State Park in July.
Assistant state archaeologist Rebecca Simon says the items found in a ponderosa pine forest north of Dolores included stones used to grind grain and pieces of projectiles.
They also found metal debris left behind by a logging company over a century ago.
Archaeologist Kimball Banks says documenting the sites might help park managers tell visitors about how the land was used when the park eventually opens to the public.
The park opened to hunting in 2002, but no other recreational activities are currently allowed.
DURANGO HERALD
CRIPPLE CREEK
DA won't seek death penalty in Colorado woman's death
Prosecutors have declined to seek the death penalty for a Colorado rancher charged with killing his fiancee and burning her body.
District Attorney Dan May had until July 26 to formally declare that he would pursue the death penalty for Patrick Frazee, 33. May's spokeswoman, Lee Richards, said that prosecutors would not file the required documents. She declined to comment further.
Frazee, of Florissant, pleaded not guilty to first-degree murder in the death of 29-year-old Kelsey Berreth. His trial is scheduled to start Oct. 28.
Berreth, a flight instructor, was last seen on Thanksgiving Day near her home in Woodland Park. Her body hasn't been found, despite searches at Frazee's ranch, Berreth's townhome and a landfill.
Although Berreth and Frazee were engaged, they lived in separate homes. They had a daughter who was 1 year old at the time Berreth disappeared. The child is living with Berreth's parents.
Berreth's mother reported her daughter missing on Dec. 2.
Investigators have testified that another woman told them that she and Frazee had been dating, and that Frazee told her he beat Berreth to death with a baseball bat and burned her body.
The woman, Krystal Jean Lee Kenney, a former Idaho nurse, pleaded guilty to evidence tampering for moving Berreth's cellphone after she disappeared.
She faces up to three years in prison but is cooperating with prosecutors as part of a plea agreement and has not been sentenced.
THE GAZETTE, COLORADO SPRINGS
AURORA
Woman cited for role in immigration protest
Police have ticketed a woman they say was involved in the removal of an American flag during a protest at an immigration detention center in Aurora.
The woman, whose name hasn't been released, was cited for criminal tampering and was issued a summons to appear in municipal court in Aurora.
Investigators are still looking for other people who were photographed removing the flag during the July 12 protest at the privately-run detention center.
The protest against the Trump administration's planned immigration raids drew about 2,000 people to the center. Police say hundreds of them crossed a makeshift barrier to trespass onto the center's property, and some pulled down the American flag and two others, replacing the American flag with a Mexican flag.
DENVER POST
PAGOSA SPRINGS
2 bears killed after camper attacked in Colorado
Wildlife officials say two bears were euthanized after a man was attacked at a campground in southwest Colorado.
The man, who is from out of state, was camping south of Pagosa Springs on July 2 when he heard something outside of his tent. Matt Thorpe with Colorado Parks and Wildlife says "the next thing he knows, the bear claws in and bites him."
The man, whose name hasn't been released, was treated for minor puncture wounds.
Two bears with the same color hair that was found at the campsite were tracked down and killed out of an abundance of caution, and DNA and saliva samples were sent to a lab in Wyoming to make sure they didn't have rabies.
Wildlife officials confirmed that one of the bears attacked the man.
DURANGO HERALD
-
-
-
-