Just one day after Senate President and acting Gov. Leroy Garcia defaced the governor's office — it's a joke, kids, relax! — the other governor, Jared Polis, won a spot on the executive committee of the National Governors Association.
The NGA will be chaired in the coming year by Maryland Gov. Larry Hogan, with New York Gov. Andrew Cuomo as vice-chair.
Capitol M could not help but notice that the NGA executive committee also includes New Mexico Gov. Michelle Lujan Grisham, who has been engaged in a contest of sorts with Polis over whose chiles are better — Hatch or Pueblo.
(Capitol M is not foolish enough to pick the wrong side on this one. It's Pueblo, OK?)
No word on whether arm-wrestling was part of the decision-making process, or if either was chosen for their state's chiles.
Montana Gov. Steve Bullock is also part of the nine-member executive committee. Makes you wonder if Polis has had any chats with Bullock, who is one of the 20+ Democrats running for the White House next year, about Colorado's two contestants.
Speaking of which ....
It appears to be catching
Recently, Capitol M pointed out that Democratic presidential candidate and former Gov. John Hickenlooper has gone back to his "aw shucks" persona, which included some campaign humor. 
Entrepreneur Andrew Yang, also a Democratic presidential candidate polling in the low single digits, seems to be taking a page out of Hick's book. He's launched some kind of battle with another Coloradan, Sen. Michael Bennet, in preparation for next week's debates. According to CNN, Yang got the least minutes in the first debate last month. 
Yang on Friday tweeted out that if he only gets three minutes in the next debate, all of it will be used to go after Bennet, complete with a cutesy penguin gif. He also tweeted to Bennet that "you know what you did." No word on whatever the heck that meant.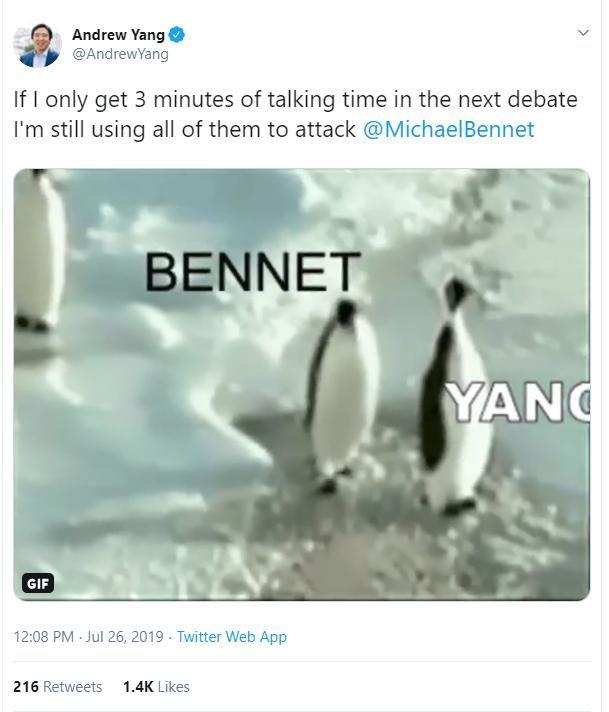 Bennet responded shortly thereafter.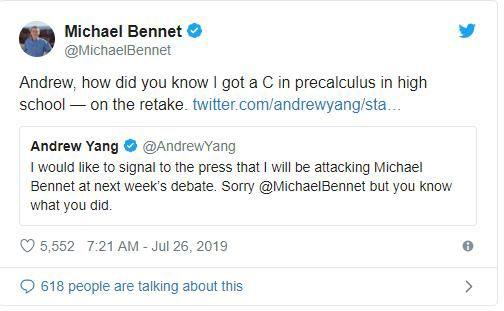 Marianne Goodland writes about the lighter side (usually) of life at the state Capitol in her Capitol M column.