#BikeToWorkDay: It's a mix of fun and danger. The danger comes from riding any of Denver's bike trails on Bike to Work Day this past Wednesday. Thousands hit (sometimes literally) the bike paths and city streets, and more than a few give indication that it's their first time. Oh joy. Hand signals and basic bike path courtesy are your friends, people.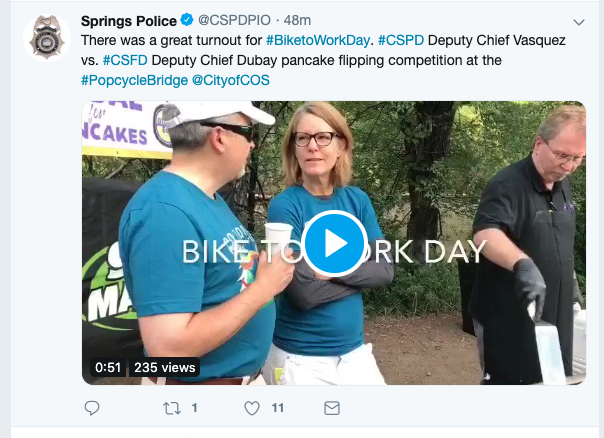 The fun part: breakfast stations all along the bike paths and in Denver's Civic Center Park, and a chance to chat with some of the folks who people those stations, such as employees of Denver Water and Denver Public Works (thanks and a tip of the helmet to ya). 
And a tip of the pancake flipper to the Colorado Springs police and fire departments, which competed in a pancake-flipping contest at the Popcycle Bridge in Colorado Springs on Bike to Work Day.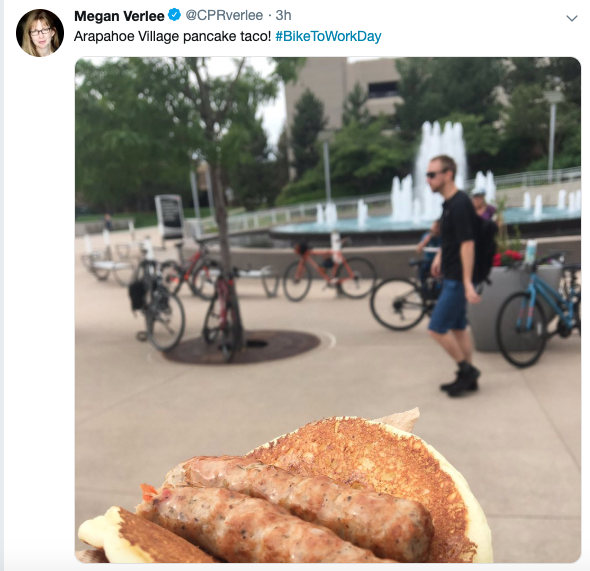 Then there were these two guys: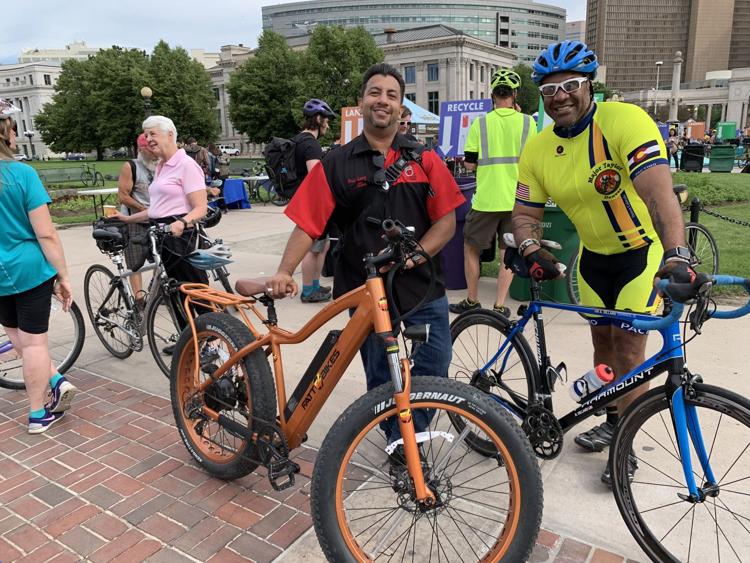 That's newly elected Denver Clerk and Recorder (and for the next couple of weeks, Denver City Councilman) Paul Lopez, riding sans helmet, along with Elections Public Information Officer Alton Dillard, who was stylin' in the Major Taylor jersey. More about that in a minute.
Capitol M could not resist a little needling about the lack of helmet, but Lopez said with all the stuff in his hair, he wasn't putting a helmet on it.
Mayor Michael Hancock also showed up at Civic Center Park, decked out in a bike jersey. No indication of whether he was actually on a bike at any point in the day.
Capitol M also could not miss that former state Sen. Andy Kerr posted on Strava on Tuesday that he had failed to register for Bike to Work Day. That was a tad puzzling, since he's a teacher (school's out) and no longer at the Capitol. 
Not to worry. All was clarified on Wednesday.
Speaking of Major Taylor: Before there was Boulder's Peter Stetina (and his dad, Dale, and uncle Wayne), Taylor Phinney (and his parents, Davis Phinney and Connie Carpenter), before there was Jacques Boyer, the first American in the Tour de France, or Lance Armstrong or Greg LeMond, there was Marshall "Major" Taylor. A long way before the others.
Major Taylor was one of the first American superstars of bicycling racing, at a time when the sport was as big as football is today. He turned pro at the age of 18 in 1896, setting world records in track cycling and winning the world pursuit championship in 1899. He was the first African-American in U.S. history to win a professional championship in any sport. 
Taylor's early specialty was the six-day race. It's not like today's stage races, where everyone gets a good night's sleep before the next day's stage. This was a race in which the riders rode for up to 18 hours a day for six days. And Taylor did it despite bigotry and threats to his life. At one race, according to Outside, he competed against a horse. 
Bicycle racing is not a diverse sport, at least at the professional or top amateur level. When you look at the team rosters of continental, U.S. national or U.S. professional cycling teams, you can usually count the number of African Americans athletes on one hand. For all of the teams.
According to Sika Henry, who plans to be the first African American woman professional triathlete, African Americans make up only 0.5% of the sport at the top level. 
But that's starting to change, with the help of a growing number of cycling clubs intended to bring more African Americans into cycling, and by publicizing the contributions of African American cyclists like Taylor.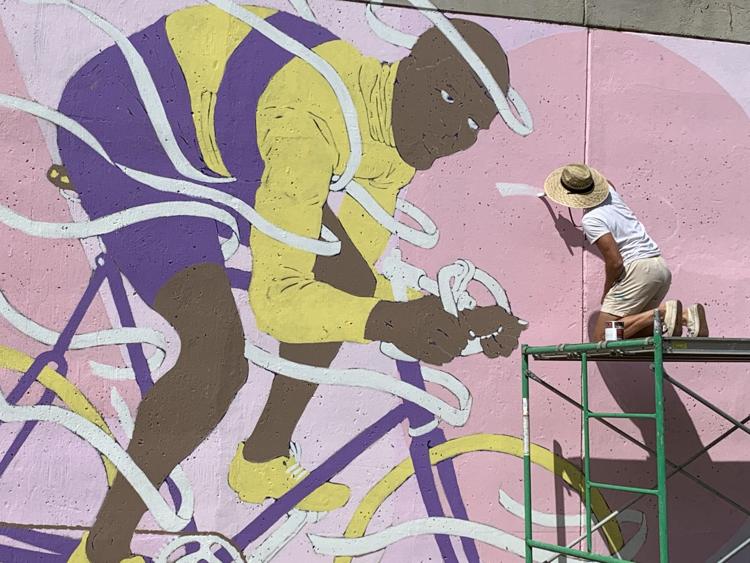 In the past year, that's included a nationwide ad campaign and an ESPN documentary that showcases Taylor's life and accomplishments. On Thursday, as part of the city's mural program, Taylor's visage was unveiled in a mural along the Cherry Creek bike path between Blake and Market streets.
The mural is part of the city's Denver Urban Arts Fund, which will put up 30 murals along the bike path between now and October, Pucci told Colorado Politics.
"I've been a fan of Major Taylor since I learned about him 15 years ago," he said.
He'd painted an earlier version of the mural as an illustration, and it received a great response.
"When it comes to breaking down racial barriers in sport, everyone talks about Jackie Robinson. But Taylor was racing in the 1890s and until 1917 ...  It's a pretty great objective for creating a mural, as a fan and a cyclist, to speak to that history."
Major Taylor Cycling Club of Denver founder Darrell West said the club was founded in 2011 to get intercity kids interested in cycling. It's grown since then to encourage more people of color and families to get into cycling; members also participate in some of the area's big cycling events.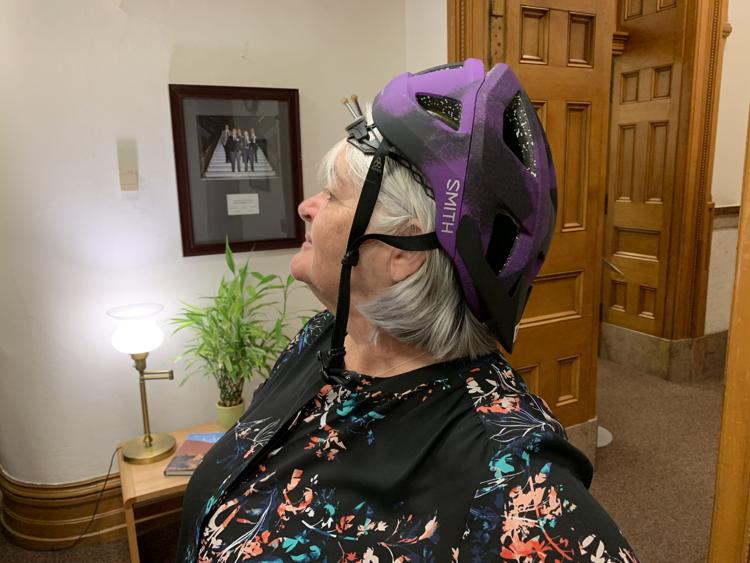 And just because: Colorado Senate GOP spox Sage Naumann has been at it again with the bumper stickers. His latest creation: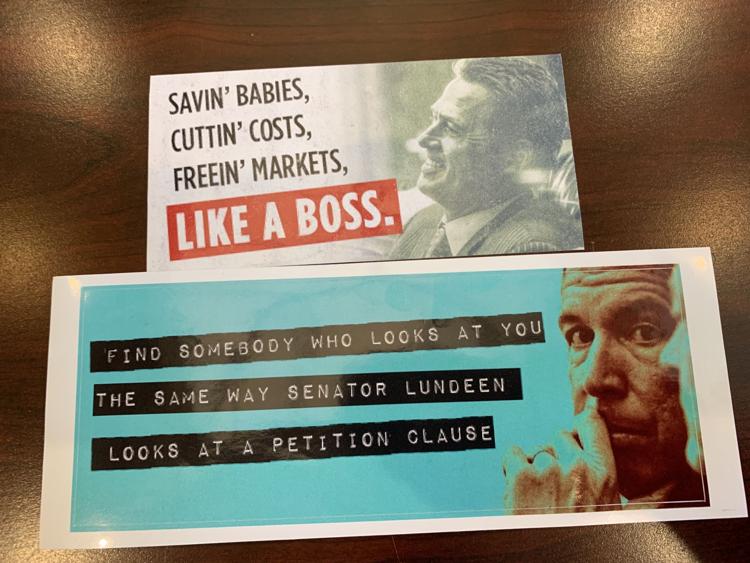 The top one is Sen. Jim Smallwood of Parker; the bottom depicts Sen. Paul Lundeen of Monument. Naumann's got a talent (or too much time on his hands, as he says).