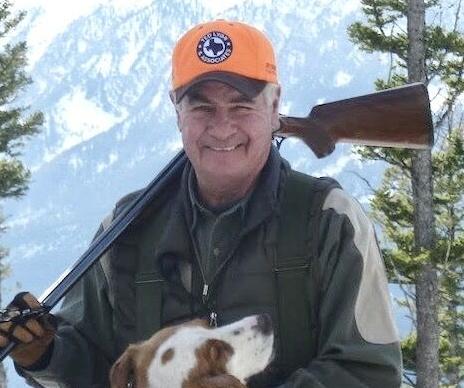 Coloradans are set to vote on an initiative Nov. 3 to allow wolves to be introduced into Colorado. As a lifelong wildlife conservationist, an environmental lawyer and a longtime Democrat I can tell you that introducing wolves into Colorado will be devastating to your elk, moose and deer herds. Wolves will also be a financial disaster for ranchers, farmers and businesses and eventually your state economy. I can tell you this with certainty because I have studied what the introduction of wolves did to the states of Idaho, Montana and Wyoming. I was a lawyer for 13 wildlife conservation groups who individually have raised hundreds of millions of dollars for wildlife conservation, including the Rocky Mountain Elk Foundation, Mule Deer Foundation, Sportsmen for Fish and Wildlife and the Wild Sheep Foundation when they intervened in a federal lawsuit that protected Montana, Idaho and Wyoming's rights to manage wolves. I was also heavily involved in assisting Sen. John Tester of Montana and Sen. Oren Hatch of Utah in 2011 in helping pass through Congress legislation that allowed Montana, Idaho and Wyoming to finally manage wolves; that bill was signed into law by President Barack Obama in 2011.
Wolves have created havoc among cattle herds wherever they go, from the Great Lakes states to the Rocky Mountains. The U.S. Department of Agriculture in 2010 estimated that wolves had killed 8,100 head of cattle in 2010 alone. The Oregon Beef Council, along with the United States Department of Agriculture, funded a 10-year study that began in 2008 to study how wolf activity affects cattle behavior. GPS collars were used on some of the cattle on ranches in the study area and on some wolves to track how the wolves interact with cattle. There were three study areas in western Idaho and three in Oregon. One collared wolf showed over 783 contacts with cattle during the study. Other studies have shown that only one cow in eight killed by wolves are ever identified. Constant harassment by wolves causes weight loss in stressed out cattle. Many ranch owners across the west report calf rates per cow dropping from the mid 90% to the mid 80%. A huge loss to cattlemen and ranchers.
I know that most people in Colorado live there because they love the mountains and the outdoors. They love to see the elk, moose and deer that are so abundant in your state. For over 50 years studies have been done on the devastating effect that wolves have on ungulate herds. In Canada, Dr. Arthur Bergerud completed over 50 years of research on Woodland Caribou. Woodland Caribou used to number in the millions, but in Canada today they are listed as threatened. Dr. Bergerud authored "The Return of Caribou to Ungava" in 2008. As a chief biologist for the Newfoundland and Labrador Wildlife divisions, his conclusion after 50 years of study was as follows: "Based on well over 50 years of research on woodland caribou, I can only conclude that the primary reason for their decline is increased predation from expanding wolf numbers."
I have a home approximately 45 miles north of the Yellowstone National Forrest and have spent a great deal of time in the park over the years. When 66 wolves were introduced into the park, an area of approximately 2 million acres, there were 19,000 elk in the park. Today there are less than 5,000. A reduction of close to 75%. In addition, the moose have all but disappeared from the forest. That loss of wildlife can be attributed mostly, if not completely, to wolves and the trouble they bring.
Wolves also carry diseases that are very dangerous to humans and to ungulates. The most notable being Hydatid disease. Hydatid disease is caused by the Echinococcus granulosus tapeworm. Humans are exposed to eggs through the touching of carcasses or touching infected animals such as dogs and an unknowing contact with feces of these infected animals. The disease is carried by over 60% of all wolves that were tested in Idaho and Oregon. It often takes 15 to 20 years to become diagnosable in humans and there is no known cure in man except to cut out the cysts that infect the human organs such as the kidney, heart, lungs and brain. This is a very dangerous operation, because the cyst formed in the organs of a human contain thousands and thousands of eggs that appear to then be transmitted throughout the body. The United States Centers for Disease Control estimates that the disease inflicts over $750 million a year in human costs worldwide. While it was not known to exist in elk, deer and moose in Idaho, Montana or Wyoming when the wolves were released, it has now been found in all three species. I personally have interviewed two people in Idaho who have now contracted the disease. You can bet that it will be in Colorado if wolves are introduced.
There are a lot of myths and misinformation associated with wolves:
Myth: Wolves don't kill people.
Fact: They do, regularly, around the world.
Myth: Wolves are the sanitarians of nature and only kill the weak and sick.
Fact: Wolves kill any and all forms of animals — the strong as well as the weak.
Myth: Wolves do not destroy game herds.
Fact: Research from all across North American shows that wolves have destroyed large game herds.
In closing let me say that I spent over 10 years and hundreds of hours researching wolves' impact on the landscape of North America and have concluded that to introduce them into Colorado would be a disaster and would greatly affect your economy and the safety of your citizens. I have spent a lifetime engaged in wildlife conservation interests ranging from the banning of the netting of redfish on the Texas coast, to protection of migratory waterfowl who land in oil pits, to currently being involved with Texas A&M University to introduce California Valley Quail in Texas. I totally respect and revere all of our wildlife. I urge you, for the safety of your wildlife, to Vote No on Colorado Proposition 114, the Gray Wolf Reintroduction Initiative.
Ted Lyon is an attorney specializing in complex litigation with over 44 years of experience. He is the author of "The Real Wolf: The Science, Politics and Economics of Co-Existing With Wolves in Modern Times." He has received numerous prestigious awards from groups such as the Sierra Club, The Gulf Coast Conservation Society, and in 2012 he was awarded the prestigious Teddy Roosevelt Conservationist of the Year award by Big Game Forever.