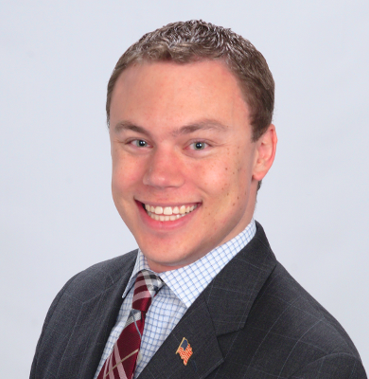 The year was 2004.  While I was only about 14 years old, I was already a political nerd eager to get involved in Republican politics and help reelect President George W. Bush. That summer, a family friend and regular attendee of the Arapahoe County Republican Men's Club (ACRMC) invited me to attend the weekly breakfast meeting.
Tired though I was, the excitement of my first political event was invigorating.  Not yet welcomed to the wonders of coffee, I made myself a hot chocolate, poured it into a travel mug and joined Mr. Kliegel in the car. We drove to the Metropolitan Club, and there must have been nearly 100 people present. I remember being hooked and that, despite everyone else being multitudes my age, I was embraced by enthusiastic adults.
I knew I wanted to return — and I did, as often as I could. ACRMC is where and how I cut my teeth in politics, meeting state legislators, U.S. senators and congressmen, starting my network and speaking in public. Throughout high school and well into college, ACRMC was the place to be in Arapahoe County politics, as it was for decades.  At the time, Arapahoe County was a Republican stronghold; ACRMC was its epicenter.
Fast forward to 2020. ACRMC has been replaced by a monthly Breakfast Club, but Arapahoe County has changed all the more.  Last week, Arapahoe Republicans — already behind — lost a state House seat, a state Senate seat and a county commissioner seat. They barely held onto one remaining state House seat and two of three county commissioner seats. Arapahoe explains Steve House's failure to wrest the 6th CD from Jason Crow and why John Kellner almost failed to hold the 18the Judicial District attorney. (The result in JD18 is not yet final.) 
Arapahoe is arguably the greatest challenge for the Colorado GOP, which has suffered from the most notable demographic shifts in the state. Arapahoe is, like much of Colorado, also suffering from "Trump Derangement Syndrome" — that is, a strong and inescapable antipathy toward President Trump that's shared by many Coloradans. It contributed to Trump's 13-point defeat here and the slightly better 9-point loss of Sen. Cory Gardner.
The apparent raw hostility toward the accomplished, sitting Republican president hampered the sitting Republican senator (Gardner), who achieved so much for Colorado. This drove John Hickenlooper to victory, despite being plagued by ethical malpractice, blinded by arrogance and having said himself he's "just not cut out" for that U.S. Senate thing.
Frankly, Gardner is someone all Coloradans should take immense pride in: He's worked hard, had his finger on Colorado's pulse, passed numerous bills benefiting our state and worked diligently for every Coloradan.  I've never been more impressed by or proud of any Colorado politician than Sen. Cory Gardner.
There are several key observations for Colorado Republicans. While Trump is unpopular here, that doesn't mean that his likely departure will make things dramatically easier for the COGOP. Not having a statewide incumbent like Gardner makes 2022 statewide races more challenging. The number of Democrats or Dem-leaning unaffiliateds moving to Colorado keeps rising, definitively placing Republicans third in voter registration. Moreover, according to Constellation Political, Democrats turned out voters 18-55 at higher rates than Republicans in that age range.
At the same time, Coloradans passed two proactive fiscal measures: Propositions 116 (tax rate cut) and 117 (vote on fees).  This suggests that, while they can be led to approve faulty social programs like Proposition 118 (paid leave), Colorado voters still care about keeping more of their own money and cherish the ability to vote on taxes and fees. While voters approved school district funding, the number of parents who are at wits' end as districts force their kids back home for inadequate remote learning makes educational choice a winning issue for Republicans.
Moreover, antipathy toward Trump was insufficient to inspire young voter turnout. Constellation Political notes that young voters 18-35 underperformed in turnout (18-25 by 1.4 pts and 26-35 by 3.1 points). Given, young GOP voters turned out worse than Democrats — underscoring the need to appeal to Millennials and Gen Z — but young voter enthusiasm for Democrats is lacking. A compelling, opportunity-centered Republican message will help.
The bottom line: Republicans got shellacked here, and the party has an uphill battle. Colorado is not what it once was. But there remain clear opportunities to make inroads in 2021 and beyond — especially if the GOP focuses on cultivating a clear and convincing message, a viable bench of candidates and more effective party leadership. I will flesh out these points in the coming weeks.