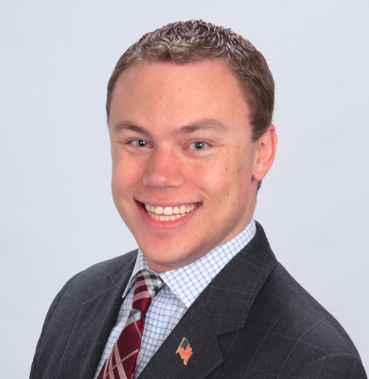 Colorado lost a national treasure last week. And I, like many, lost a dear friend.  Mort Marks — husband, father, grandfather, mentor and a Colorado Republican godfather — passed away Sept. 23 at the age of 94.
Among the many things Mort rightly had to be proud of, his service in World War II was among the top. He often spoke to Cherry Creek schools about WWII.
Mort was a college freshman on his 18th birthday, January 29, 1943.  He'd finally become a man — and with that, would face tremendous responsibility that he could only begin to imagine.
"Only two months later I got a very nice letter from the president of the United States, President Roosevelt, saying, "Happy Birthday, you're now drafted.  You're 18 years old, report to your draft board,'" Mort told me for a Regis University paper I wrote in Spring 2011. 
Mort was fond of telling the story of "Which Way" — the two most important, little-known words of the Battle of the Bulge. During the battle, German personnel frequently snuck behind American lines in American uniforms.  Identifying the intruders became critical.
"The Germans were very well trained and could talk English. We didn't know who was who, the Germans knew our passwords, the Germans were able to go behind our line," Mort told me in 2011.  "They killed one of our cooks, they were so far behind.  The word came down that we should ask, 'Who's gonna play in the Rose Bowl?'  And we said, 'Are you guys crazy?  This is Dec. 24; we don't know who the hell is going to play in the Rose Bowl.'
"One of the lieutenants in one of the other companies said, 'Hey Mort, they talk with an accent, don't they?'  I said yeah.  He said, 'They speak English, don't they?'  I said yeah.  He said, 'Are you thinking what I'm thinking?'  We went all the way up to General Patton—we didn't get to see Patton, we saw his aids—we pointed out that yes, the Germans can speak English but the W—they'll say 'Vwhat time is it?  Vwhere you going?'  The hard W is a guttural W and very difficult to talk.  That night our password was 'Which way?'  We said, 'Which,' they said, 'Vey,' we shot them." 
Several years ago, the Library of Congress asked Mort to share this story (as he did in a Veterans Day 2018 radio interview with me).  Now, the story of "Which Way" is immortalized in our nation's capital — just as his life, service, memory, wit and humor will live on through the countless many he touched.
Years later, as a Colorado resident in 1977, Mort founded the Arapahoe County Republican Men's Club (ACRMC), which met weekly until 2014.  For years the ACRMC was the most well-attended, influential Colorado GOP breakfast group.  There, many Republicans — including stalwarts like Bill Owens, Mike Coffman and John Andrews — got their political bearings, built up their networks and honed their speaking skills.  I was among them, having cut my teeth at the ACRMC beginning at the age of 13.  Mort was respected by national figures as many leaned on him for support, including President Ronald Reagan. 
He also shared a wit, wisdom and humor that was quintessentially Mort.  One of my earliest memories of talking with him was when I was about 14 or 15.  After the ACRMC, I teasingly asked, "Are you related to Karl Marx?"  He joked back, "Uncle Karl spelled his name M-A-R-X.  Mine is M-A-R-K-S."
"Uncle Karl."  That was Mort. 
He was much more than just a political influencer, however.  Mort was a loving husband to Edie, father to Lori and Elise, grandfather and true friend to many.  Philanthropists, he and Edie contributed much to the Cancer League, and they kindly supported Liberty Day Institute, which I run.
As difficult as losing a dear friend is, we can take heart in knowing the overwhelming, positive impact that he had on so many lives — an influence that will live on forever, professionally and personally.
Mort will be missed, but let all who knew him and benefited from his counsel, love and friendship continue to live in his memory.
RIP Mort Marks, Jan. 29, 1925 – Sept. 23, 2019.
(Edie Marks will be hosting a Celebration of Mort's Life at their home this Sunday, Oct. 6, 3-6 pm.  Their address is 10799 E. Crestridge Circle, Englewood 80111.  No RSVP is necessary.)
Jimmy Sengenberger is host of "The Jimmy Sengenberger Show" on News/Talk 710 KNUS.  He is also president and CEO of the Denver-based Millennial Policy Center. His opinions are his own.