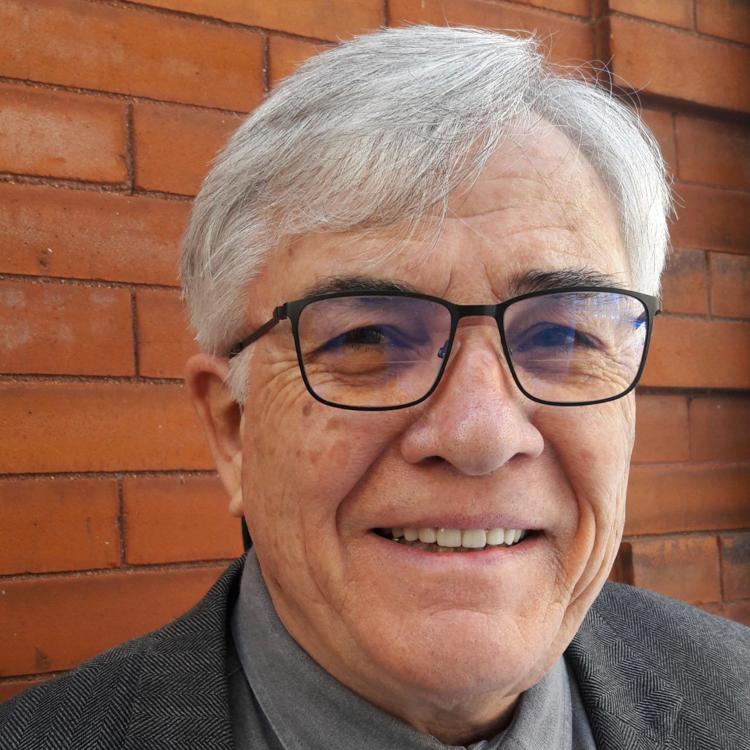 Three weeks ago, MOTUS Theater of Boulder brought its UndocuMonologues to the Newman Center at the University of Denver. "Moving Stories that Move Us Forward" is a non-profit arts project that launches a podcast this Thursday (October 24) as part of its Shoebox Stories, inviting national leaders to narrate the American experience of Dreamers. The reliance on celebrity speakers is intended to let the participants and listeners "…stand in someone else's shoes." The series kicks off with newscaster Jorge Ramos reading the story of Cristian Solano-Cordova's strategy, as a DACA kid, to protect his 8-year-old sister, an American citizen, in the event their mother was suddenly deported.
Solano-Cordova joined four other DACA-protected (for now) young men and women to recount their stories at Newman. Perhaps the most unexpected aspect was how American their stories were. These young men and women have played sports at Colorado High Schools, graduated, entered the military, attended college and are now employed alongside birthright American classmates. Arriving in this country between the ages of three months and six years, these are not immigrants burdened with a sense of unearned residence in a strange country. They are thoroughgoing Americans for whom the countries of their birth are truly alien. 
Listening to their stories, which were filled with hope and aspiration far more than any anger or recrimination, the complexity and injustice of their undocumented status became apparent. Most live in homes where younger siblings are American citizens, born here, and at least one parent is often documented while the other is not. Cristian Solano-Cordova, who currently works with MOTUS, was elected president of the student government at Metro State University and intends to enter medical school. That sounds like a win-win outcome. Others now have children of their own who are American citizens.
According to Shoebox Stories, "The UndocuAmerica series podcast invites people who are not woven into the immigrant community to get to know undocumented people through powerful stories from their lives. This series aims at interrupting dehumanizing portrayals of immigrants by encouraging thoughtful engagement on the challenges facing the undocumented community and the assets they are to our country." Ramos will be followed with readings from Gloria Steinem, Nicholas Kristof and others. Yo Yo Ma is contributing musical interludes. Only time will tell whether this series attracts the audience it deserves.
The story of a 3-year-old boy and his mother hiding beneath a highway in Arizona where they had crawled into a storm drainage tunnel proved as gripping as any thriller. A border patrol car was visibly parked at a diner where two officers were eating on the other side of the road. Seeking to join her husband and father of her child, this mother decided to make a run for it once the sun went down. Those who remained in the tunnel were discovered and arrested. Was their successful flight more one of courage or luck? Whichever you believe, it was a triumph of love over fear.
These young people find themselves scared to live in the only home they've ever known — Colorado. They feel afraid for good reason. Ironically, ours is a state where tens of thousands of Hispanic families have resided for nearly 400 years. It was only as a result of the Mexican-American war that the border crossed over them — not they who crossed the border. These families became instant Americans and have been proud of that for 180 years. One of those pioneer families was the Valdez clan. At the memorial service for former House Speaker Ruben Valdez this past week it was pointed out by his son that four of the speaker's older brothers fought in the Second World War. One of them did not return. That sacrifice did not protect Ruben from ignorant bigotry during his childhood.
If you have a few spare minutes, you should listen to the MOTUS podcasts. I suspect you will conclude that deportation of these DACA men and women, as advocated by those who need not be named, would result in a collective loss. They are as American as you and I and should not be punished for decisions in which they had no voice. Colorado dreamers deserve access to health care, to higher education and to lives where a single traffic ticket cannot lead to their summary eviction. Go to:  https://www.shoeboxstories.org/
Miller Hudson is a public affairs consultant and a former legislator. He can be reached at mnhwriter@msn.com.