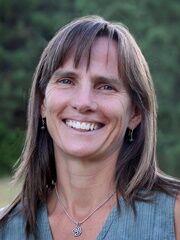 Each summer typically brings a string of gushing out-of-town visitors who can't believe my good fortune to live in such a pristine and beautiful place. Not so this year. Now, the world-class mountain views normally seen out my window are obliterated by dense haze, and the newsfeeds report the Denver metro area's disturbing achievement of having some of the worst air quality in the world. Layered on top of normal traffic fumes and emissions from nearby oil and gas production, hot temperatures and smoke from yet another devastating western wildfire season have triggered ozone pollution alerts in our region for more than 50 days this summer — a choking reminder of how the changing climate is wreaking havoc on our lives.
We're being bombarded with many other unwelcome and undeniable reminders too. Devastating mudslides from the scars of last year's wildfire season (the worst on record) closed I-70 through Glenwood Canyon for weeks, causing massive disruption and loss of local tourism dollars. Our current 20-year megadrought has left the West at its driest since 1580. Record lows in the Colorado River have triggered mandatory water cuts in the lower basin and possibly rolling electrical blackouts as well. 
Earlier this month, the new United Nations climate report provided an even grimmer reality check, concluding it was "unequivocal" that humans were causing rapid and widespread harm across the globe, and sounding the alarm that even more catastrophic impacts are on their way without urgent and forceful action on our part. And the people least able to weather these shocks, such as low-income residents and communities of color, will be the ones hardest hit.  
These wake-up calls have the subtlety of a two by four to the head, and we'll have no one to blame but ourselves if we don't respond with the urgency and magnitude required. 
So while the U.S. Senate should be applauded for reaching agreement on a bipartisan infrastructure bill that will pump some long overdue resources into our transportation, broadband and water delivery systems, it's also crystal clear that this modest start is completely insufficient. It's absolutely critical that Congress couple the infrastructure legislation with a big, bold reconciliation package that makes meaningful investments in tackling our climate crisis. 
The good news is that key climate solutions provide a wealth of co-benefits in the form of new jobs, cleaner air, healthier communities, consumer savings, clean-up of polluted industrial sites, and the embrace of new technologies and innovations that will put America back in the race for global leadership on clean energy.
To confront the daunting challenge we face, Congress should set the nation on a course to achieve at least 80% of our electricity from clean, renewable sources by 2030. We should invest federal monies into insulating old buildings and replacing inefficient fossil fuel-fired heating and hot water appliances with cleaner electric systems. This would create safer, more comfortable homes and businesses with healthier indoor air quality while lowering utility bills and reducing energy waste and climate pollution. By expanding clean energy tax credits, Congress could create powerful incentives for Americans to purchase electric vehicles and implement energy efficiency and clean energy improvements. "Buy clean" programs and tax incentives for clean manufacturing would reduce emissions from key energy-intensive industrial sectors like cement and steel. In addition, Congress should direct states to set greenhouse gas reduction targets for their transportation plans, and direct funding toward projects that reduce vehicle travel and climate pollution, such as transit, biking and walking infrastructure.  
These investments can create millions of good-paying jobs. Congress should target these employment opportunities in fossil-fuel producing communities as well as impacted neighborhoods that have historically borne an unfair share of our pollution, retraining residents in new skills and careers to fuel a just transition to sustainable local economies and a clean energy future. A new Civilian Climate Corps could put young people to work immediately on initiatives such as weatherizing and retrofitting homes in disadvantaged communities and lowering the wildfire risk in our forests through science-based mitigation projects. By strategically focusing federal dollars, we can begin tackling historic inequities, advancing climate justice while making our communities more resilient to extreme weather events and other impacts. 
We can't allow unbreathable air to become Colorado's new normal. Our state should be known for its scenic vistas, clean air and pristine waters – not lung-burning smog alerts, deadly wildfires and scorching heat waves. Please join me in urging our Senators and members of Congress to "go big or go home" on an ambitious reconciliation package that will help save our lungs, our planet and our future. 
Elise Jones is executive director of the Southwest Energy Efficiency Project (SWEEP). SWEEP is a public interest organization promoting greater energy efficiency and clean transportation in Arizona, Colorado, Nevada, New Mexico, Utah, and Wyoming.