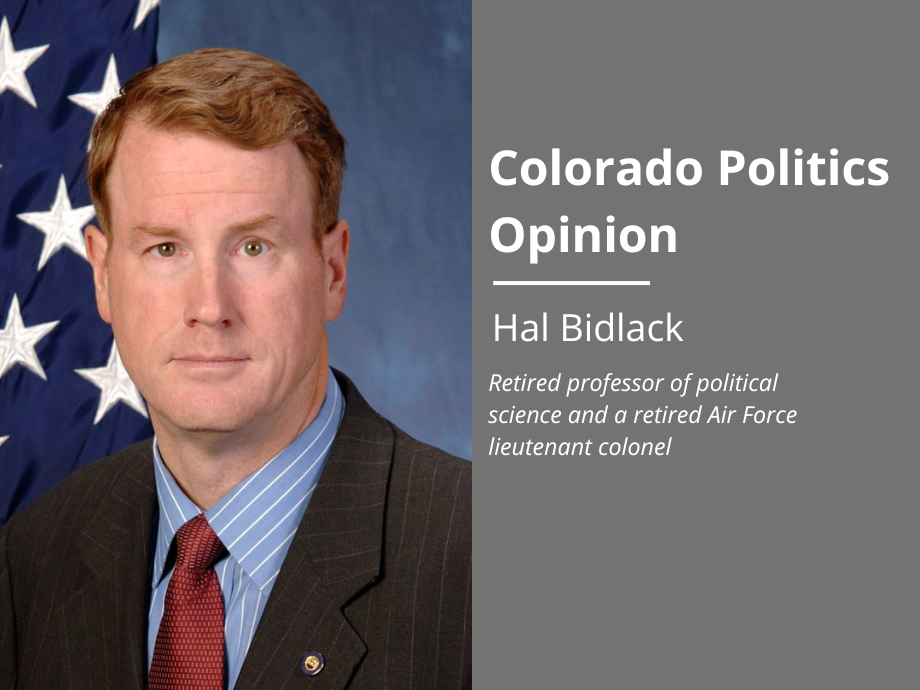 If there is one thing my long-suffering editor really enjoys, it is when I write a firm and clear column, focused on an issue that impacts Colorado politics and the folks who live here in our wonderful Centennial State (Editor: yes! Exactly!).
So, of course, I'm not going to do that today.
Instead, I'd like to draw your attention to three different Colorado Politics stories that caught my eye. I was going to call this column "the good, the bad, and the ugly," until I remembered that that movie came out in 1967. Given as that was 55 years ago, I realized lots of folks (like my long-suffering editor) were born after that movie came out. Couple that with the fact I turn 65 in a few days, and perhaps you, gentle readers, can forgive me for failing to remember that 55 years ago was not recent, sigh.
First, I'd like to draw your attention to the recent story about Colorado's own Jenna Ellis. She is a lawyer and was very active in the failed and false effort to assert Donald Trump had actually won the 2020 election by a landslide. She repeatedly spouted the big lie, to include comments like "(W)e know that the election was stolen from President Trump and can prove that" and a day later, she tweeted Trump's legal team "will present testimonial and other evidence IN COURT to show that this election was STOLEN!"
Turns out, not so much.
She has now admitted to lying, I'm sorry, she admitted "that she made numerous 'misrepresentations' in appearances on national television shows and on Twitter in the months following Trump's loss to Democrat Joe Biden." I guess a misrepresentation is a fancy way of saying a "lie" without having to use that ugly word. But, she lied, and she was brought up before the Colorado state court system, where she (to her credit) did admit to lying — I'm sorry, misrepresenting.
That does put her in a better class of Trumpers than the horrible folks at Fox News, whom we now know despised Trump and his minions, didn't accept the big lie, yet still went on the air spouting the aforementioned lies. As an aside, if you have been a Fox News viewer, and you have seen that their hosts have admitted to lying to you about matters of fact, and you still watch Fox, well, you are knowingly volunteering to be misled. Sounds like a cult to me, but I digress.
So, Ellis is now formally censured, which is a big deal. I'm guessing her legal career is mostly behind her now. Oh, wait, not so much: she's landed a job as a fellow in constitutional law at Colorado Christian University. Seriously.
The second story I'd like you to take a look at reports on our mayoral election here in Colorado Springs. Current mayor John Suthers is term-limited (I'm against term limits, and here is an example of where they are biting the GOP in the butt), and no less than 12 folks are running for the position. The candidates include Wayne Williams, now a city council member but previously a state secretary of state, as well as other offices here in El Paso County.
Down here, with the massive GOP majority, a group of GOP folks tend to just pass the various elected offices around. When they are term-limited out of one, they run for another, a kind of elective musical chairs. Lots of people think Wayne will win, and he might well, with lots of donations from developers and others keeping him on TV and on YouTube most of the day. Sally Clark, another previous office holder is running, and I'm betting it will be those two who end up in a run-off election. I'm guessing the stand-up comedians/fashion model running will not make the cut.
So, what's my beef? It isn't with the candidates. Rather, it is with the idea that this is a non-partisan election. Right. I get the idea, that the mayor should be mayor for all, but I really do wish we could stop pretending that party doesn't matter, and just let these folks run under the banner of their party (or as independents). OK, off my rickety soapbox. With a dozen candidates, no one is likely to get the 50 percent-plus-one needed for a clean win, so the top two will, as noted above, run off later in April.
Finally, I want to draw your attention to an article about a bill moving through the state legislature. The premise of HB23-1192 is it will create a law that will make it easier for Coloradans to sue businesses that are "deceptive" in their actions. Currently, the law compels people who feel they have been cheated to not only prove that they were, in fact, cheated, but also that the business in question has engaged in a pattern of "fraudulent, harmful practices against others."
Under HB23-1192, folks here could sue more easily, and supporters claim that this is a long overdue modernization of consumer protection laws. The bill would also increase the penalty businesses face for fraudulent behaviors. Sounds good, right?
Well, maybe…
This is where my streak of libertarianism kicks in just a little bit. I would probably vote for the bill were I a legislator, but I confess to having concerns that under this new law, most anyone who feels aggrieved by a business could just sue, costing the businesses significant legal fees. There would, of course, be proper and fitting cases brought against fraudulent businesses, but I worry about the potential for frivolous cases that could tie up the court system and cost everyone involved big bucks. Your McDonald's hamburger was cold? Sue! The local carwash promises a spot-free finish, and you find a spot? Sue!
Again, I suspect the upsides of this bill are more important than the downsides, but I still have this nagging feeling in our oft-hyper litigious society, the potential for abuse is also quite high. Heck, I have a small Etsy store for selling my woodworking products. Might a future customer take me to court because he found out my "handcrafted" bowls were sanded with an electric sander? A silly example, I admit, but a bit of a worry.
So, there you have it: three interesting stories from the pages of Colorado Politics. I will try to watch a couple more modern movies, in hopes of developing references folks under 65 will get, but if the Shawshank Redemption is on TBS, I'm watching that, again.
Hal Bidlack is a retired professor of political science and a retired Air Force lieutenant colonel who taught more than 17 years at the U.S. Air Force Academy in Colorado Springs.