Colorado's political parties will be fully engaged in the 2018 election, and not least among the issues of concern is the possibility that Colorado could get another congressional seat. As of now, congressional redistricting is directed by the governor and legislature, and control of both is at stake.
Distribution of 435 congressional districts is governed by the 2020 census count, which is historically drawn on April 1 in decennial years. In 2020, that will be in the middle of undoubtedly raucous presidential primaries in which the census may be an issue. The latest census estimates indicate a congressional district needs about 750,000 residents, up from 710,000 in 2010. Colorado last picked up a seat in 2000, which became the 7th district in the northwest metro area suburbs. Its location was court-determined after the legislature and governor gridlocked over the map.
The 7th district highlights the difficulty of predicting a seat's political destiny. It was designed to balance numbers of voters from both parties, and its voters supported John Kerry in the 2004 presidential race by 3 points, while Bob Beauprez, a Republican, won an easy re-election as the district's representative in the House. But, after Beauprez's retirement in 2006, the seat has been successfully held by Democrat Ed Perlmutter. Also, at the presidential level, the district's voters supported Barack Obama twice and Hillary Clinton in 2016.
Growth in Colorado has been along the Front Range, and a new district would no doubt accommodate the recent population surge from Larimer to El Paso counties, but the exact location of a district is subject to a myriad of factors. Some, such as "communities of interest," have legal protections, but many are about political power.
Colorado is not certain to gain a seat. Its growth has been in the top 10 among states since the 2010 census and hit 580,000 new residents in 2017 population estimates. But, that remains about 200,000 below the likely amount needed, and growth, especially from in-migration, has slowed over the last two years. In 2010, when Colorado failed to gain a seat, the competitors in the West that gained seats were Nevada, Utah, Arizona and Washington. Washington and Arizona continue fast-paced growth, with larger populations than Colorado, and may gain seats in 2020 (see chart below). Other big states expecting to gain seats are Texas, Florida, North Carolina and Georgia.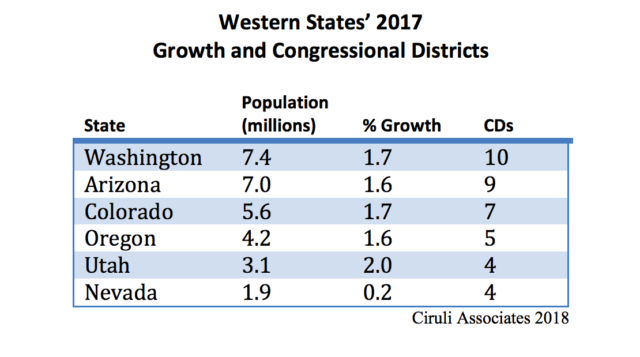 If Colorado wins a seat, there is an abundance of possibilities for its location. Maps can be drawn, which place the new district in Republican-rich El Paso and Douglas counties, or the more Democratically inclined North Metro area and Larimer County.