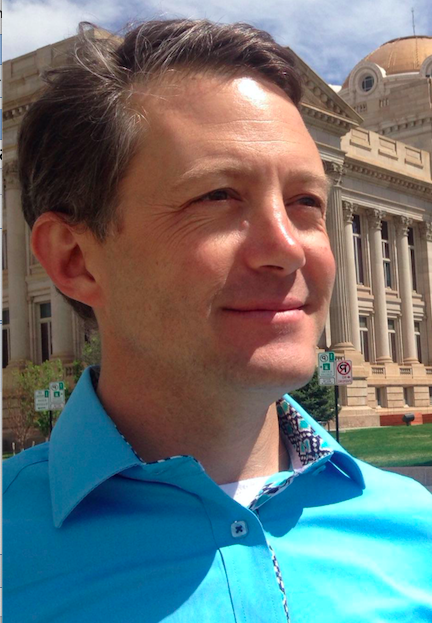 Colorado's 3rd Congressional District is as diverse and difficult to campaign in, and represent, as any district in the country. Many districts have constituencies with different values, but the various regions of Colorado's 3rd are radically different communities. The issues that matter to potato famers in the San Luis Valley are a world apart from what drives the resort industry in Aspen. You'd be hard pressed to find consensus on local issues even within a community. Most everyone in Garfield County would identify gas development as a top issue; but the residents of Carbondale might feel the opposite about development as do folks in Rifle.
I have had a long history working politics in Colorado's 3rd District, starting with fierce student government battles at Fort Lewis College against worthy opponents Heidi Van Huysen Baskfield and Mac Zimmerman. I also have managed a successful Durango City Council race; helped legendary political operative Ann Brown build the heartwarming late state Sen. Jim Isgar's political operations, and managed Democratic field operations on the Western Slope and San Luis Valley.
But most everything I know about Colorado's 3rd District I learned working on the team of former 3rd Congressional District U.S. Rep. John Salazar. I began working with John in 2002 on his first state House election. After working at the Capitol as his aide, I served in various positions, including campaign manager and district director.
The John Salazar operation was so relaxed that I often felt that we weren't actual political pros. I've re-evaluated that assessment as former John Salazar staffers recently won elections as the mayor of Scranton, Pennsylvania (Paige Gebhardt Cognetti) and as Colorado 12th Judicial District attorney (Alonzo Payne). These two previous colleagues joined a long list of members of team John Salazar who have accomplished great things in politics locally and nationally (Jeff Bridges, Rick Palacio, Aaron Greco, Nayyera Haq, John Whitney, Hollie Velasquez Horvath, Jim Merlino and Chad Obermiller among many others).
Perhaps the long weekends at El Rancho Salazar drinking Bud Light and shooting guns with the boss and his warm family disguised the actual work getting accomplished as sheer fun. Something went right, especially considering that John Salazar was one of only two Democratic pickup seats in the 2004 cycle; and the 3rd is not easy for a Democrat to win.
Addressing the geographic diversity of the district, which has as much land as Florida, is not an easy task. The mountain passes and nonexistent cell phone service make for multiple hour trips to get from one small community to the next. Candidates running in the 3rd spend days on the road; and usually at the expense of fundraising call time.
This geographic diversity is heightened by the fact that competitive candidates must buy media in at least three media markets. You can reach half of the voters between the Colorado Springs and the Grand Junction markets, however the most viewed market in the district is actually Denver. Voters in Durango watch Albuquerque, and Dove Creek residents might receive Salt Lake television. These expensive and diverse media markets exacerbate the ability to communicate an effective districtwide message. The cost of communicating also has driven off Democratic-leaning independent expenditures in past elections. Earned media can also be a complex matter, with most of the 29 counties maintaining their own weekly papers.
John Salazar's bio was the perfect one for the 3rd. West Slope residents don't view a San Luis Valley resident as a Front Range adversary; and many Pueblo voters see the San Luis Valley as their ancestral homeland. John's career as a farmer and rancher played well across the district; and it was Aaron Greco who coined the winning slogan, "Send a Farmer to Congress."
Most importantly, our campaign found a winning issue that not only localized the race, but also distinguished us from the GOP nominee. Every community in the 3rd believes that the Front Range has diverted too much water to feed their insatiable growth. John Salazar had water bona fides that we could contrast with Republican Greg Walcher's past support of a statewide water initiative that failed in every county of the 3rd. Independent expenditure committee coined the moniker, "Water Grab Walcher." 
Democratic CD3 candidate Diane Mitch Bush's lengthy history in the district could allow her to localize an issue, like water, to her advantage while her opponent focuses on national issues.
The Third has historically been a swing District over the last century. Its two largest counties helped maintain this balance. Mesa County was the Republican base and Pueblo was solidly Democratic. In 2004 John Salazar was only able to win because he ran up the score in Pueblo County to a 62% margin. Pueblo voters have moved consistently more Republican since. But there continues to be a gigantic number of Pueblo residents who would vote Democratic but rarely turnout.
Perhaps the national political landscape will inspire greater turnout in Pueblo and give Bush the type of margin past Democrats relied on. Fortunately for Bush, many other regions of the district have moved further to the left over time, including La Plata County and Gunnison.
One thing is certain, with Scott Tipton's loss in the Republican primary to more ideologically extreme candidate Lauren Boebert, Colorado's 3rd Congressional District is again a competitive district. We'll see in November whether Bush can catch some of the magic John Salazar had in 2004.
Sal Pace, a Pueblo Democrat, served in the Colorado state House of Representatives as House Democratic leader; was a Pueblo County commissioner, and ran for Colorado's 3rd Congressional district seat in 2012.