At the start of the crowded Democratic 2020 primary campaign, the biggest election issue for some candidates -- including one from Colorado -- may be an elocution issue. The presidential hopefuls are trying to get voters to learn how to pronounce their names.
New York Sen. Kirsten Gillibrand is often called "Kristen." Another candidate with a complicated name — Pete Buttigieg — asks voters to simply refer to him as "Mayor Pete."
On the "Tom Joyner Morning Show" last week, journalist Roland S. Martin opened an interview with California Sen. Kamala Harris with this query: "Is it 'COMMA-la,' or 'KUH-ma-la?' "
"It's 'COMMA-la,'" Harris replied with a laugh. "Just think of 'calm.' At least I try to be most of the time."
The names of presidential candidates in the past have tended toward the bland and monosyllabic. This year's Democratic field is especially diverse, offering multiple opportunities to mangle the names of the people vying to become the next commander in chief.
Down in Texas, former U.S. Rep. Beto O'Rourke hasn't announced a presidential campaign yet, but his childhood nickname—pronounced "BET-oh"—comes up a lot. "Beto" is often used in Mexico, across the border from O'Rourke's hometown of El Paso, as a nickname for Roberto.
Beto's full name is Robert Francis O'Rourke, which is something his 2018 Republican opponent, U.S. Sen. Ted Cruz, wanted voters to know about. Cruz's campaign produced a radio ad with a country-music-inspired jingle that said O'Rourke "changed his name to Beto and hid it with a grin."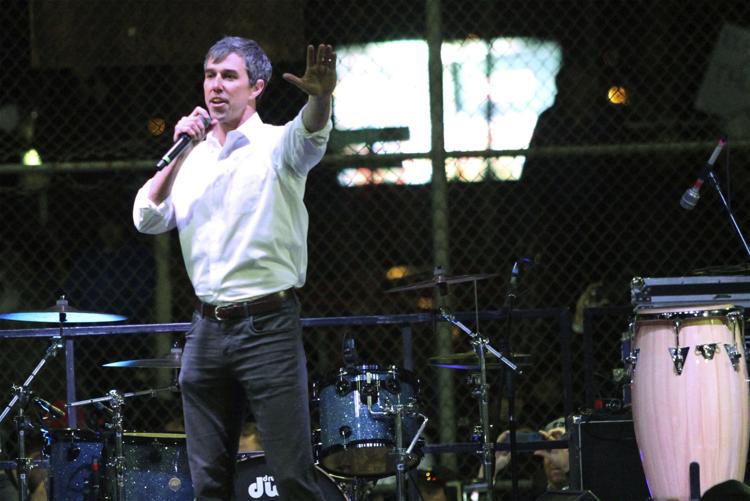 Cruz, whose full name is Rafael Edward Cruz, narrowly defeated O'Rourke in the Senate race.
For some, the name game has been a matter of political survival.
When Republican Sen. Lisa Murkowski of Alaska ran for re-election as a write-in candidate in 2010, her ads explained to voters how to fill in a write-in ballot and spell her name correctly. Her campaign distributed tens of thousands of rubbery blue wristbands that featured her name, and the senator ended some events by leading the crowd in a spelling lesson—"M-U-R-K-O-W-S-K-I." She won.
Political names also can turn into punch lines. Former House Speaker John Boehner, pronounced "BAY-nur," confessed during a 2017 Reddit "Ask Me Anything" that his German last name should have been pronounced "Boner." He said it didn't carry a derogatory connotation for his ancestors.
"I believe my grandparents were the first ones to change the pronunciation," he said. "But their parents were against the idea because the family had built up the 'Boner' reputation and everybody loved us 'Boners.' "
Harris, the child of immigrants from Jamaica and India, writes in her recent book, "The Truths We Hold," that her first name means "lotus flower" in Sanskrit. But pronouncing it is hardly a walk in the park. She's been called "Ka-MILLA," "CAM-a-la" and "KUH-ma-la." Donald Trump, in a recent interview with The New York Times, referred to her as "Kameela."
Gillibrand is facing double jeopardy. Her last name is pronounced "JILL-a-brand," and she launched her campaign last month with a video that features a Google search that initially misspells her first name — "Kristen" — and then the correct version is typed into the search field.
During a stop in Ames, Iowa, last month, state Rep. Beth Wessel-Kroeschell told the crowd at a coffeehouse that she had the "honor today of introducing Senator, uh, Kris-Kirsten Gillibrand."
After a quick rundown of Gillibrand's résumé, Wessel-Kroeschell turned over the program to the featured speaker. "Please join me in welcoming, Senator...," Wessel-Kroeschell said, pausing. "KEER-sten JILL-a-brand," the senator interjected, prompting the crowd to applaud.
Buttigieg might be able to relate. The 37-year-old mayor of South Bend, Indiana, is a dark-horse candidate for the Democratic nomination. He is a Rhodes Scholar, veteran of the Afghanistan war and openly gay.
His Maltese last name is often the way he breaks the ice. On his Twitter handle, the mayor notes that his last name is pronounced "BOOT-edge-edge," which sometimes gets blended into "BOO-da-jedge."
After explaining that to Iowa voters in December, he resorted to his fallback position: "Just call me Mayor Pete."
Julián Castro is the former U.S. Housing and Urban Development secretary who is vying to become the nation's first Hispanic president. He made an unusual discovery last December when he announced his presidential exploratory committee: He couldn't add an accent mark to his first name online.
So Castro printed out his paperwork from the Federal Election Commission and added an accent over the "a" with a pen. An identical twin whose brother is a Texas congressman, Castro has been fielding questions about the pronunciation of his first name — "Who-lee-AHN" — for a while.
In a 2010 interview on "The Colbert Report," he said people often called him by the English-sounding "JOO-lee-in" until he attended Stanford University. Once in college, he embraced his Hispanic background. "From then on, I always referred to myself as Julián, never Julian," he wrote in his 2018 book, "An Unlikely Journey."
Barack Obama, for his part, saw his own unusual name as a potential liability. Some adversaries tried to compound the issue by adding references to his foreign-sounding middle name, Hussein. "When your name is Barack Obama, it's always tight," he joked about election contests during one TV appearance.
With the exception of Obama, recent presidents have had last names with one or two syllables: Trump, Bush, Clinton, Bush, Reagan, Carter, Ford and Nixon.
That might not bode so well for John Hickenlooper, the former Colorado governor who has been considering a presidential campaign.
The former Denver mayor and brewpub owner often goes by the same nickname as his father, "Hick," and frequently brings up his name when he talks about his unlikely political story.
In his 2016 book, "The Opposite of Woe: My Life in Beer and Politics," he recalled getting into a dispute with the police department after he was elected mayor. A group of off-duty police officers gathered outside his office and chanted, "Chickenlooper!"
Hickenlooper wrote that it was "catchy," but he didn't think it was very original.
"I'd heard that one quite a bit from kids when I was in elementary school, usually right after 'Poopenscooper' or 'Chickencooper,' " Hickenlooper wrote, "which, if you ask me, are far more inspired."
Alex Leary and Reid J. Epstein contributed to this article.