Democratic U.S. Sen. Mark Udall and U.S. Rep. Cory Gardner, his Republican challenger, sparred over healthcare, birth control, the economy and national security in a feisty, hour-long debate on Tuesday night in Denver, one of three debates between the Senate candidates this week, just days before mail ballots go out to Colorado voters.
Each accused the other of politicizing topics that should be off limits — Gardner bristled at Udall's insistence that the Republican's votes to shut down the federal government a year ago jeopardized recovery from Colorado's floods, while Udall asked Gardner to "stop politicizing this very serious threat" when the topic turned to military action against the Islamic State in Syria and Iraq — but most of the debate focused on the same highly charged issues that have been at the center of the neck-and-neck Senate contest.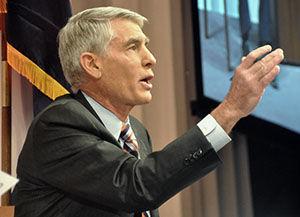 The debate, sponsored by The Denver Post, was moderated by the newspaper's politics editor Chuck Plunkett and reporter Lynn Bartels. It was held inside the newspaper's auditorium in downtown Denver before a standing-room-only crowd that raised the ire of moderators several times with laughter, applause and jeering. The candidates met for a debate sponsored by the Metro Denver Chamber of Commerce and other organizations on Monday and are scheduled to debate in Pueblo on Thursday night, after press time.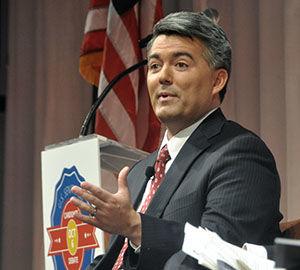 "Much of this campaign has centered on women's health issues, from abortion to birth control," said Bartels, opening the questioning with a bit of an understatement. She then asked Gardner to explain his position on birth control and asked Udall whether he would support a ban on late-term abortions.
As for banning particular methods of contraception — including the IUD and "morning after" pill — Gardner called it "simply outrageous" to suggest that's been on his agenda. When he and his wife saw Udall ads making that charge, he said, she turned to him, smiled, and asked, "Didn't you used to pick up my prescription?"
"Congressman Gardner has built his political career on working to ban abortion and common forms of contraception," Udall said, making the first of several references to the Yuma Republican's past support for the state personhood amendment, which would grant legal rights to fertilized embryos, and votes stretching back to his days in the Legislature.
Later, pressed to justify his renunciation of state personhood amendments with his support for federal legislation that has nearly identical language — and, critics charge, the same intention to make abortion illegal and ban some forms of birth control — Gardner said there was no inconsistency. The federal measure, which Gardner co-sponsors, "is simply a statement that I support life," he said.
"Where we stand, and where Colorado voters stand, is trusting a woman to make the decisions best for her and her family," Udall said, adding that "there are situations where late-term abortions are found to be necessary." Describing a woman whose baby was found to be developing with its brain outside the skull, Udall said, "To make that woman carry that child to term would be a form of government intervention."
Gardner set the tone of the debate soon after, when he refused to answer a question about the terms of his family's health insurance policy, which he has said was cancelled after the Affordable Care Act went into effect last year.
After Gardner pilloried Udall and the federal legislation, Plunkett attempted to steer the discussion back. "If you would like to answer the specific question, we have a little bit more time," he said.
Undaunted, Gardner pressed on. "I'm happy to debate the failure of Obamacare this entire hour," he said, interrupted by howls from the audience and an observation from the moderator.
"Sometimes the candidate doesn't answer the question," Plunkett said as the audience cackled. "That also tells you something about the candidate the voters should know."
Later asked to reconcile his vote for the Affordable Care Act with a statement during his 2008 Senate campaign that he opposed a government-run health care system, Udall denied there was a contradiction.
"The system was flat-out broken," he said. "What we did was put people back in charge of their insurance coverage."
Midway through the debate, the journalists launched into a series of yes-or-no questions, but Gardner refused to offer up a single-word answer to the first question, "Do you believe humans are contributing significantly to climate change?"
"Well, I've said all along climate is changing," Gardner began, and then Plunkett urged him to answer yes or no. "This is an important issue and I don't think you can say yes or no," Gardner continued before being interrupted again and reminded of the rules. "I believe the climate is changing," he continued. "I disagree to the extent that's been in the news that man is causing—" he went on before Plunkett and the crowd protested again. "This is a serious issue," Gardner maintained, "and I don't think we should shortchange serious issues with yes-or-no answers without being able to talk about them now."
Plunkett reminded the Republican that there would be a minute after the rapid-fire round to expound on their answers, but that the intent was to provoke answers "from a core belief that you would hold," and then posed the same question to the Democrat."Yes," Udall said.
After answering another half dozen questions — both said they opposed a ballot measure that legalized marijuana in Colorado but both back changing federal rules to give pot shops access to banking; both oppose establishing casinos at racetracks, as Amendment 68 would do; both said the Taxpayer's Bill of Rights shouldn't be changed — Gardner returned to the climate question.
"Yes, the climate is changing," he said, and then added, "I refuse to destroy our economy, like Sen. Udall would, in order to pursue some radical ideas."
Udall hammered the point during his allotted time.
"What's radical is Congressman Gardner's continued denial that climate change is happening," he said. Colorado's commitment to renewable energy, he added, should be celebrated. "We're situated to lead the country and the world. We're prepared for this moment," Udall said, contending that reducing carbon emissions would lead to innovation, new jobs, a healthier environment and geopolitical advantages.
The day after the U.S. Supreme Court passed on hearing numerous gay marriage cases — allowing lower court rulings to stand, including one that lets gay marriages commence in Colorado — Udall said he opposed Colorado's gay marriage ban when it was on the ballot and Gardner said he had supported the ban.
Asked whether he supports building the controversial Keystone XL Pipeline, Udall said he did, "if the science is completed." Gardner shot back, "The science is completed. Yes."
As he has throughout the campaign, Gardner repeated several times that Udall voted "99 percent of the time" with President Barack Obama — a charge Udall countered at one point by noting that Gardner has voted as consistently with House Republicans — and noted that Obama said last week that he isn't on the ballot this November but his policies are.
"I'd like to remind Congressman Gardner that he's running against me. Not Barack Obama. Not my father. Not Harry Reid," Udall chided, referencing a recent Gardner ad that pointed to Udall's father, longtime Arizona U.S. Rep. Mo Udall, who ran for president in 1976.
The moderators asked Udall to grade Obama's performance in office, even though the Democrat wavered at the beginning of the year over whether he wanted the president to campaign in Colorado and stayed out of town when Obama did appear at a Udall fundraiser earlier this summer. The journalists also reminded Udall that he took some heat for saying at the candidates' first debate that he was the last person the White House wants to see walking up the lawn.
"You all had some fun at my expense," Udall said with a smile. "What I was saying was, I have a Colorado compass, and that's how I serve the state of Colorado. When I agree with the president of the United States I stand with the president of the United States," he said, listing instances when he supported President George W. Bush and instances when he opposed Obama.
"If President Obama is spying on Americans and the CIA overreaches its boundaries, I've made my point of view very, very clear," Udall said.
His grinning challenger couldn't resist having some fun at Udall's expense when he had the chance to speak next.
"You just said that you have a Colorado compass, but maybe you ought to consider getting GPS, because your Colorado compass is leading this state down the wrong path," Gardner said.
See the October 10 print edition for full photo coverage.