Legislators on Monday howled for perhaps the most bipartisan legislation of the entire session when Gov. John Hickenlooper signed two bills aimed at the state's furriest friends.
The governor — accompanied by his own dog, Skye, at the state-of-the-art Denver Animal Shelter — signed Senate Bill 226, which aims to curb a rash of dog shootings by law enforcement, and Senate Bill 201, designating shelter pets as the official state pet.Rep. Brittany Pettersen, D-Lakewood, who sponsored SB 201, joked about how the measure surprised her by becoming more controversial than expected.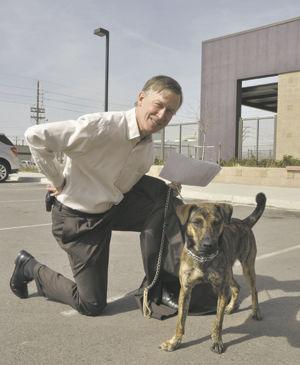 "It ended up being one of my most contentious bills," she said to laughs from an audience assembled outside the shelter, flanked by drooling, excited, attention-seeking dogs.
The measure passed the Senate by a vote of 23-11 and the House by a vote of 39-21, with votes crossing party lines.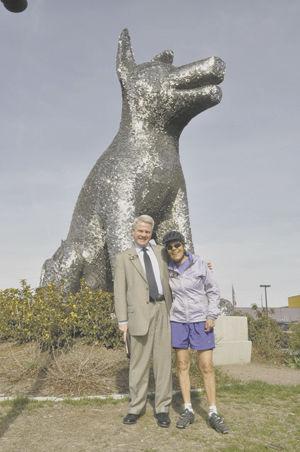 It started innocently with a project by students from Peakview School in Walsenburg. The idea was to teach the kids what the legislative process looks like. When they proposed making dogs and cats adopted from shelter and rescue centers the official state pet, they received an upfront — and at times grueling — look at the inside baseball politics of the legislature.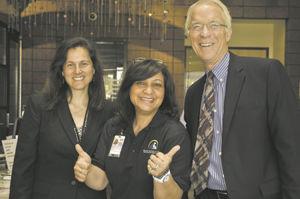 Lobbyists representing dog clubs and shows, pet store owners and groomers became concerned that the bill could be viewed as insulting to their trades. The fear was that Coloradans would default to shelter pets, when the American Kennel Club reported purebred dog ownership in Colorado to be an estimated $20.5 million per year industry.
Others felt the bill was unfair to a variety of shelter pets, including reptiles and birds.
Throughout the process, sponsors came across opposition. Committee hearings were packed with leashed dogs accompanying their owners who came to testify. Throughout the halls of the Gold Dome, barks could be heard, while reporters, staffers, lobbyists and legislators navigated a maze of wagging tails.
Students testified on behalf of rescue dogs and cats, calling the measure a matter of "life and death" for their furry friends.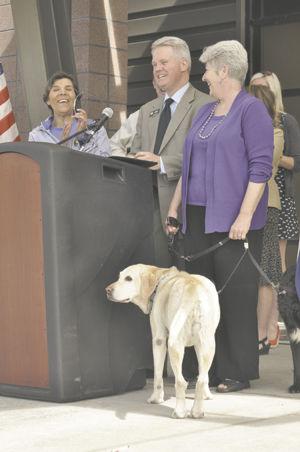 At the bill signing on Monday, Skyler Kuykendall, a fifth-grader at Rooney Ranch Elementary School in Lakewood, joined. But he came at the bill from a different angle. Kuykendall wanted the bill amended to include the golden retriever as the state dog. He said his golden retriever, Boz, was his inspiration.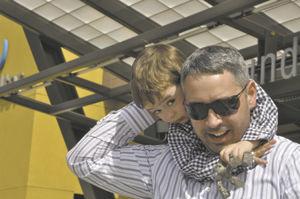 "The gold is like the gold in the mountains, and their brown eyes are like the Rocky Mountains," explained Kuykendall, who even wrote a letter to the governor stating his case.
In the end, however, lawmakers kept the bill general to all shelter dogs and cats. But Kuykendall still walked away with a reward for his efforts. Sen. Andy Kerr, D-Lakewood, presented Kuykendall with a signing pen used by the governor.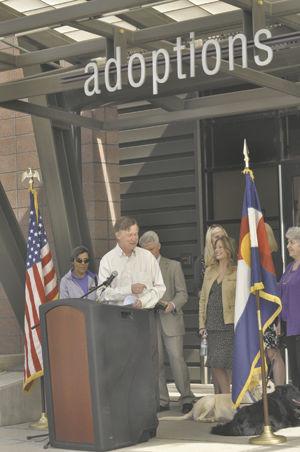 Kerr also acknowledged the surprisingly uphill climb of SB 201, remarking, "Next time somebody brings me a bill and says, 'Oh, this is a nice and easy little bill,' it's kind of like taking your 3-year-old son and your dog to a bill signing and then trying to catch the Colorado flag at the same time."
Kerr was referencing having his son, Griffin, at the Monday event. The youngster came to the Senate committee hearing on the bill in March dressed as a Dalmatian. Kerr also had his rescue dog, a black lab named Angus, with him at the signing ceremony. At one point during the hoopla, one of the dogs in attendance got its leash wrapped around the Colorado flag, which nearly came to a crash before being saved by Doug Linkhart, Denver's manager of environmental health.
Linkhart, a former state senator and city councilman, spoke of the importance of shelters. The new LEED-certified, sustainably focused Denver Animal Shelter was opened in 2011. It boasts impressive features, including separate lobbies for adoption services and lost and found; heated flooring; a community room; short-term housing for urban wildlife; medical isolation areas; and a surgery suite, which allows for on-site spay/neuter services and care for injured animals.
"I want to congratulate Gov. Hickenlooper… for helping these legislators and others have a tremendously successful session on behalf of so many interesting Coloradans. But today we're celebrating their work on behalf of our fur-covered friends," remarked Linkhart.
Hickenlooper pointed out that shelters across Colorado take in about 170,000 pets every year."Families from across the state bring these animals into their lives and enrich their homes, just like Skye became a member of our family," said Hickenlooper. "These pets become a huge part of people's lives."
The governor rescued Skye in Fort Collins before she was trained in the state prison dog-training program. Skye has become a bit of a fixture around the executive offices of the Capitol.
"She'll sit and stay when she's in the mood to, and she speaks often when not spoken to," joked Hickenlooper.
Dog Protection Act
Perhaps the meatiest of the bills, however, was SB 226, which requires police officers to allow owners an opportunity to first save their dog when an officer is responding to a nonviolent call. It also creates a volunteer task force, including animal welfare experts, to create a three-hour training webinar for law enforcement.
The measure comes as state officials have reported more than 40 incidents in which law enforcement has shot family dogs.
Brittany Moore, a 30-year-old Erie resident, became the face of the movement after a traumatic incident in May 2011 in which an Erie police officer, Jamie Chester, shot and killed Moore's 4-year-old German Shepherd, Ava. The bullet severed Ava's spinal cord, ultimately killing her. The rawhide bone she had in her mouth at the time of the shooting fell to the ground as Ava let out an awful squeal.
"It doesn't just go away," Moore said of her harrowing experience. "We'll always miss her, and she'll always be in our hearts.
"But I think this is a huge, huge deal, this bill," Moore continued. "I think it will help in a lot of situations. It gives law enforcement the right training so they're not put in these tough situations."
The measure was actually supported by law enforcement across the state. It also received unanimous approval from both chambers of the legislature.
"This is a bipartisan day for dogs," de-clared Sen. David Balmer, R-Centennial, who sponsored the measure with Democratic Sen. Lucia Guzman and Rep. Lois Court, both of Denver. Rep. Don Coram, R-Montrose, also sponsored the bill.
"This was as much about protecting the sheriffs and the police as it was about protecting the dogs," explained Court.
"The state of Colorado is becoming a leader in the nation…" opined Guzman, as a dog standing next to her appeared to bark in approval. "Helping law enforcement partner with the people in communities to make sure that our animals are safe and that everyone contributes …"
Jennifer Edwards, an attorney with the Wheat Ridge-based Animal Law Center who helped draft the language of the bill, said her firm is representing the owners of 16 dogs involved in shootings in Colorado.
"It seems like a lot of it is fear based," Edwards said of law enforcement shooting dogs. "They're not really sure how to react to the dog-related situation, and it's sort of shoot first ask questions later, which is a very regrettable set of circumstances."