Gov. Jared Polis a week ago issued a proclamation declaring Thursday, May 2, as Colorado Day of Prayer, continuing a tradition begun by the First Continental Congress.
But like so many once-routine government activities these days, it didn't happen without generating some controversy.
Once the dust settled, everyone was all smiles — the theme of this year's day of prayer, after all, is "Pray for America: Love One Another," inspired by the biblical verse John 13:34, "Love one another just as I have loved you" — but not before a furor emerged on social media.
As it stands, observant Coloradans will have the opportunity to turn their thoughts to prayer on May 2 -- also National Day of Prayer -- along with millions of Americans of all faiths, in private or at thousands of gatherings large and small, including a two-hour program set for the steps of the state Capitol in Denver.
Depending who you ask, the whole dispute was either an unintentional misunderstanding — a "created controversy," according to one observer — or a demonstration of the power of prayer — and a whole lot of phone calls — that "shamed" the governor into embracing a tradition his peers and predecessors have celebrated.
As far as Trail Mix can tell, here's what happened:
It started in January, when the National Day of Prayer Task Force, an evangelical Christian organization based in Colorado Springs, delivered a request to all 50 governors' offices, asking that they each issue a proclamation declaring a day of prayer on May 2 in their states.
National leaders have called for days of prayer since before the United States existed —in 1775, the Continental Congress designated a day to pray for the new nation they envisioned, and President Abraham Lincoln issued a similar call a year into the Civil War, in 1863. But the multi-faith National Day of Prayer in its current form was established in 1952 by a congressional resolution signed by President Harry Truman. In 1988, President Ronald Reagan signed an amendment to the law designating it as the first Thursday in May.
The annual event has been freighted with controversy over the years — including in Colorado, where governors have been sued over the last decade by the Wisconsin-based Freedom From Religion Foundation to block the government's participation.
In a 2008 lawsuit, the secular group charged Gov. Bill Ritter with "working hand-in-glove" with the National Day of Prayer Task Force, which was originally associated with Springs-based Focus on the Family.
A district court judge threw out the lawsuit two years later, ruling that the governor's proclamation doesn't violate the First Amendment's prohibition against the government establishing a religion because it doesn't compel anyone to pray. Instead, the judge held, the honorary proclamation merely points out the option.
An appeals court overturned that ruling in 2012, but the Colorado Supreme Court in 2014 rejected the challenge, ruling that the "psychic harm" endured by anyone bothered by the state's involvement was an insufficient injury to create standing to sue.
That's the background that accompanied this year's request from the task force, which requested that Polis issue the proclamation by mid-April so Colorado residents would have time to prepare to observe the event.
By last week, however, Polis had yet to sign the proclamation, so former state Sen. Kevin Lundberg, a Berthoud Republican, went to the governor's office on April 18 to find out what was happening.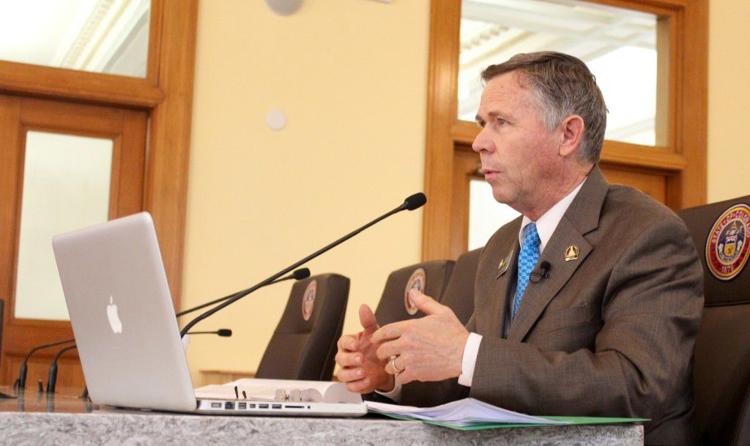 Lundberg told Trail Mix that he received a phone call that afternoon from a member of the governor's senior staff, who told him "very clearly" that Polis was not going to sign the proclamation this year, because the governor "had some legal concerns." And Lundberg said the staffer told him -- incorrectly -- that Polis' predecessors, fellow Democrats Ritter and Gov. John Hickenlooper, hadn't declared days of prayer in previous years.
Lundberg took to Facebook and Twitter to sound the alarm, posting that Polis had "refused to issue a proclamation for the National Day of Prayer," marking the first time a Colorado governor was skipping the opportunity.
"We are hoping (and praying) that he will change his mind, but for now that is the situation," Lundberg wrote, sparking more than 100 comments on Facebook, including from Polis critics who declared it was just one more reason to try to recall the Democrat.
By the next afternoon, on April 19, Polis had signed and issued a day of prayer proclamation. Lundberg declared he was "grateful that the governor finally saw the light," although he also maintained that it was "instructive to note that for this governor it was something he was not inclined to support."
But a Polis spokeswoman told Trail Mix that the governor was always planning to sign the proclamation, adding that the senior staffer had misspoken to Lundberg about the governor's intentions.
"Due to a previous legal challenge related to a prior administration's proclamation, our office needed to take a close look at the language originally presented to us," Laurie Cipriano, the governor's press secretary, said in a written statement. "In order to avoid any issues, we redrafted the proclamation and the governor signed it."
Rather than quoting the biblical passage from John, as the template submitted by the National Day of Prayer Task Force had suggested, the proclamation issued by Polis begins by quoting the familiar preamble to the Declaration of Independence: "That all men are created equal, that they are endowed by their Creator with certain inalienable Rights, that among these are Life, Liberty, and the pursuit of Happiness."
The proclamation signed by Polis also makes clear that it's up to every Colorado resident whether to participate.
"[E]ach citizen has the freedom, if they choose, to gather, to worship, and to pray, whether in public or private," the document reads, and on "May 2, 2019, individuals across this state and nation may, if they choose, unite in prayer for our country, our state, our leaders, and our people."
It's a message Amanda Henderson, executive director of the Interfaith Alliance of Colorado, said she was happy to hear.
"I think it's a created controversy, and the governor's staff was working to make sure it was inclusive, which they should be," she said.
Henderson said she's concerned that the National Day of Prayer has historically been presented through a "more conservative Christian lens" and that her group, made up of faith leaders who tend to be more progressive, has long worked to "make sure all people are included and to make sure there's no institutionalization of any particular dogma."
Said Henderson: "The governor was absolutely correct in not signing a proclamation that would be exclusionary or exclusive to any one religious tradition if it's a proclamation of the state."
"Seventy percent of our American population practices a religion," she added. "It's what shapes our values oftentimes, and there are ways to live that tap into our best pieces of humanity in calling us to love one another — and that should be done through prayer, our lives and our policies."
=
=
=