As an 8 p.m. curfew went into effect throughout Denver, a third straight night of confrontations erupted between protesters and police officers amid the George Floyd demonstrations in Denver.
The more intense confrontations started just before 5:30 p.m. in the lot adjacent to RTD's Civic Center Station, where police, including SWAT officers, formed a line and forced protesters back. Someone threw a water bottle at officers, and police fired back with pepper balls, tear gas and flash bangs and pushed the crowd south of Colfax. Protesters were felled by tear gas and treated on the scene by other protesters who were prepared with milk and a solution of baking soda and water.
At least one person was seriously injured and was taken away by a Denver Health paramedic.
The protesters briefly pushed the police line back down Lincoln Street. As of 7:30 p.m., the crowd and police are still clashing at the intersection of Lincoln Street and 14th Avenue.
Denver Mayor Hancock had announced the curfew along with additional steps the city will be taking to protect the public, police, and property.
The death of Floyd, a black male, at the hands of white Minneapolis police officers on Memorial Day has sparked outrage across the country and in Denver, where two nights of protests have devolved into chaotic riots met with tear gas and pepper bullets from police. 
"We've had enough," Hancock, the city's second black mayor, said during a press conference Saturday in front of the City and County Building, whose windows have been covered with wooden boards after being shattered during the protests.
"We hoped we would not have to take these steps," he said, "but the aggressive actions taken by some has made it necessary."
The citywide curfew was to go into effect Saturday from 8 p.m. to 5 a.m., and remain in place until Monday, he said. The curfew will be enforced, and violators face up to a $999 fine or 300 days in jail, city attorney Kristin Bronson said during the press conference. Limited enforcement exceptions will be made for a small group of people, including those who are homeless, traveling to work or fleeing danger. 
But confrontations between Denver Police and protesters took place well before the curfew went into effect.
The first was around 4 p.m., after organizers, including Denver Public Schools board member Tay Anderson had left for the day. Protesters marched to the District 6 police substation at Washington and Colfax, where someone reportedly threw an empty water bottle. Police responded with tear gas and pepper balls.
On Saturday, protest organizers made every effort to keep the event ordered and calm. State Rep. Leslie Herod, D-Denver, told Colorado Politics that they were committed to a nonviolent protest.
"We are here to stand against police brutality, against injustice in our community. ... We will be back and we will keep fighting for policy change," Herod told Colorado Politics.
Herod pointed out that similar to protests in Minneapolis, the rioters are not part of the same group as protesters.
"We have evidence and photographs of folks who are not part of this organization and not part of this rally, coming in to incite violence and to make us look bad," she said. "They are using our pain for their malicious gain."
Herod said the rally would officially end at 5 p.m. After that time, "anyone else is not with us." 
Denver Public Schools board member Tay Anderson, reiterated the call for nonviolence when he addressed protesters at the Greek Amphitheater.
"When you turn up and destroy our city, we are the ones they blame, because our name of Black Lives Matter is attached to it," Anderson told the crowd. "Let me just be clear, everybody, we're asking you, we're demanding that once we end this, there is no riot, there is no second protest today."
According to Sonny Jackson, a spokesman for the Denver Police Department, 32 arrests were made during protests the past two nights. On Friday night, there were 19 arrests. 
A total of 10 firearms have been seized, Jackson said, including three assault rifles.
Hancock and Pazen both acknowledged that the violence and vandalism are being carried out by a small group of individuals who are "hijacking" Floyd's death to advance a violent agenda. 
"Attempting to capitalize on this tragic killing of Mr. George Floyd to cause widespread damage in our city in nearly as inexcusable as the horrific killing itself," Pazen said. 
The mayor said Gov. Jared Polis has also called in the Colorado National Guard to provide extra support.
"Mayor Hancock has requested the support of the National Guard to help keep people safe and prevent further destruction and I have granted that request," Polis said in a statement Saturday.
"Today is a new day and it is my hope and the hope of all Coloradans that any future demonstrations remain peaceful," he said. "To those peacefully protesting at a safe social distance, know that I see you and I am listening."
Saturday's march offered a moment for thousands to speak out against racial injustice. Protesters lay face-down for 9 minutes, with their hands behind their back in a similar position as Floyd, chanting "I can't breathe," among his last words.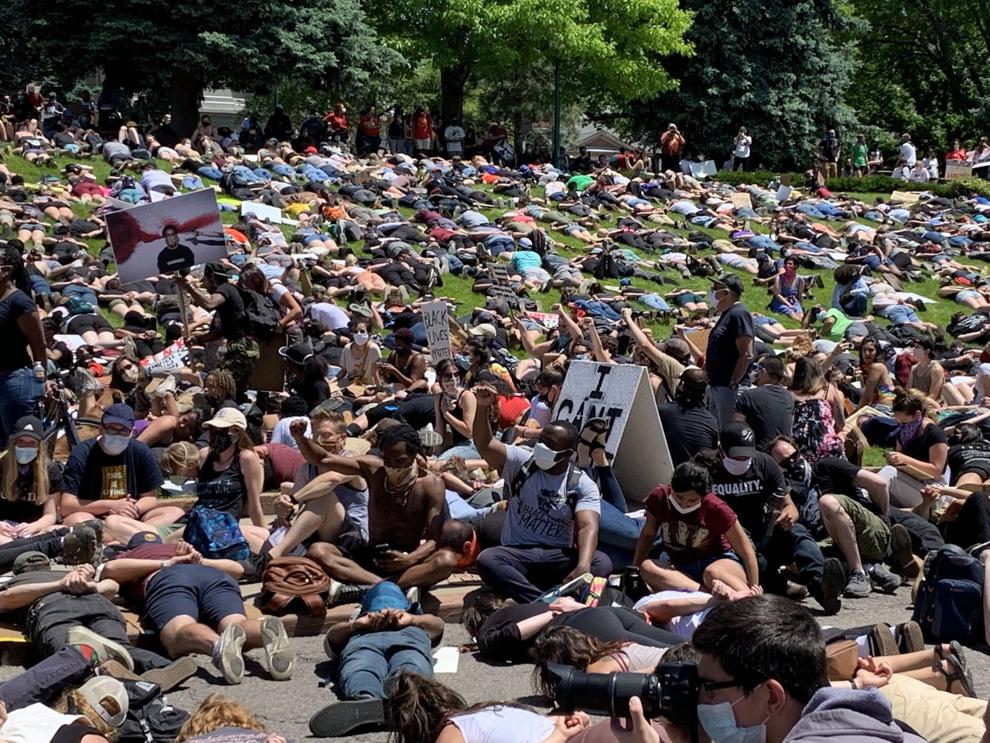 After that, thousands marched down the 16th Street Mall, chanting and yelling for justice.
There has been one major confrontation between protesters and Denver Police, about 4 p.m. at the District 6 police substation at Colfax Avenue and Washington Street. Tear gas was used.
The crowds have thinned to a couple of hundred from about a peak. Now people are marching up and down Colfax.
The organizers, who made it clear the rally is over at 5 p.m., have left. Those still here likely include those who intend to ignore the curfew, or at least are saying they will. 
State Sen. Julie Gonzales, D-Denver, reiterated that it was Floyd, and other people who have died in police custody, who should be the focus of these events, and not the destruction.
"I've been shocked at the concern for property, and I wish there was that same level of concern for life," she said. "That is the work. That will be our work."