With three top-ticket races that each appear to be tight as a tick — the U.S. Senate contest between Democratic incumbent Mark Udall and his Republican opponent, U.S. Rep. Cory Gardner; Democratic Gov. John Hickenlooper and his challenger, former U.S. Rep. Bob Beauprez; and three-term U.S. Rep. Mike Coffman's run against former House Speaker Andrew Romanoff — Republicans, Democrats and single-issue groups are pulling out all the stops in an effort to chase every ballot.
"The ads, everything the campaign has done up to this point, has been the opening act," said Udall campaign communications director Chris Harris. "We are the pre-show. The headliner is the field organizers and the volunteers."
If Udall — who has been trailing by a few points in most public polling for the past month — pulls out a win, Democrats say, it will be because of a superior get-out-the-vote operation that the campaign has been assembling for most of the year.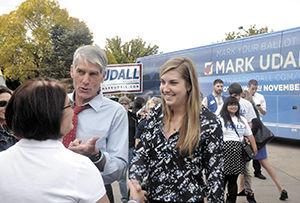 "It's going to be a close race. Right now it's a tied race," Harris said. "Especially with mail ballots, it'll come down to which side is better organized, and that's us. Everything we've done up to this point, starting the field program back in the spring, has been solely dedicated to get enough volunteers for this final three weeks and the ballot chase, and getting our targeted voters to turn in their ballots," he said. "That was mainly underneath the radar — not quite as entertaining as TV ads and press releases, but that was always our game plan, and that's how we're going to win."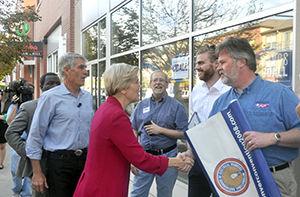 But Colorado Republicans, who have been stunned by unanticipated Democratic turnouts in the state for a decade, say that this year it's their turn to surprise observers with the results of their own robust GOTV machine.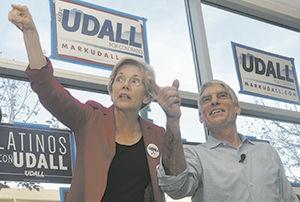 "We have been working nonstop since 2012, ensuring we have the best data available, the best ground game, the best technology," said state GOP communications director Owen Loftus. He notes that Colorado Republicans have more field offices open than they've ever had in a midterm election, with 14 in operation.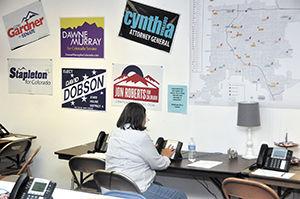 The campaign manager for Coffman goes even further, predicting that Democrats won't know what hit them when the votes are counted on Nov. 4.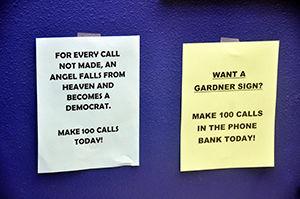 "Democrats have always had a good ground game, but they've been facing a vacuum on the other side," Tyler Sandberg said. "It's the first time they're going to face an army on the Republican side."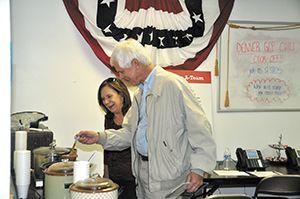 He acknowledged that Republicans have relied on their supporters' tendency to vote without much prodding in previous elections but contends that this year is different, and that Coffman and other GOP campaigns have been "working aggressively" to reach unaffiliated voters since Memorial Day.
"We have the strongest ground game CD 6 has ever seen, by an order of magnitude," Sandberg boasted this week. "We're approaching 200,000 doors knocked already, and we haven't opened the spigots yet. At this point, we're hitting thousands of doors every single day."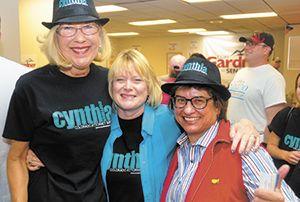 Sandberg said that Coffman — who defeated a relatively unknown and underfunded challenger in 2012 by just 2 points in the closely divided district — got busy right after the last election and has added his own personal touches to voter contact and GOTV efforts.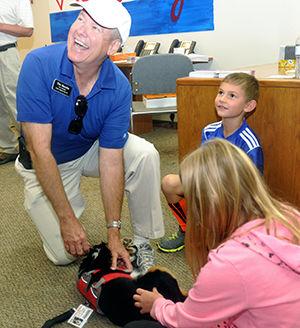 "Republicans have learned best practices from the Obama campaign, that a door-to-door, face-to-face interaction is by far the most influential," Sandberg said. "Mike Coffman has spent countless hours calling voters in English and Spanish going back to April."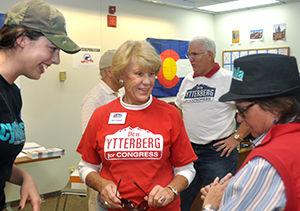 Just last week, Coffman was knocking on the doors of Hispanic voters in Brighton, where he ran into a young man who was about to enter the Marines and was able to offer some career advice in Spanish.
"That's a demonstration of his tireless work ethic and deep connection to the people of this community," Sandberg said, adding, "This is not an election-year strategy — this is a Mike Coffman representation model."
In addition, every single Republican who voted in 2012 but not in 2010 is receiving a hand-addressed letter from Coffman this week, as their ballots arrive, urging them to vote, Sandberg said.
Romanoff's campaign makes similar claims and is taking a similar approach to winning an election both sides agree could be extremely close.
"This is the biggest field program that has been built and executed in CD 6 in a midterm," said Romanoff communications director Denise Baron.
"We've transitioned into GOTV mode, and we have done a series of trainings all around the district," she said this week, pointing to field offices in Centennial, at the south Aurora campaign headquarters, in north Aurora and in Brighton. "As of Tuesday," she added, "we had attempted to contact (more than) 125,000 voters over the last 10 days by phone and knocking on doors — that's not the type of number you hear in a midterm."
What's more, Baron said, the Romanoff campaign has nearly 1,000 committed volunteers. "That's not just a list, that's people who have come in, made phone calls, done data entry, knocked on doors — those are real boots on the ground," she added.
"We feel really good about our ground game — we have a lot of confidence in the field team we've built and the specific volunteer teams," Baron said.
Democrats wrote the book on turning out voters beyond expectations in the 2010 Senate race, when Democrat Michael Bennet confounded the polls — he didn't lead Republican nominee Ken Buck in a single survey released in the month before the election — and remained standing in the face of a Republican wave that toppled Democrats nationwide, winning by 30,000 votes, or just under 1.7 percent of the vote. Bennet won on the strength of high turnout among Hispanics, women and younger voters, precisely the slice of the electorate that tends to sit out midterm elections.
This year, with control of the Senate in the balance — Republicans have to take just six seats from among a dozen that are up for grabs — Bennet heads the Democratic Senatorial Campaign Committee and is applying lessons from his narrow win to races across the country. The approach, which stresses a comprehensive and targeted ground game, is known as the Bannock Street Project, named after the location of Bennet's main field headquarters. (The office building at 1100 Bannock St., which now houses a gym, was also the headquarters for the winning campaigns of U.S. Sen. Ken Salazar, Gov. Bill Ritter, Udall's 2008 campaign and Denver Mayor Michael Hancock's 2011 run.)
Under Bennet's lead — and with his 2010 campaign manager, Guy Cecil, running things at the DSCC — the Colorado Democrats' GOTV operation already dwarfs the effort that pulled him across the finish line.
"Our ground game is substantial," said Colorado Democratic Party Chairman Rick Palacio, pointing to 100 paid organizers, roughly 4,000 volunteers and 25 field offices humming around the state. "In a dead-heat situation, the ground game is what's got to win it for us."
While Palacio acknowledged that Republicans might catch up with the Democratic GOTV operation "at some point," he scoffs at the suggestion the opposition is even close.
"There's a lot of talk about their need to catch up on technology — but technology is not just social media," Palacio said, contending that state Democrats have a jump on crucial components of the strategy that Republicans can't yet match.
"We run a combination of old-fashioned boots on the ground coupled with the very latest of data and technology," Palacio said. "The data is up to date and very comprehensive… It's not a secret what we do — we improved it in 2008 with the presidential election, improved it more in 2010 with Sen. Bennet's race, and improved it again in 2012," he said. "I have not seen any evidence they're going to match us this year."
What the Democrats have that isn't available off the shelf is an intricate voter file that includes "data that has been built over the course of 150 different campaigns," Palacio said. "That's where we have a decade head start."
But even with that advantage, Palacio allows, the shift to all-mail ballots, coupled with vote centers and same-day registration — this year, Colorado voters have more ways to vote than residents of any other state — throws even more uncertainty over an already unpredictable election.
"Mail ballots are definitely the X factor here," he said. "I don't know how anyone can determine how mail ballots are going to play with any accuracy."
Ellen Dumm, a consultant who works with both liberal and centrist nonpartisan organizations dedicated to encouraging people to vote, said that Colorado's inaugural "hybrid" system — including other options on top of all-mail ballots — will be closely watched around the country.
When other states have started all-mail elections, turnout has typically jumped 2-3 percent, Dumm said, though it could jump by as much as 7 percent, based on what's happened in Washington and Oregon. But since a hefty share of Colorado voters have already been voting by mail, the effects could be harder to predict.
While the election reform package passed the General Assembly in 2013 over strong objection by Republican legislators, Dumm said that the evidence shows that mail ballots and same-day registration don't benefit one party or the other. "It benefits who's better organized and who's organized enough to take advantage of how to maximize it," she said.
Typically, she said, what's known as the rising American electorate — younger, nonwhite voters — can vote at a higher rate under systems like Colorado's, in part because they drop off more proportionately than older white voters in non-presidential elections.
Some younger voters will be getting an extra nudge toward the polls from the nonpartisan New Era Colorado organization, which targets voters under 30 with voter registration drives and then tries to make sure they vote.
The group finished registering 22,000 voters just this week, far surpassing its initial goals, said executive director Steven Fenberg, and was preparing to kick off its GOTV efforts.
"The people we're contacting, for the most part, we're the only ones contacting them," Fenberg said, noting that the vast majority of voters New Era registers are unaffiliated. "Everyone we're reaching out to are young voters, and parties consider them unlikely voters so don't target them as much."
In past elections, New Era boasts an 86 percent turnout rate among those it's registered, bolstered by the group's ability to send voting reminders by text message and tens of thousands of phone calls and door knocks.
New Era is just one of more than a dozen groups targeting voters this year, and it will add up to millions of dollars from outside groups.
The conservative-leaning Americans For Prosperity, funded by the billionaire Koch Brothers, is also conducting an unprecedented voter-turnout effort in the state, sadi Colorado AFP director Dustin Zvonek.
"Colorado is among our top two or three priorities," Zvonek said, noting that AFP recently announced it plans to target Udall directly, urging votes against the incumbent, for only the second time in the organization's history.
"In his case, we've tried to put pressure on him on energy, spending and Obamacare," Zvonek said, "but he doesn't in any way seem like he's going to change his positions. We think he's beyond reform when it comes to issues we care about so we're urging Coloradans to vote against Mark Udall." (AFP is also campaigning against incumbent Democratic senators in Iowa, North Carolina, Alaska and Louisiana, four other states whose elections could tilt the balance in the Senate.)
The organization boasts five full-time field directors, 30 field organizers and upwards of 120 volunteers, Zvonek said, targeting voters in Jefferson, Arapahoe, Douglas, Larimer and El Paso counties, "with a heavy emphasis on Jeffco and Arapahoe," two large bellwether counties.
"We expect to knock on 50-60,000 doors with our team and activists and make a similar number of phone calls," he said, noting that AFP is likely contacting voters who aren't on the radar for the major campaigns because they don't tend to vote in midterms.Since mid August, he added, AFP's field staff has gone from four to 35. "We're getting a lion's share of the focus from our organization because it is such an important state."
See the October 17 print edition for full photo coverage.