Steve Farber, the kid from North Denver who founded a law firm with childhood friends and left his mark on nearly every aspect of recent Colorado history, died Wednesday at his Denver home surrounded by family.
Farber, 76, was friends with presidents and an adviser to senators, governors and mayors. From his perch as a founding partner and president of Brownstein Hyatt Farber Schreck, one of the most powerful legal and lobbying firms in the country, he negotiated deals for the Denver Broncos and helmed the site committee that brought the Democratic National Convention to Denver in 2008.
"Today, with great sadness, we say goodbye to a Colorado legend, Steve Farber," said his lifelong friend, Norm Brownstein, who founded the influential firm with their friend Jack Hyatt in 1968, in a statement.
"Throughout his career, Steve was one of the most respected and accomplished leaders in the country," Brownstein said. "He inspired change not only at the firm, but throughout Colorado and across the nation. Steve was often the first call CEOs, politicians and community leaders made because they knew he would find a way to get the job done. The firm's ability to thrive for more than 50 years is a testament to Steve's leadership, work ethic and entrepreneurial spirit.
"I think former Governor John Hickenlooper put it best when he said, Steve has millions of friends but you always feel like you are the most important."
Added Brownstein: "Goodbye, my brother. It's been an incredible ride."
At the center of many of the Front Range's landmark projects, Farber put together funding for Denver International Airport, the E-470 highway and the T-REX project, Hickenlooper noted in a 2018 proclamation honoring the 50th anniversary of the firm's founding. That work, he said, demonstrated the firm's commitment "to ensuring Denver remains a thriving and growing city."
"I look at this city. I'm pretty proud when I see what it's become. It's a heck of a city," Farber told Colorado Politics in a 2015 interview in his office, surrounded by memorabilia from decades at the center of national politics and Denver's endeavors to become a world-class city.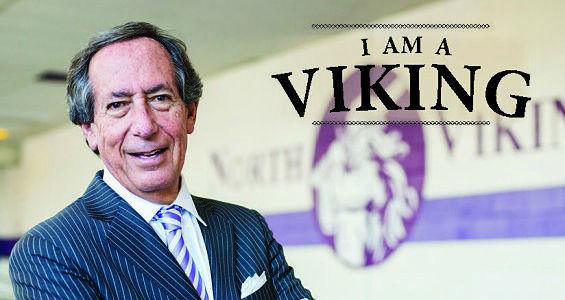 With a broad smile, Farber pulled from a sheaf of papers an image from an ad campaign he'd recently participated in to promote Denver's North High School.
"I am a Viking," the ad read, next to a photo of a smiling Farber.
"I have pride in my high school," he said. "I have pride in the city I live in."
Farber, a lifelong Democrat, honed his political chops early in his career helping college classmate and fraternity brother Hank Brown, a Republican who later joined the firm as a partner, win election to Congress.
"When Norm and I first got involved in politics," Farber recalled with a chuckle, "we had Hank Brown, and we aligned ourselves with Hank, which wasn't a smart thing to do as Democrats."
While he remained comfortable working across the aisle — "I try to avoid the hostilities between parties," he said — Farber became known as a powerhouse Democratic fundraiser and strategist starting in the mid-1980s when he ran the first of Roy Romer's three successful campaigns for governor.
Friends for decades with Bill and Hillary Clinton, Farber co-chaired the Clinton Global Initiative in Denver for two years and was a top fundraiser for Hillary Clinton's presidential campaigns, belonging to the group of bundlers known as "Hillblazers," who raised more than $100,000.
On the verge of the last presidential election, Farber said he was alarmed at the nativist turn the Republican Party was taking.
"We've heard all our lives — when I was a young kid, the immigrants were settling in Denver," he said. "I'm an American. America is based on opening our doors to people, being civil to people who need help. We've always been that way. Your parents and my parents taught us, that's the way of our country, that's the way the United States should be."
Farber, who received a transplanted kidney from his son Gregg in 2004, co-wrote a book about the procedure and founded and chaired the American Transplant Foundation, which works to eliminate the shortage of transplant organs.
"I wouldn't be here if transplants weren't around," Farber told Colorado Politics. "People need to be informed about how you deal with this. I said, if I get through this, I'm going to start a foundation, I'll raise the money, I'll do what I can, because there's people dying. We've saved people in 35 states now, who ultimately went through our program. So it works. It taught me a lot of lessons in life."
The American Transplant Foundation on Wednesday mourned Farber's passing.
"The legacy he left, though, will live on forever," the foundation said in a statement. "Steve believed that no one should die while waiting for a lifesaving transplant. Through his own struggle of trying to find a living donor due to kidney failure, he realized how much needed to be done to help save lives here in America."
Noting that Farber's intention was to establish a foundation "that goes beyond awareness and provides real help to transplant patients and their loved ones," Anastasia Henry, the foundation's executive director, said the foundation has helped save 1,417 lives provided $832,000 in direct support for patients and families, as well as helped pass legislation to support living donors and their families.
Farber was on the board of trustees of the Anti-Defamation League, the Children's Diabetes Foundation, the Race to Erase M.S. Foundation and the Children's Hospital Foundation. He was also a member of the boards of Citywide Banks, Denver Health Foundation, Aurora EDC and Alliance for Choice in Education, and chaired Denver Hospice's capitol campaign, according to his law firm's website.
Services are pending, Brownstein said.