When everything was said and done, all Katie Behnke and Kristin Strohm could do was wait. Wait and see what a string of caffeine-fueled, sleep-deprived months of endless phone calls, conversations and a flurry of hastily written checks would translate to in percentage points.
Would Cory Gardner clear the 50 percent hurdle? What about Mike Coffman? And his wife Cynthia? Wayne Williams?
The night turned into a triumphant whirl.•••
Behnke and Strohm are the founders and managing partners of the Starboard Group, a pioneer GOP finance powerhouse and consulting firm. On Election Night 2014, Starboard cemented its unofficial but commonly-known title as Colorado's conservative fundraiser-in-chief.
Every one of their clients lifted his or her glass in celebration that night. Rep. Coffman brushed off a fierce challenge from former Colorado House speaker Andrew Romanoff, a race that topped the National Republican Congressional Committee's list of incumbent protection. Cynthia Coffman followed outgoing attorney general John Suthers, whose bid for Colorado Springs mayor Starboard now manages. Wayne Williams moved into the vacated Secretary of State office.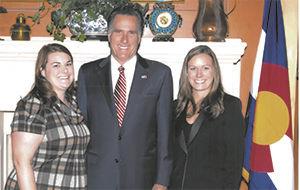 And then there was Cory Gardner, the poster boy of the great Colorado GOP resurgence of 2014, who ousted sitting Democratic U.S. Senator Mark Udall — a feat that hadn't been accomplished in the state since 1978.
If you want to understand the integral role Behnke, Strohm and their staff of seven played in pulling the strings behind the first major Republican-elected office sweep in a decade, simply considering fundraising as it used to be understood won't suffice.
Three months after the Republican electoral coup d'etat, and a few good nights' sleep later, Behnke and Strohm sit in a small, sober conference room in their Greenwood Village offices, reflecting how they got to a point where Coffman spokesman Tyler Sandberg calls them the "de facto conservative fundraising firm of the American West," and how they will move forward from here.
For half an hour, neither of their cell phones rings. That doesn't happen often. If it does, it is the best indication that the political campaign circus is taking a brief off-year hiatus.Not so for Behnke and Strohm, though.
When the duo founded the firm in 2008, they had a vision. Professional fundraising until then had mostly been done by lone hired guns, often from out of state, who would sign on to a campaign for a cycle before they vanished again into the political wilderness once the deed was done.
What if there were a way to make fundraising a 24/7/365 operation?
"If you could make fundraising 50 percent about the 'Ask' — the actual fundraising portion and the other 50 percent about relationship building and being involved in the community, it would actually make fundraising easier because you would maintain relationships that are gracious to the people who supported you," Behnke says.
How that has played out ever since: The managing duo requires every Starboard staffer to give back to the community, whether that means serving on boards of a nonprofit or getting involved otherwise. The charity is equal parts altruism and economic calculus. If elected officials court deep-pocketed donors by having their fundraising representatives show goodwill in times when they are not primarily vying for fat checks, their campaign accounts are much more likely to fill up come the next election cycle.
Today Behnke and Strohm run all fundraising operations for the Republican National Committee, the National Republican Senatorial Committee and the NRCC in Colorado.
•••
The Starboard Group is somewhat of the conservative response to The Blueprint, the much-celebrated Democratic fundraising revolution, which in the first decade of the 21st century helped a blue party depressed make a formidable comeback in Colorado.
A well-oiled machine constructed of liberal donors, spearheaded by the "Gang of Four" — Dot-com millionaire and U.S. Rep. Jared Polis, billionaire and philanthropist Pat Stryker, software developer Rutt Bridges, and Quark-founder and gay-rights advocate Tim Gill — helped Democrats (temporarily) take control of both chambers of the state legislature.
But while this independent donor network succeeded via sophisticated navigation, coordination and allocation of resources, Behnke and Strohm keep the donor files of their respective clients strictly separate, per legal requirement.
The firm serves a sort of an enabler, a liaison between the politically powerful and the economically potent. While they have their main offices in Denver, they also have worked for campaigns across the country — in Washington, D.C., California, Wyoming, Florida, Wisconsin and Massachusetts, among others.
•••
But tapping into the pool of a vast eclectic network of professional contacts and personal friends to set up donor breakfasts with cash-seeking candidates means Behnke and Strohm hold some private, intimate stakes in what they do with their business. Not every candidate asking for their help is a perfect fit — for various reasons.
That sometimes means making tough calls. Last year Bob Beauprez, who was vying for John Hickenlooper's seat in the governor's office, fell victim to that policy. Strohm worked for Beauprez during his first bid for governor in 2006. When the former congressman got close to announcing his 2014 campaign, he turned to his old confidante to talk about the race.
It was mid-February, and Behnke and Strohm had already promised confidentiality to Cory Gardner, who was making moves to give up his House seat to enter the Senate race. They told Beauprez they needed three weeks until the dust settled. But Beauprez couldn't wait. Instead he chose to hire his future daughter-in-law, Monica Owens, a Republican pundit and daughter of former governor Bill Owens, as his finance director.
Beauprez eventually lost the fundraising race against Hickenlooper by a 1-to-3 ratio.The two managing partners don't make the decision of whom to sign by themselves. "We rely on a group of our donors and a group of our advisors to help us decide which projects we are going to take on," Strohm says.
The decision is easy when it comes to picking one side of the aisle. Would they ever take on a Democrat as a client? "No," Strohm says with distinctly partisan rigor. Adds Behnke: "We are Republicans. One of the things I love about owning my own business is that it's my passion, my volunteer work, my good work toward men and my profession all rolled into one. We work for people we really believe in. If we are going to leverage relationships we have personally, there's some accountability to the people who are investing in races."
•••
For every fundraiser, the words McCain-Feingold are a hellish phrase. Even the slightest utterance of campaign finance reform makes Behnke and Strohm cringe. Although they perpetually emphasize that their firm does more than ask the conservative up-and-comers for money, fundraising is their bread and butter.
And looser regulation — as well as knowing how to navigate existing law — means more butter.
"You can't get a degree in fundraising, you can't get a degree in campaign finance," Strohm says. Denver University's law school offers one class in campaign finance, which Strohm has co-taught. But ever-changing, rapidly evolving regulations on both the federal and state levels mean only continuous investment into staff training equates to economic survival for a fundraising firm.
"We find that it usually takes two years for anybody who we bring on to our staff to learn all the laws, all the legalities," Strohm says.
•••
The back corridor of the Starboard, offices sports a hall of fame of the firm's past clients. It's a wall plastered with campaign signs featuring scribbled thank-you notes from candidates and more anecdotal memorabilia, such as a photo of Behnke and Cory Gardner hunting together.
For Colorado's newly-elected freshman senator, Starboard played an integral part not only through its fundraising operations. Behnke was Gardner's deputy campaign manager and involved in every decision, from top to bottom.
"Katie was fully integrated," said Chris Hansen, Gardner's campaign manager who went on to rise to the ranks of chief of staff in the Senate office the Yuma Republican just moved into. "In a lot of campaigns, people have their own areas, and the finance director barely talks to the political people. That's just not how we operated. We were a small campaign, but that meant we were a tight-knit group. We were able to set egos aside and make sure that we were doing a grassroots event on the Western Slope and doing a finance event on the same trip to maximize our schedule efficiency."
When Behnke got married on Feb. 8, Gardner was among the guests at the ceremony in the fancy Wynn Hotel in Las Vegas. (Two days later, Behnke was back in the office for our interview.)
A few feet down the corridor hangs another photo, this one featuring the partners with 2012 Republican presidential candidate Mitt Romney. They didn't sign on to his campaign until three months before Election Day. They raised $8.7 million. "It was a daze," Behnke says, remembering another flurry of sleepless nights.
She and Strohm have already had informal conversations with 2016 presidential GOP hopefuls, and they have listened to preferences from many donors, who floated names such as Jeb Bush, Bobby Jindal or Scott Walker.
Once any one of these men formally announces his bid to follow Barack Obama into the White House, staffers will make calls to the battleground state of Colorado.
At that point, Behnke's and Strohm's phones will probably start to ring a lot more again.