Dozens of supporters joined former state Rep. Debbie Stafford to kick off her campaign for mayor of Aurora at an ice cream social on July 16 at Highline Park.
A relentlessly upbeat Stafford — a domestic violence counselor, ordained reverend and certified auctioneer — spent much of the event greeting members of her enormous family, including nine grandchildren and numerous "adopted kids" she has kept in touch with since she was their youth pastor.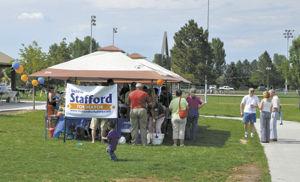 "I just love people," she said. "I really want to be a mayor for the people. One of the things I really want to make sure is that Aurora is a place to live, work, stay and play."
Whichever of the six announced candidates wins the Nov. 1 all-mail election — voters start casting ballots in just over 75 days — it will mark the end of the Tauer era. Mayor Ed Tauer and his predecessor and father, Paul Tauer, have held the mayor's seat for more than two decades.
Stafford, who constantly interrupted her remarks to supporters to introduce family members and old friends, said she is the one to lead the state's third largest city into its next chapter.
"I think because of my history in this community — I've been here as a pastor, I've been here as a legislator, I've been on many boards and commissions — people know I care about people and their lives and their children and their grandchildren and what happens to them," she said.
She said her focus will be on bringing jobs to the city, strengthening the far-flung burg's transportation network, and restoring community services such as libraries, pools and recreation centers that have been victim to recent budget crunches.
The former Republican — she wrapped up her legislative career as a Democrat after being elected four times as a Republican from a southeast Aurora district — sees an opening in a crowded, winner-take-all nonpartisan race that also includes three formidable Republicans of various stripes, though a late entry by another Democratic candidate could complicate those plans.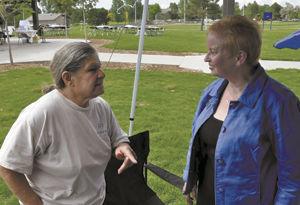 The major Republican candidates include City Councilman Ryan Frazier, who ran unsuccessfully for the U.S. Senate and then the U.S. House last year; Steve Hogan, a longtime City Councilmember who ran for Congress twice as a Democrat but switched parties himself more than a generation ago; and real estate agent Jude Sandvall, who disparages his rivals as "career politicians" and hopes to catch a local wave of discontent he said mirrors the national scene.
Hogan has the backing of a bipartisan group of civic leaders and his campaign has been regularly releasing fundraising updates, most recently touting that the campaign has passed the $125,000 mark. The first campaign finance reports aren't due to the city until Aug. 3, though spokesmen for the other campaigns said they were raising plenty to be competitive.
While the race is nonpartisan, Stafford's campaign manager acknowledged that her strategy involves providing voters with an alternative to the Republicans running.
"We feel we have a great shot," said Aaron Cohen, a managing partner with 3PG Consulting, a local firm contracted to run Stafford's campaign. "It's a five-way race right now. We think a lot of those other people are going to be splitting the vote, so we can pull a lot of our supporters."
Many local Democrats have gotten behind Stafford as part of a plan to run Democrats up and down the ballot in the fall election.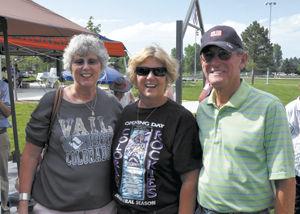 State Rep. Nancy Todd, D-Aurora, said she is an unqualified supporter of Stafford and noted the two worked together on numerous issues at the Capitol.
"I think she is a strong, dynamic candidate," said Todd, who is term-limited in her House seat and is planning a run for the state Senate. "She has a vision for our city, and that vision is that people will have safe places to go, that families will have support for what they need. Under her leadership, Aurora will continue to soar."
Todd said Stafford converts voters left and right on the campaign trail.
"All you have to do is meet her, and you catch the fervor of her enthusiasm and excitement. It's very contagious, and it's very positive," she said with an ear-to-ear grin.
Though her campaign organizers hope the Republican candidates duke it out and leave the spoils to Stafford, she discounted the value of party labels in the race. Asked whether she's changed her positions on any issues since becoming a Democrat nearly four years ago, she said she hasn't at all.
"I am who I am, and people have been gracious to accept me as I am," she said.
While Republicans routinely deride and dismiss Stafford on blogs, she said she hasn't noticed any lingering bitterness over her party switch. (It shook the Statehouse in October 2007 when she angrily dumped the GOP over her treatment by fellow Republicans after she supported a bill that would have made it easier for homeowners to sue builders for construction defects.)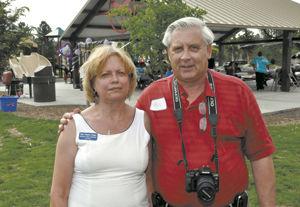 "Fifty percent of the first donors that came in were from Republican women," she said. "I have a lot of Republicans that are supportive, but there are some really great Republican candidates, so, as a result of that, why, it's going to be an exciting race."
Stafford's campaign isn't worried about the pending entry of fellow Democrat Barbara Yamrick into the race, either, her spokesman said. The former Aurora Public Schools board member and past elected RTD board member — she lost a bid for reelection a couple years ago — has pulled paperwork but doesn't plan to launch her campaign until the middle of August. Yamrick stopped at Stafford's picnic and spoke briefly with the candidate before saying she wasn't planning to go public with her own campaign for nearly a month."She is getting in the race," said Cohen, "but we've already lined up a whole bunch of the endorsements she's going to want, and we think we can out-raise her — we've got the head start."
Psychotherapist Sheilah Thomas Davis is also an announced candidate, and the field could grow further still, as candidates can't circulate nominating petitions until August and then only require 100 signatures to make the ballot.
Aurora recently made its mayor a full-time position. It pays a salary of $54,999.
As the petition deadline nears, the race has begun to heat up. Earlier this week, Hogan unveiled an extensive policy document called "One Aurora," which outlines his proposals on the economy, transportation and basic city functions. Frazier has his own summer kick-off planned this weekend and has scheduled a fundraiser with national strategist Dick Morris for next weekend.
For his part, Sandvall said he's walking door-to-door and keeping his campaign in the grassroots, perhaps hoping to surprise the city the way a pair of fiscal conservative City Council candidates did two years ago when they unseated liberal incumbents.
Sandvall delights in pointing out that he's the only major candidate who hasn't held office, though he doesn't trumpet the fact he lost a race for RTD board a while back.
All of his major opponents, he said, "have all run multiple times, now for multiple offices — in my estimation, all of them are career politicians. I tried to add it up one night," he said with a chuckle. "It's been over 25 or 30 times they've run for office combined."
Stafford, elected four times to represent a sprawling House district that stretches to encompass Elbert County, dismisses criticism that she's a career politician.
"I just want to say once again, we are Aurora," she told her supporters, adopting a phrase from Denver Mayor Michael Hancock's successful campaign.
Looking for all the world like she was counseling everyone under the tent, she smiled.
"There's no time and there's no need to be negative. I don't know about you," she said, "but every day of life that I live is precious, and every day that you live is precious. So let's all put our arms around it and embrace it and continue to advance and make this the greatest city, ever, in Colorado."