Gov. Jared Polis on Tuesday celebrated the end of bill-signing season the day before.
Colorado's governor signed 454 bills sent to him by the 2019 General Assembly. He vetoed five.
And one bill didn't need to be signed: House Bill 1257, a legislative-referred initiative heading to the November ballot that will ask voters to allow the state to permanently spend state revenues that would otherwise have to be refunded under the Taxpayer's Bill of Rights.
In all, Polis hosted 42 bill signing ceremonies around the state.
> RELATED: Last day for Colorado bill action: Polis signs measures on media literacy, conservation easements, foam chemicals
Tuesday, Polis said that 95 percent of the bills signed were bipartisan, but that doesn't mean 95 percent had Republican sponsors. In many cases, "bipartisan" meant only that at least one Republican voted for the bill. 
Among the successes he cited: Polis handed out copies of a letter sent to the U.S. Treasury and the Department of Health and Human Services that advocates for Colorado to be given a waiver that will allow the state to set up a reinsurance pool. The letter is signed by all nine members of the Colorado congressional delegation.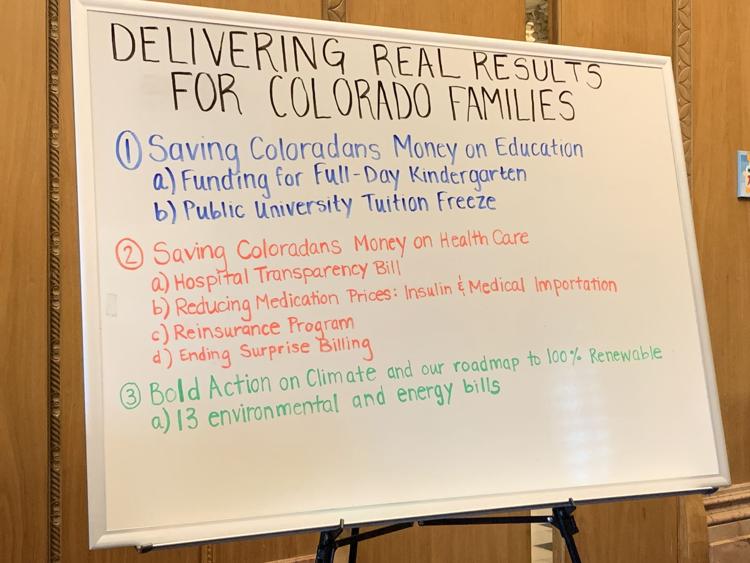 The reinsurance pool is from House Bill 1168. According to the bill's fiscal analysis, a reinsurance pool (basically, insurance for health insurance providers to cover high cost claims) could cut insurance claims cost, and in turn, reduce short-term insurance premiums, by as much as 35 percent in Western Colorado; up to 25 percent for the Eastern Plains, southern Colorado, Larimer, Weld and Pueblo counties; and up to 20 percent for Front Range counties.
Polis also addressed the tuition freeze, which isn't happening at Metropolitan State University of Denver and which will affect 15,000 Colorado residents, many of them students who can ill afford a tuition hike.
"I wish they did" hold the line on tuition, he said, and said he let the Metro State administration know that. 
The governor also noted the signing of a bill -- Senate Bill 255 -- that lowers the residential assessment rate that's used to set property taxes. "The legislature didn't need to do it," Polis said, but at least the residential assessment rate will go down. 
But the Gallagher amendment, which sets the ratio for commercial and residential property assessments, has a negative effect on some parts of the state, including the Eastern Plains. For example, a $300,000 home in Fort Morgan may have a property tax bill of $600, but a same-priced home in Kit Carson County may have a bill around $175. That affects the support that schools in those communities receive, and when those schools get less support, the state picks up the tab.
Polis said he is open to discussions of a regional Gallagher rate, one that is more equitable among the different parts of the state. He noted that Cary Kennedy, a former state treasurer who now works in the Polis administration, is part of a fiscal working group that is discussing Gallagher reform, including regionalization.
On Monday, Polis signed House Bill 1264, which intends to put more transparency into the state's conservation easement program. The law includes the formation of a task force that will look at ways to repay taxpayers who were stripped of state tax credits but not given back full rights to their land. 
The program has been a great benefit to farmers and ranchers, Polis said Tuesday (although most of those who have lost their land and the tax credits were also farmers and ranchers). He didn't weigh in on whether he supports repaying those tax credits.
=
=
=