As seen at Tuesday's inauguration of Colorado's 43rd governor, Jared Polis:
Little lighting up or phone foolery: As much as Colorado's new governor is a friend to the cannabis industry, there was no readily noticeable toking up in the crowd at the ceremony among the several thousand who stretched from the west steps of the Capitol, across Lincoln Street to War Memorial Park.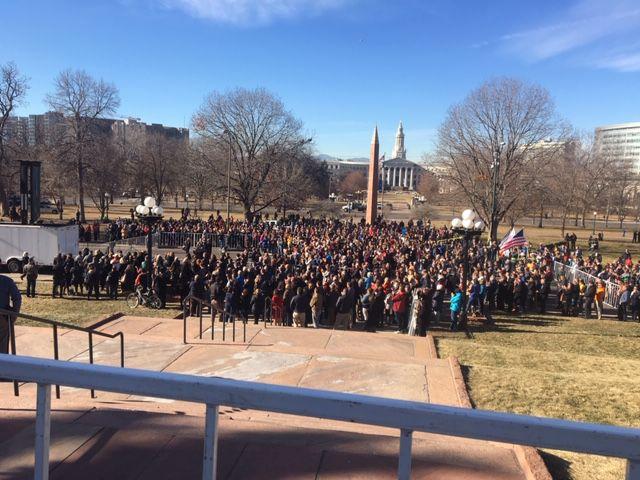 Among Polis' biggest applause lines during his inaugural address came when he talked about education and health care, but what pleased the crowd the most were his promises of clean air and water and "cheap renewable energy."
And in this era of cell phones, and people obsessively watching them at all manner of events, you saw very little of that among the crowds. With the exception of taking pictures, people were rapt with attention, listening to the remarks and taking in the historic moment.
Seen at the scene: The Polis family attended in droves, sitting in four rows of seats reserved for his relatives.
Among them were Rabbi Shmuel Herzfeld, Polis' third cousin, who said he flew to Colorado from Washington, D.C., with his wife and seven children to watch the inauguration. He said he was overwhelmed and proud.
"They say the air in Colorado is different. Well, it is different and it's incredible," Herzfeld said loudly as he pumped his fist into the air.
He recalled the family's legacy and said his grandfather was lovingly embraced in America and taken in by Polis' grandfather around 1913 after emigrating from Russia.
"I feel like the souls of our ancestors are now watching this special moment," he said.
Polis will continue that legacy by including those who are so often disenfranchised with his "warm and encouraging and inspirational" approach, Herzfeld said.
He said Coloradans are lucky to have such a "very special man" as their governor and expressed pride that Polis has gone out of his way to keep in touch with his family.
A not-so-little prince: Indeed, Polis' aunt, Arlene Schutz, who lives in New York, said she speaks to her nephew maybe once a year because he's so busy. All the same, he makes time for those he loves, she said.
As a child, Schutz said Polis was always intelligent and sought to act like an adult. He never shied away from the limelight, she said. Instead he seemed to flourish there.
"As a baby he used to look like the illustration of that book, (Antoine de Saint-Exupéry's classic) The Little Prince," she said with a laugh. "He doesn't look like that anymore."
Schutz said she's sure Polis will work on improving the environment and weaning the state off fossil fuels. And of course he'll have to work on the economy and providing jobs for Coloradans, she said.
She marveled at the diversity among Colorado's elected officials, mentioning Denver Mayor Michael Hancock and newly-elected U.S. Rep. Joe Neguse, among others, and said she was proud of Polis' new position as the state's governor.
"I can't believe it," she said. "But I couldn't believe it when he became a congressman either."
Perspectives from the crowd: "It's important for Colorado and the United States to have a new government and a good government," said a young man who identified himself as Enrique, posing for selfies at the inaugural.
"I want to learn more about who's coming into power. I welcome the shift in politics; we have this big divide in our country right now. If we continue down this path it's going to cost us," said another attendee, Hunter Kovacs.
Several state employees attending the ceremonies also spoke about their new boss.
"It's an historic occasion," said Mark Weston, director of the state's conservation easement program. "What I hope to see is the governor selecting leaders that will set a tone for the state of optimism."
"I'm here to celebrate the governorship of Jared Polis. I've supported him in Boulder County for years, and have been at the protests for equality with him. It's fitting that I'm here today," said Laura Kinder of Boulder.
On huddled masses: The invocation, offered by the Reverend Dr. James D. Peters Jr. of the New Hope Baptist Church, touched on discrimination faced by Polis. But Peters also took aim at the Trump administration, explaining that between 1903 and 1917 the United States welcomed immigrants who sought a better life, beginning with their first views of the Statue of Liberty and the words inscribed at her feet.
"Immigrants came to America, found good jobs, some that Americans did not want, and their love of country made this the richest nation in the world," Peters said. "And the Liberty speech gave hope to many millions from all over the world. Today Lady Liberty weeps, because some very important people want to quench the light of her lamp. She now faces the prospect of being knocked from her perch, her beautiful robes shredded. ... We must stop this effort to destroy our most precious symbols, our huddled masses seeking a better life."
Not an issue: Also on hand Tuesday was Joe Megyesy, chairman of the board for One Colorado, the state's leading advocacy organization for LGBTQ Coloradans.
"This is a monumental occasion -- history in the making, with the first gay man elected governor of a state," Megyesy told Colorado Politics. "It shows how far we've come from the 'Hate State' in 1992, when voters passed Amendment 2. Now we've made history. It's hugely exciting."
The fact that Polis' sexuality wasn't an issue on the campaign trail, he said, "shows that it didn't make a difference to voters, whether gay or straight, just that he will be a good governor who represents all Coloradans."