Former Secretary of Defense Leon Panetta joined U.S. Sen. Mark Udall in Denver on Oct. 17 for a candid conversation on national security and troubled domestic issues, including the recent federal government shutdown and spying by the U.S. on its own citizens.
Andy Alexander, a former editor for both the Washington Post and Cox Newspapers, moderated the event hosted by the Denver-based Counterterrorism Education Learning Lab, or, the CELL. The event was titled, "U.S. Leadership in Shaping Global Security." It was held before a sold-out audience at the Ellie Caulkins Opera House in the Denver Performing Arts Complex.
Much of the focus was spent on foreign relations in Syria and the overall Middle East. But with the recent government shutdown here at home, Panetta and Udall were pressed on how it might affect national security. The two Democrats both agreed that the gridlock in Washington, D.C. would have long-term impacts on the nation's security.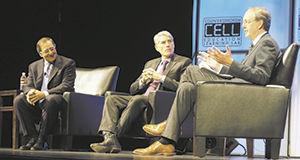 "This is going to have an impact, it already has on the readiness of our forces," said Panetta, who in addition to his position as secretary of defense, also served as the director of the CIA.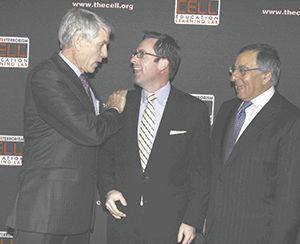 Panetta said that when coupled with the across-the-board cuts from the federal spending sequester, the recent government shutdown has had a devastating impact on American security.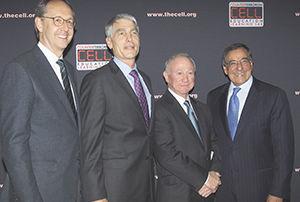 The sequester alone resulted in 12 fighter squadrons grounded, half of the Air Force's combat planes ill prepared for combat, a lack of maintenance, and ships not being deployed. Panetta also pointed out that almost 800,000 federal employees have been furloughed, and rotational military training has been cancelled. He added that 70 percent of the intelligence personnel was furloughed from the shutdown.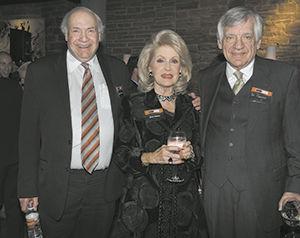 "I am very concerned that the result of sequester, plus the shutdown, has hollowed out our forces and weakened our ability to respond to a major crisis outside the war areas," Panetta said.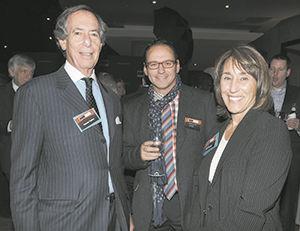 He drew upon his own experiences from the last government shutdown during which he served as then-President Bill Clinton's chief of staff in 1995.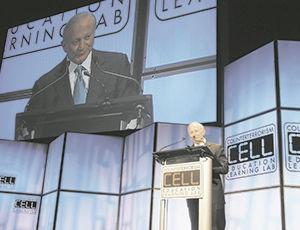 "I never thought we would face another shutdown because it was stupid then and it's stupid now," Panetta said.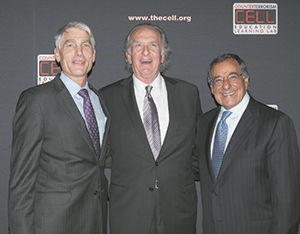 "This is a self-inflicted wound that hurt people, hurt the American people, it hurt our economy, and it hurt our national defense. Why the hell would you do that?" he continued.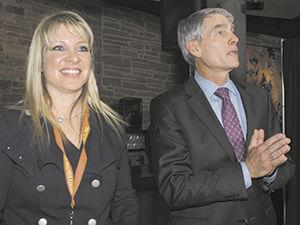 Panetta pointed out that during the last shutdown, then-Speaker Newt Gingrich, a Republican, was willing to entertain a compromise with Clinton and Democrats. Gingrich was, however, heavily criticized at the time for allowing personal and partisan issues get in the way of negotiations.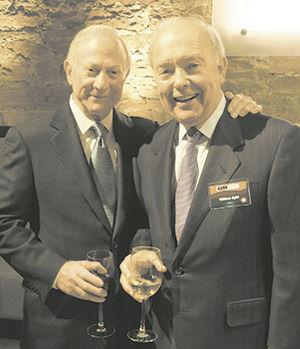 But Panetta — a Republican turned Democrat in 1971 — believes Republican leadership in 1995 did a much better job keeping their caucus at the table.
"I hope that the Republicans will learn that lesson and decide that governing is good politics," declared Panetta.
He still placed some of the blame on the president, suggesting that President Barack Obama could have done more to earn trust.
"Trust has broken down," opined Panetta. "I think that everybody, including the president, is responsible for the breakdown of trust."
Udall had similar thoughts, though he was less willing to criticize the president. He said it's difficult to compare the negotiations under President Clinton to the discussions that took place under Obama.
"Bill Clinton is a unique and special politician…" Udall said to an outburst of laughter from the audience. "He's a world-class extrovert. The president has a different personality and a different style."
Udall then went on to defend Obama, saying, "He needed to stand his ground, not just for today's purposes, but for future presidents."
As a member of the Senate Armed Services Committee and the Select Committee on Intelligence, Udall is privy to classified information on the state of the nation's security.
"This was abusive," he said of the shutdown, going on to blame a faction of so-called tea party Republicans who orchestrated much of the logjam. "If you were to ask, 'What's the greatest national security threat we face right now?' It's governing from crisis to crisis… We have to prevent this from happening."
Udall said the 16 days of the shutdown felt like a "lifetime" to him. A deal wasn't reached until hours before the CELL event took place on Thursday.
"There's a… small element that has gone to Washington, D.C., they said they will go to town and attempt to blowup Washington, D.C. To their credit, they've tried to keep to their word. But I believe there is an important role for the federal government…" Udall stressed.
"Should… the federal government be involved in everything? No. But it's important, particularly when it comes to defending the nation…" he continued. "We need America's best and brightest serving in the federal government… My concern is that we've sent the wrong message to young people who are going to be the leaders of the future…"
Alexander, acting as moderator, pointed to a comment by U.S. Sen. Ted Cruz of Texas, who led much of the gridlock that resulted in the shutdown. Despite becoming the architect of the shutdown, Cruz agreed that it caused a national security threat.
"We've got a serious national security threat to this country — a dream scenario for terrorists and enemies," Cruz said in an interview.
Udall laughed that the same Republican leading the shutdown would acknowledge that its impact has left the nation vulnerable. But he found himself agreeing, pointing to an overlooked outcome, which is the impact the shutdown had on employee morale.
"That was one of the hardest things I had to do in my own office, which was decide who was essential and who is not essential," explained Udall. "Can you imagine the effect that has on people's morale? We can't let this happen again… This is a true threat to our national security."
He went on to say that when tea party elements of the Republican Party refuse to negotiate, then caucus leaders should be willing to stand up to them.
"You say, 'Thanks for your input, but we're moving ahead, our country depends on it,'" the senator said to an eruption of applause.
Udall, who is facing re-election in 2014 in what is shaping up to be a divisive election, made the argument for a more moderate-leaning government. He said a more middle-of-the-road approach to politics would lead to progress on immigration reform, energy issues and controlling the nation's debt and spending.
He encouraged U.S. House Speaker John Boehner, a Republican, to follow that approach.
"John Boehner loves to play golf," said Udall to the onset of laughter. "He is very unique… He swings from the right side, but he putts from the left side… He ought to be able to get right down the fairway." (Udall himself is a widely acknowledged 2-handicapper.)
Udall publicly acknowledged state GOP Chairman Ryan Call, who was in the audience, suggesting that Call is pushing for a more moderate Republican Party.
"I said to Ryan Call, 'I'm rooting for him,'" Udall told the audience. "Our system of government depends on two functioning engaged reasonable moderate parties who will compromise and negotiate."
For his part, Call later joked that he's not sure Udall will be so friendly in just over a year when the 2014 election ends.
"It would seem counterproductive since the more successful I and the Republican Party is, the more likely he's going to find himself out of a job," Call told The Colorado Statesman.
"But he's right that if we had two strong political parties paint two different visions, and the voters have a very clear choice between those different visions, as well as two strong parties that can both be apart in a meaningful way on the discussion of policy, that we'd get better policy," Call added.
Snowden — a whistle-blower or traitor?
Where Panetta and Udall appeared to disagree slightly is on the issue of spying by the United States government. The focus is on Edward Snowden, the former National Security Agency contractor who is hiding in Russia after leaking NSA documents to the media.
Snowden believes he is a whistle-blower who was acting in the nation's best interests by revealing information about the NSA's surveillance and collection of communications data, including that of U.S. citizens. Some call him a hero, while government officials call him a traitor. He is facing charges under the Espionage Act.
Udall has maintained that the NSA "over-reached," and he is spending a significant amount of time dedicated to determining just how far the government overstepped.
"There's a conundrum here…" explained Udall. "If Edward Snowden hadn't come forward, I'm not sure we would be having this debate…"
But Udall agreed that Snowden should come back to America to stand trial, though he would not state whether he believes Snowden is a traitor, or a whistle-blower.
"He undercuts his case by having run to a country that is not on our list of close allies…" Udall said. "He ought to come back, stand trial, leave Russia and make his case."
Panetta, however, was very clear in calling Snowden a traitor, which elicited applause from the audience.
"The fact is when you have that kind of very sensitive intelligence… that information jeopardized people's lives," stated Panetta.
"He winds up going to China, thank you, then he goes to Russia, thank you, and now he's staying in Russia," added a fiery Panetta. "He's bitching about rights and freedoms and he's going to Russia!"
Syria and use of chemical weapons
As the discussion shifted to Syria, both Panetta and Udall were careful how they crafted their comments, but appeared conflicted over whether the president was strategic, or simply lucky.
Obama has been most heavily criticized for quickly threatening military action after intelligence alleged that the Syrian government used sarin nerve gas in an Aug. 21 attack on a Damascus suburb. U.S. officials have maintained that at least 1,400 people were killed.
Obama had threatened a military attack immediately after allegations surfaced, but said he would seek congressional approval. A U.N. resolution was reached in a deal struck between the United States and Russia that averted an American military strike.
Some believe the president wisely threatened force, which resulted in Syria agreeing to destroy its chemical weapons. But as the country has begun to destroy its arsenal, other questions have surfaced over whether President Bashar al-Assad will actually destroy all of the chemical weapons.
Panetta was clear that the president had drawn a so-called "red line" over the use of chemical weapons by Syria, and therefore had no choice but to back up the threat.
"When a commander in chief makes a decision — he drew a red line with regards to the use of chemical weapons… when that line was crossed, the president came to the conclusion… that therefore because of what had happened, our national security was involved here, our credibility was involved, and that's why he was proposing limited action," said Panetta.
"When you set those red lines as a country, whether you agree or disagree with them, you've got to make them real," he continued. "You've got to take action when they're crossed.
"In this world… it is very important that the president of the United States protects the credibility of this country so that we can maintain the position of world leader in a very dangerous world."
Udall candidly said that he would have liked to see Obama follow through and actually use force, even without congressional approval.
"When he made that decision, he probably should have gone ahead and used that force," said Udall. "But in the end, he handled this… We're where we are because the president said he was going to use force whether he had to go through the Congress or not.
"Based on what the president said he wanted to do based on the red line he drew, based on the way I know this operation was going to be conducted… I think he should have gone ahead," Udall added.
That said, Panetta said he does not believe that the resolution signed with Russia is full proof.
"They're going to support Assad," opined Panetta. "They're goal is to hopefully… be able to backup Assad and be able to keep him in power."
But both Udall and Panetta agreed that the Syria issue goes to America's power and credibility. They said that carries over to tense relations with countries such as Pakistan and Iran.
Both men pointed to the threat even Pakistan poses, highlighting its arsenal of nuclear weapons. And in Iran, leaders continue enrichment of nuclear fuel for the purpose of creating a nuclear weapon.
"The security of those weapons… is a principal concern," said Panetta.
"They're going to be a little bit like that teenager in your household, who complains about the rules and the way in which you want them to behave, but they really don't want you to kick them out of the house," Udall added of Pakistan.
Issue of Benghazi also lingers
The two leaders were also questioned on Benghazi, an international debacle in Libya that left a bit of a black eye for Obama and his administration. The incident, which took the lives of four Americans, placed a spotlight on Panetta and then-Secretary of State Hillary Clinton.
It's generally believed that no military rescue or remedy was feasible during the Sept. 11, 2012 attack, which claimed the lives of U.S. Ambassador to Libya Chris Stevens and three other Americans during the eight-hour assault by terrorists on the U.S. consulate and a nearby CIA annex.
The question remains, however, whether the administration had properly prepared for potential chaos as the eleventh anniversary of the Sept. 11, 2001 attacks neared. As the incident continues to be investigated, the politics around it is ongoing, especially as Clinton continues to weigh a run for president in 2016.
"It's all fair game in politics these days, and I expect that the Republicans will continue to beat away at Benghazi even though that's been looked at time and time again," opined Panetta. "But they'll continue to make it an issue, particularly if Hillary Clinton decides to run…"
Udall is afraid that the government shutdown will delay implementing new strategies developed following the tragedy in Benghazi.
"The shutdown directly affected the… lessons that we're now implementing from Benghazi…" said Udall. "We're sent to Washington to govern, not to shutdown the government."