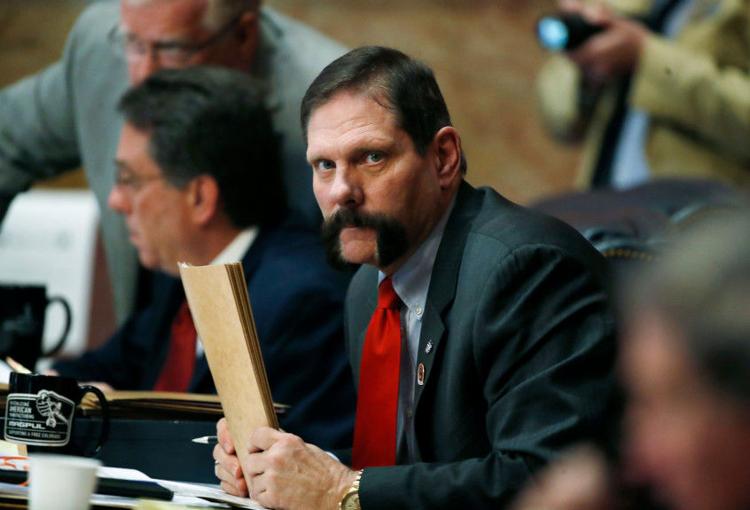 Colorado state Sen. Randy Baumgardner -- who remained in office following accusations of sexual harassment during the legislative session earlier this year -- announced late Monday he is "retiring" from his Senate District 8 seat, effective Jan. 21, two years before his final term runs out.
Baumgardner, R-Hot Sulphur Springs, submitted his letter Monday, stating he has "learned many lessons, none as important as to always put your family first. My family's resilience and love have given me the grace to continue forward under the most difficult of circumstances."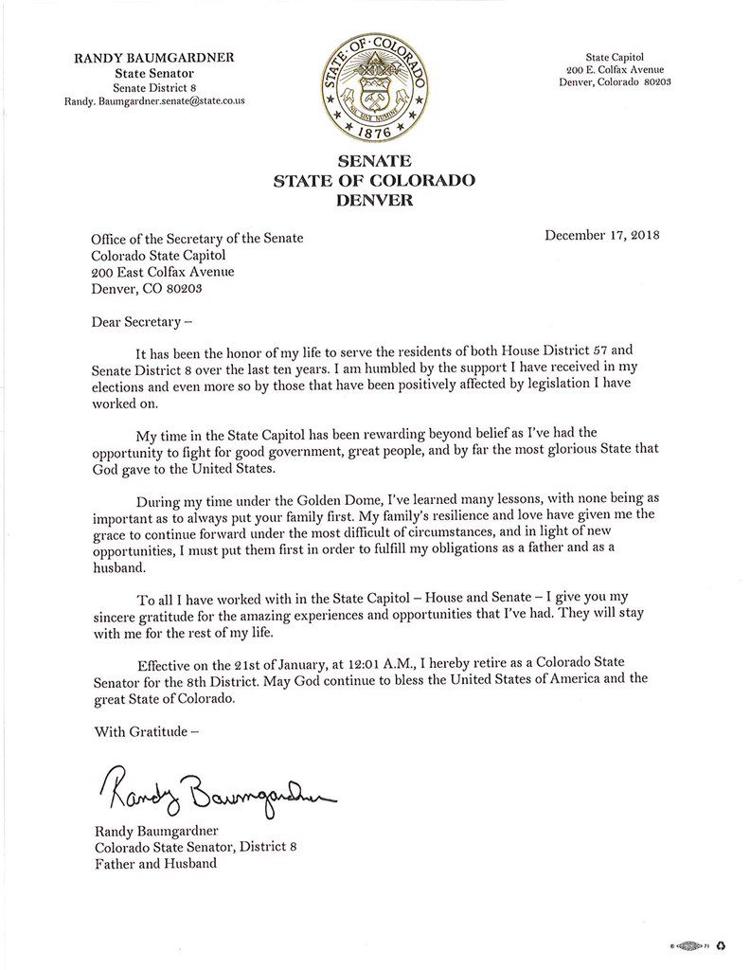 Democrats last April sought to have Baumgardner expelled from the Senate over allegations he sexually harassed a legislative aide by slapping her on the buttocks.
A second investigation also found credible allegations he had sexually harassed a nonpartisan Senate staff member.
The expulsion vote failed.
After the first allegation surfaced, Baumgardner resigned his chairmanship of the Senate Transportation and Energy Committee. After the second report came out, he was stripped of his positions on several interim committees and the Capital Development Committee.
Baumgardner denied all allegations ever took place.
Last week, incoming Senate Minority Leader Chris Holbert announced his caucus' committee assignments for the 2019 session, and Baumgardner was the only senator in the Republican caucus to be left off any of the 10 major committees of reference.
Before being elected to the senate in 2012, Baumgardner served four years in the House.
Among those considering a run for the Senate District 8 seat: Republican Rep. Bob Rankin of Carbondale, who told Colorado Politics last spring he was planning to run for the seat in 2020.
Reached Monday evening, Rankin said he would carefully consider his next steps. Should Rankin be chosen for the vacancy, it would leave an opening on the Joint Budget Committee for the House.
The district includes a large stretch of northwestern Colorado, from the Utah border to the Grand Lake area.
Baumgardner was one of five lawmakers accused of sexual harassment during the 2018 legislative session. One -- Democratic Rep. Steve Lebsock of Thornton -- was expelled by a vote of the House in March.
Fellow Democrat Paul Rosenthal of Denver was cleared of an alleged harassment charge by Speaker of the House Crisanta Duran of Denver because the incident took place prior to his becoming a lawmaker. Rosenthal, who denied the incident took place, lost his bid for another term in the June primary. 
Two other members of the Senate -- Republicans Larry Crowder of Alamosa and Jack Tate of Centennial -- were cleared by Republican Senate President Kevin Grantham of Cañon City. Both denied they had sexually harassed women. Tate has since announced he will not run for another term in 2020; Crowder will be term-limited in 2020.