Bernie Sanders jumped to an early lead Tuesday Night and kept it as the Vermont senator carried Colorado's Democratic presidential primary, repeating the double-digit win he scored four years ago in the state's caucuses.
The race for second place tightened as late returns poured in, with former Vice President Joe Biden and former New York mayor Michael Bloomberg locked in a fierce battle.
Starting with results from Virginia and North Carolina that posted before Colorado's polls closed, Biden notched come-from-behind wins across the country, demonstrating a resurgent campaign that prevented billionaire Bloomberg from staking his claim as the moderate alternative to Sanders' democratic socialism.
Democratic presidential primary
| Candidate | Votes | % |
| --- | --- | --- |
| Bernie Sanders | 268,652 | 36.08 |
| Joseph R. Biden | 172,380 | 23.15 |
| Michael R. Bloomberg | 156,531 | 21.02 |
| Elizabeth Warren | 128,089 | 17.20 |
| Tulsi Gabbard | 8,455 | 1.14 |
| Andrew Yang | 3,388 | 0.45 |
| Tom Steyer | 3,163 | 0.42 |
| Cory Booker | 1,126 | 0.15 |
| Roque "Rocky" De La Fuente III | 1,020 | 0.14 |
| Marianne Williamson | 974 | 0.13 |
| Rita Krichevsky | 411 | 0.06 |
| Robby Wells | 300 | 0.04 |
| Deval Patrick | 201 | 0.03 |
| | | |
Sanders, who has led the field in Colorado by double digits in recent polling, appeared to be on track to repeat his 2016 win, when he prevailed in the state's caucuses by a 20-point margin over Hillary Clinton.
When a news network projected Sanders' Colorado win on the giant screens at the campaign's election watch party at its state headquarters in Denver's Capitol Hill neighborhood, whoops of joy erupted from the crowd of several hundred Sanders supporters
"Bernie! Bernie!" some chanted as others looked up from their phones and raised their fists in the air.
Joe Salazar, a former state representative and a state co-chair of the Sanders campaign, said his candidate's win in Colorado bodes well for Sanders' prospects in future primaries and in the general election.
"Colorado is a model for the nation," he said, noting the state's high percentage of unaffiliated voters.
"Independents love Bernie," he said, "because Democrats have no spine and Republicans are too damn mean."
David Sirota, a senior adviser to the Sanders campaign and a Denver resident, spoke briefly to the celebrating crowd.
Calling the win "a big success" because Colorado is "a purple state," Sirota said, "It is a state that is in many ways owned by the political establishment, and we won in spite of that ownership."
Democrats seeking to deny Sanders the nomination, he said, "will spend as much money as they can to oppose our movement."
"We are running against an opponent who has said nothing will fundamentally change," Sirota said, referring to Biden.
As the crowd expressed its disapproval, Sirota added: "What we're saying is, things will fundamentally change in this country. We will do everything we can to make sure that we have a government that starts working for all of us."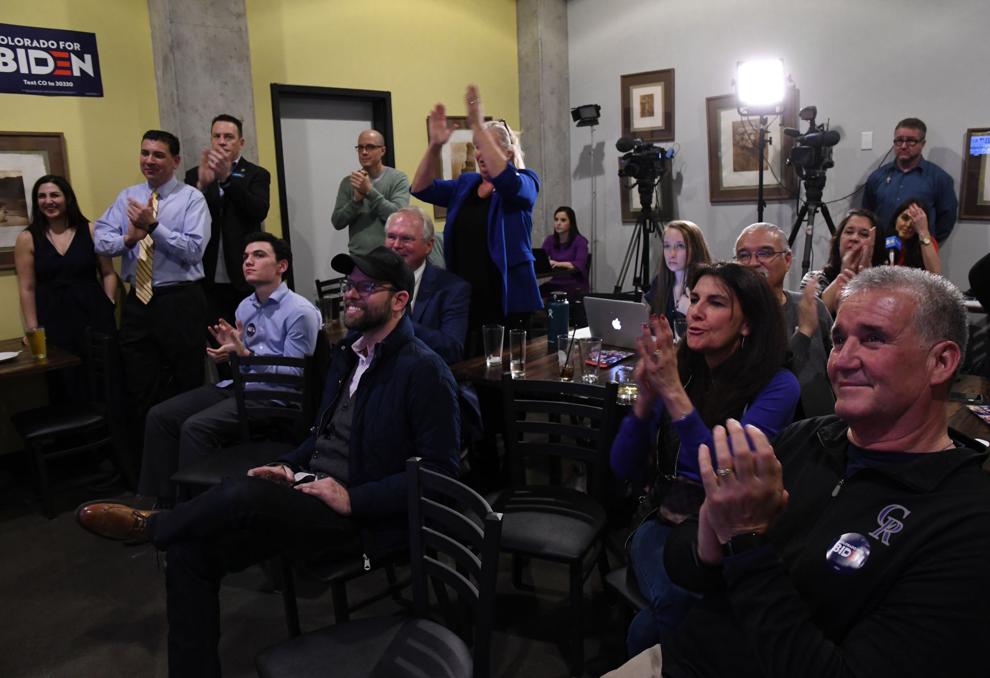 COLORADO POLITICS COVERAGE
See a Super Tuesday photo gallery here
INSIGHTS | Colorado's Super Tuesday was hardly heroic
GOP gathers to cheer on Trump, relishes contest with Sanders
ELECTION 2020 | Takeaways from Super Tuesday
Biden, the primary's front-runner until poor showings in Iowa and New Hampshire thrust Sanders into the lead, appeared to be benefiting from momentum since a landslide win Saturday in South Carolina prompted Pete Buttigieg and Amy Klobuchar to withdraw from the race and throw their support behind Biden.
Bloomberg, the billionaire who has poured more than $4 million into TV and digital advertising in Colorado and fielded the largest team of paid organizers in the state, started the evening in second place but as the night wore on was trading positions with Biden.
After sitting out the first four contests in February, Bloomberg was looking to make a splash in the states that start voting in March, including Colorado.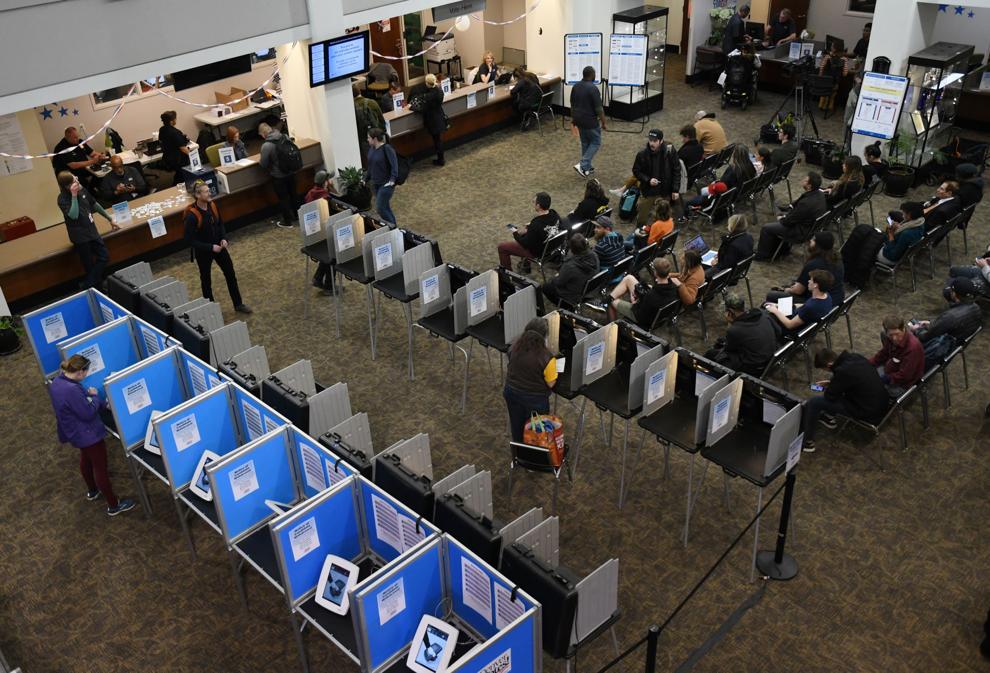 In the Republican primary, President Donald Trump was coasting to a win, buoyed by record popularity among GOP voters. The commanding win marks a sharp reversal from his performance four years ago in a state that handed Ted Cruz a win and left Trump empty-handed.
Sanders' win is "not much of a surprise for Colorado," Kristina Cook, chair of the Denver Republican Party, told Colorado Politics at the Trump campaign's watch party at  Washington Park Grille.
"We tend to be outliers on both sides of the divide. The support that I've seen, the youth of our population, it makes a lot of sense to me that Sanders would win Colorado." 
Regina Serna, who volunteered for Trump's 2016 campaign and plans to do so again this year, said it "really doesn't matter" who wins the Democratic nomination. 
No matter what, she said, "Trump is going to win."
While the results of the GOP primary haven't been much in doubt, the Democratic contest has been hard-fought for nearly a year, since Massachusetts Sen. Elizabeth Warren held the primary's first rally in April in Aurora. In early returns, she was trailing in fourth place.
Hawaii Rep. Tulsi Gabbard was last in the field with just over 1% of the vote in initial returns.
Zoe Novotny, 21, said she came to the El Paso County Citizens Service Center in Colorado Springs on Tuesday morning to cast her vote for Sanders because she agrees that everyone deserves health care.
"He is definitely extreme," she said. "But he is extreme enough to start conversations and to get people interested in talking about health care and all of these things that all of us need."
Novotny said she campaigned for Sanders as a senior in high school four years ago and was heartbroken when he didn't win the nomination. But this time around she has hope that he can be elected, in part, because of his well-attended rallies. 
Thousands of Sanders volunteers knocked on 21,800 doors across the state, Joe Calvello, the campaign's western press secretary, told Colorado Politics.
Colorado is one of 15 states and territories voting on Super Tuesday, when one-third of the delegates to the Democratic National Convention will be decided.
The biggest prizes of the night are California and Texas, with North Carolina, Virginia, Massachusetts and Minnesota all supplying more delegates than Colorado, whose delegates amount to about 5% of the total awarded on the busiest day of the nominating season.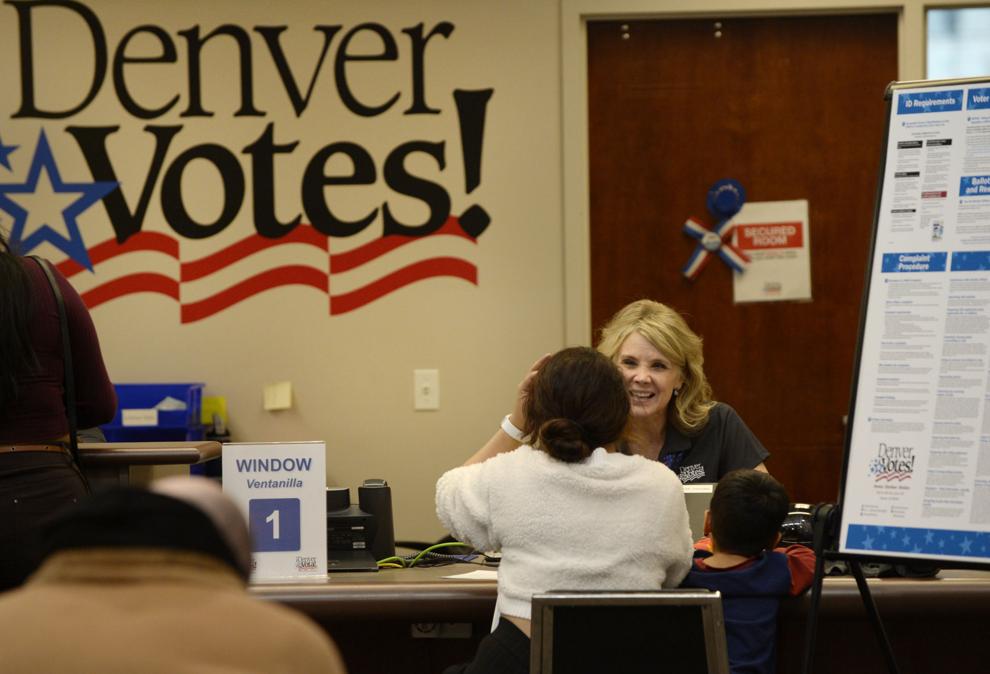 Colorado voters turned out in record numbers in the state's first presidential primary in 20 years, with nearly 1.5 million ballots returned to county clerks by 3 p.m. Tuesday.
For the first time, unaffiliated Coloradans, who make up 40% of the state's registered voters, were able to cast votes in either of the two major parties' presidential primaries. According to figures released by the Secretary of State's Office, through Tuesday afternoon more than twice as many of them were voting in the Democratic primary as in the Republican contest.
Because of the complicated formula the Democrats use to award delegates, party officials said full results won't be known until later this week and cautioned that a close race could delay the final picture for more than a week.
In Colorado, 67 pledged delegates are at stake in the Democratic primary, including 23 awarded to candidates based on their statewide vote and another 44 doled out based on candidates' finishes in each of the state's seven congressional districts. Candidates who clear 15% support in any of those venues stand to earn delegates to the national convention in Milwaukee.
Trump is on track to take all 37 of the state's GOP delegates with him to the convention in Charlotte, N.C., because Republicans award delegates on a winner-take-all basis to a candidate who receives at least 50% support statewide.
U.S. Rep. Ken Buck, the chairman of Colorado's Republican Party, cheered Trump's unsurprising win.
"President Trump has lifted our nation to new heights with a record-breaking economy, historically low unemployment, and an agenda that benefits all Americans," he said in a statement. "Tonight's results confirm what Coloradans already knew: We need another four years of President Trump."
In the span of a week in late February, Colorado was a bustling intersection on the road to the White House, with high-profile visits by nearly all the major presidential candidates.
Trump and Sanders each drew more than 10,000 supporters to rallies in Colorado Springs and Denver, respectively, with Buttigieg, Warren, Klobuchar and Gabbard playing host to smaller crowds on the Front Range.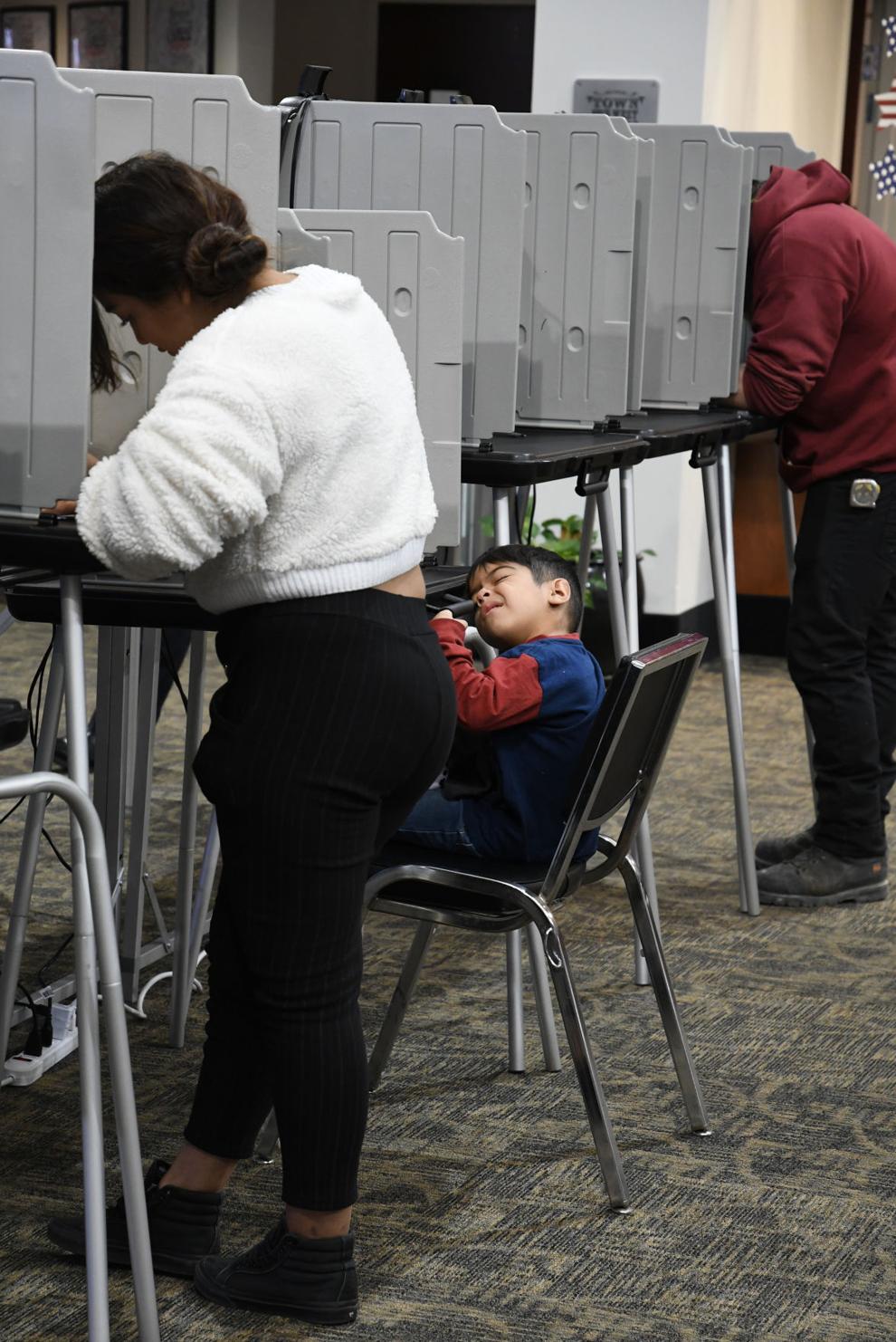 Biden spoke to donors at a private fundraiser in Denver, while Bloomberg sent a handful of surrogates to campaign on his behalf in the state. Only Steyer, who was concentrating his efforts in South Carolina, skipped Colorado entirely.
Colorado Politics reporter Alayna Alvarez and Gazette reporter Mary Shinn contributed to this report.