Editor's note: This story has been updated to correct the address of the event, which was changed at least three times, including again on Sunday. The third address listed on the flyer is not listed on the Weld County Assessor's website.
What happens when a rogue county meets a rogue event?
On Sunday, on a private farm in southeast Weld County near Hudson, thousands gathered for a concert and Mexican bull-riding competition, no masks or social distancing required. And no permit required, either.
Unlike Jefferson County, which ordered Bandimere Speedway to obey county orders for event sizes, or Teller County, where a recent cease-and-desist order was issued by the Attorney General for a four-day event, Weld County is taking little interest in what's going on at this County Road 37 farm.
The event promoter has already gotten into trouble this year for hosting a similar event in Elbert County a month ago that resulted in a COVID-19 outbreak and sent at least one person to the hospital.
Carlos Barkleys of Vail hosts Mexican rodeos and concerts on private property all over Colorado.
That happened last month, when Barkleys' Mexican rodeo/concert, held in Agate, drew an estimated 2,000 people, according to Elbert County Public Health.
The event Sunday originally listed an address in Weld County that didn't exist, according to county assessor records. On Saturday, the address was changed to a 35-acre farm and on Sunday to a different address on County Road 37.*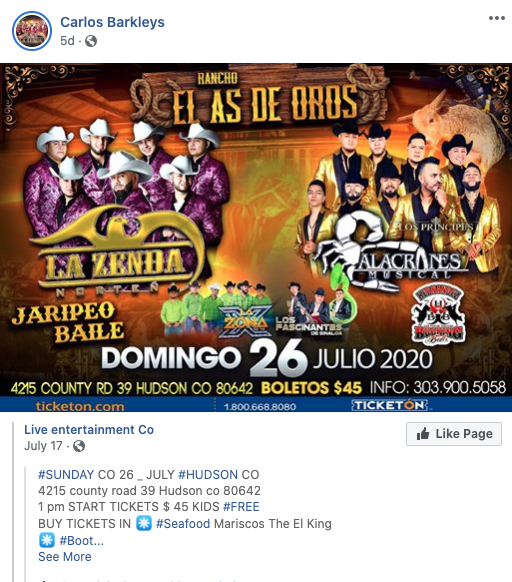 The event flyer said nothing about masks or social distancing, and the event's main entrance, about a quarter-mile from the road, likewise had no signage about the health order. Security staff at that entrance were seen dumping beer cans out of one vehicle and only one person was seen wearing a mask. Those entering the event appeared to be mostly young people.
By 3 p.m., two hours after the event's scheduled start, traffic on County Road 37 was backed up at least a mile in either direction. Eventually, Weld County sheriff's deputies closed the road at Colorado Highway 52, but by then thousands of concert-goers were already on the road attempting to get into the site.
Hudson Police Chief Jay Hirokawa told Colorado Politics he believed there would be heavy alcohol consumption at the event. Concert-goers were seen bringing beer and alcohol into the event site.
Colorado Politics sat across the road from the property  and watched while a steady stream of vehicles drove onto the property and later listened as the bands hired for the event performed. The music could be clearly heard from at least a mile away, according to local residents.
Two Weld County sheriff's officers also sat outside the entrance but left early on, but returned after local residents began complaining about traffic and noise. One resident said she saw two young women urinating on her property. Other began abandoning their vehicles along the county road when vehicle entrance reached capacity. 
By 6 p.m. Hudson Fire had responded to one EMS call, and at least one fight took place that resulted in an assault complaint. The victim, a young woman from Mexico named Wendy, said she was choked by another person, and tried to get the event security or sheriff to intervene, which she said they refused to do. She later filed a report with the Weld County sheriff. 
The rodeo/concert was originally scheduled for the same property in Agate that hosted the June event.
In a notice to the public Friday, Dwayne Smith of Elbert County Public Health said the organizer did not have a permit for the event, which is required in Elbert County. County Sheriff Tim Norton said he was working with law enforcement partners, including the Colorado State Patrol, to shut down the event, which Smith said draws significant crowds from the Front Range.
Elbert County Public Health issued a cease-and-desist order, and Barkleys told Colorado Politics the event was canceled. However, he would not talk about the event scheduled for Sunday near Hudson.
The situation in Weld County is a little different. The county no longer requires permits for events of this kind, and Weld County Sheriff Public Information Officer Joe Moylan said the sheriff's office attempted on Friday to convince the property owner not to host the event, but without success.
"We will talk to him and try to discourage it," Moylan said, but "we can't do anything about it unless things get out of control."
Weld County has not applied for a variance from the state department of public health regarding COVID-19. A June 1 opinion from County Attorney Bruce Barker noted the county commissioners have been asked to seek one, but he said the state public health order in question has no statutory authority and hence no legal effect.
The Colorado Department of Public Health and Environment was notified about the event on Friday and asked what their response would be regarding a county that refuses to obey public health orders and about a situation that has the potential — the odds would say — to become a superspreader event.
"We rely on event organizers to follow state law, and we rely on local officials to help with enforcement," read a Sunday statement from the State Emergency Operations Center. "If local authorities aren't enforcing local or state orders, the state can issue a cease and desist order. Weld County Sheriff is on scene and a Colorado Office of Emergency Management representative is en route to the event. Mass gatherings, especially without physical distancing or mask wearing, are particularly irresponsible."
Numerous county and state officials did not respond to requests for comment. That included Weld County Commissioner Barbara Kirkmeyer, who represents this part of the county and who is running for a state Senate seat in November. Rep. Lori Saine of Dacono, who is running for a seat on the Weld County commission, told Colorado Politics Sunday evening that "someone's health is their primary responsibility. We've got to let people make their own decisions."
"They are responsible for themselves," said state Sen. Jerry Sonnenberg of Sterling, who has voiced strong opposition for the statewide mask mandate "There has to be personal responsibility and that's what we expect from people."
Several large events in Colorado in the past month have drawn concerns from public health officials. That includes a July 4th race at the Bandimere Speedway in Jefferson County. The owners sued the county health department and lost, and the owners have since announced they are canceling other events. The second was a four-day conference held by the Andrew Wommack Ministries in Woodland Park from June 30 through July 3.
The latter event went forward as planned, in part because a cease-and-desist order issued by the Attorney General didn't come out until the day before the conference ended.007
The conference drew 1,000 people, and at least 30 confirmed or suspected cases of COVID-19 have appeared as a result.