A dozen years ago a red-haired Canadian Scot by way of Bermuda was renting a room in my West Denver basement. Eric MacDonald of Parsons Engineering was the Environmental Impact Statement (EIS) project manager for RTD's 6th Avenue light rail line west to Golden. Eric lived in Orlando at the time, but was spending three or four days a week in Denver, so it was easier for him to simply stash extra clothes, boots and jackets here, rather than toting them back and forth on the plane (especially post 9/11). It wasn't quite a Bed and Breakfast, but he had his own mini-kitchen and access to the laundry room. I met Eric in my job as executive director of the Colorado Intermountain Fixed Guideway Authority, where we were evaluating the possibility of constructing a high-speed monorail linking DIA with the mountain resorts along I-70.
Eric is a peripatetic professional engineer, now supervising an expansion of the airport in Abu Dhabi. Last week, after more than a decade, RTD offered a press trip along the 12 miles of track connecting Union Station with the Jefferson County courts and administrative building. This compares with 18 months that the Chinese required to build a 20-mile high-speed MAGLEV train connecting Shanghai Airport with its business district. Such snail-paced progress is typical of American transit projects. Bob Tonsing, the former Mayor of Littleton and RTD Board chairman, demonstrated that aligning political jurisdictions could move a project to the top of the priority list, as he did along the Santa Fe line, a decade earlier. Upon the completion of the Southeast corridor light rail line, which was rolled into the T-REX expansion of I-25, Denver, Lakewood and Golden were ready to pounce. While other corridors squabbled over questions of right-of-way, station locations and routing, the old Associated rail link through Lakewood to the Federal Center, which shipped munitions during the Second World War, was already owned by RTD.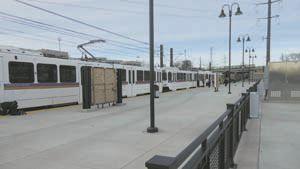 As we boarded the W line train at the Decatur Station just South of Sports Authority (Mile High) Stadium, I was disappointed that Nettie Moore wasn't joining us. Nettie has been a resident of the 13th Avenue gulch neighborhood in West Denver since 1927. Now in her early 90s, Nettie is a community activist who helped organize support for the rail project in a Hispanic neighborhood that could just as easily have complained of environmental racism. (Times and attitudes have changed. It was Denver's African-American leadership that killed the original plan for a light rail line from Five Points to Stapleton.) Less than five feet tall, and perhaps 80 pounds, Nettie is a fireball organizer. She and her neighbors view transit as an economic asset and development opportunity. Although her husband died many years ago, Nettie reports she speaks with him regularly. She explains that, "…he keeps asking me to join him. But, I tell him I have to wait until our train is running." And, I hope, only after she has a chance to ride it for a few years.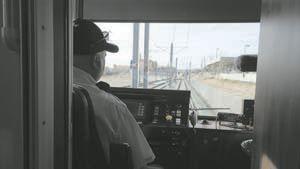 Once the rail crosses Sheridan, where an 800-car garage is under construction, the rail passes next to light industrial sites and aging, low rent apartment complexes. Only between Wadsworth, with its thousand car garage, and Kipling is there much owner occupied residential housing stock. Then the line passes through commercial properties again as it passes over 6th Avenue and onto the Federal Center, where a station serves the new St. Anthony's Hospital complex which was almost certainly located there to take advantage of this transit access. From the Federal Center station a single track, "pigtail," extends past Red Rocks Community College to the Taj Mahal where you find another 700-space garage. The westbound views of the foothills, and the eastbound panoramas of downtown are frequently stunning.
Traveling at 35 miles per hour, and averaging 30, the trip takes about half an hour each way. Trains will run every seven and a half minutes during rush hour, every fifteen minutes otherwise, and are expected to carry 20,000 riders daily, perhaps more. As a weekday skier, I frequently witness traffic backed up to Kipling from I-25 early in the morning. Watching light rail cars zipping by will have to prove a temptation for daily commuters. It also can't be long before developers begin snapping up properties along the line for high-density, transportation oriented retail and residential development. The Lakewood Housing Authority is already constructing 119 affordable apartment units within walking distance of the Lamar Street station. Currently, half the dozen stations on the line offer no parking, serving as 'kiss and ride' drop-offs. It's doubtful this will last, as several of them currently sit on relatively desolate sites. The Colorado Mills outlet mall, much like Park Meadows, originally declared they didn't want "no stinking" rail station while the line was being engineered. Today, Greg Stevinson has to be wondering what he was thinking.
He may get a second bite at the apple, if the I-70 AGS Feasibility study currently underway results in a decision to construct a high-speed transit system from DIA to our central mountain resorts. A mega-station will be needed to provide a cross platform connection between the West line and an Advanced Guideway. A far-sighted Jefferson County planner suggested the Rooney Road landfill in 1974 as a possible site for such a facility. Unfortunately, County Commissioners decided several years ago to construct soccer fields there, despite recommendations to the contrary, so that option is now off the table. Nor is there adequate room at the Taj Mahal. A transfer station near, or partially located on, the Jefferson County Fairgrounds at Indiana and 6th Avenue, with a 5,000 plus parking facility, remains alive.
The West Line will open for service on Friday morning, April 26 with free rides for all passengers. The following day, Saturday the 27th, the entire RTD light rail system will operate for free. No fares. Round up your kids and check it out.
Property values on the rise
Last week Rick McClintock at Transportation Solutions, a transit advocacy coalition, brought James Corless, director of Transportation for America in Washington, D.C., to town to promote the economic importance of Transportation Oriented (real estate) Development (TOD). More than 200 transit supporters assembled at Infinity Park in Glendale at 8:00 a.m. to hear the transit gospel. While Corless was clearly addressing members of the choir, there were some interesting numbers thrown out. The millennial generation is driving 23% fewer average daily miles than their elders and 90 percent of college graduates are expressing a preference to settle in urban neighborhoods. Nationally, property values within a half-mile of transit stations (regarded as walkable) have gone through the roof.
The idea that a transit line will place neighbors on 'the wrong side of the tracks' is an artifact of 20th century experience. In fact, residential and commercial properties along both sides of the track are escalating in value across the country. The bummer is the fact that there are $230 billion in light rail projects backed up waiting for federal "Fast Start" funds, and just $5 billion in the Congressional appropriations bucket. In the near term this is unlikely to change, so cobbling together private sector partnerships, combined with local funding commitments, appears to be the only way to proceed for the time being. The Aurora extension of light rail from Nine Mile, along I-225 to Fitzsimons and on to the East rail station at Peoria, is just such a project. It didn't hurt that Mayor Steve Hogan had constructed both E-470 and the Northwest Parkway toll projects. It pays to know where the money is hiding!
There is an ancillary, although yet unproven, economic theory that those cities making transit investments today will attract business development ahead of their knuckle dragging peers. I couldn't help noticing that the AAA was a Gold sponsor of the "Road Ahead" event, so everyone seems to be on board. For Denver, the die has been cast. With the completion of the Air Train in 2017 and the Gold Line shortly afterwards, we will have only our northern 'burbs' to connect into the FasTracks network. The region is at the point where that makes good sense. A century ago, a previous generation of Coloradans committed to a water system that still serves us well. Let's hope our commitment to transit looks just as smart a century from now.