"Misogyny and bigotry are ingrained within our political and institutional systems at all levels," Michal Rosenoer tells us.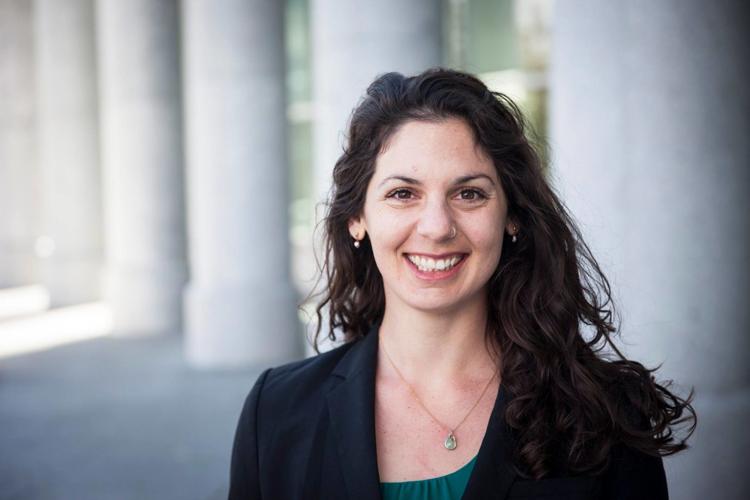 Hence, the national group Emerge and its state affiliate helmed by Rosenoer, Emerge Colorado. Emerge's mission: To groom women Democrats to run for elected office. And it has racked up an impressive string of successes in recent elections, not just because Colorado voters have been trending blue but also, arguably, because of Emerge's approach to cultivating and training candidates.
A 2010 University of California, Berkeley, graduate — and already a veteran at political organizing — Rosenoer shares Emerge's formula for success with us in this week's Q&A. 
Colorado Politics: Emerge Colorado has made a splash on the state's political scene in a relatively short time. Seven of the eight women your organization recruited and trained for the 2016 general election won their races; 19 of 22 Emerge candidates won in 2018. Are those candidates who might have won anyway, even without your help — or, on the other hand, might they not even have run in the first place had they not been cultivated by you? Put another way, has Emerge introduced a new formula for success?
Michal Rosenoer: Emerge is the only 80-hour training program for candidates in the state, and we're the only program that works with a cohort-based model over such a long period of time. By that I mean we take about 25 women into our six-month training program each year, and we ask them to spend a ton of time together not just developing their campaign skills, but cultivating interpersonal relationships and trust. We also ensure they're connected to our entire alumnae network, which is about 300 strong at this point.
Empowering women to run for office isn't just about asking them to run — it's about ensuring they have the support they need to win. Whether that's 20 women who show up at a kickoff event, a friend on the other end of the phone after someone makes a sexist comment at the doors, or well-trained campaign volunteers who have your back, Emerge women show up for each other, and that makes all the difference. That support, and a strong foundation in campaign skills and strategy, has proved to be a winning strategy so far and we're proud of the number of women we've recruited for office who tell us they wouldn't have run otherwise.
---
Michal Rosenoer
Executive director, Emerge Colorado, since 2018.
West Slope and Front Range field manager, Conservation Colorado, 2014-2018.
Teacher, environmental issues and renewable energy, Chewonki Foundation, 2013-2014.
Holds a bachelor's degree in conservation and resources studies from the University of California, Berkeley; also studied environmental politics and agriculture science at the University of Nairobi, Kenya.
Was certified as an outdoor educator in sea kayaking and backpacking by the National Outdoor Leadership School.
---
CP: Why do you believe it is important to have an endeavor like Emerge that focuses on helping women win office? What do your efforts provide for women that Democratic Party affiliation alone does not?
Rosenoer: Misogyny and bigotry are ingrained within our political and institutional systems at all levels, whether we fully recognize it or not. Even now, the "electability" and "likeability" questions we're seeing at the national level are potentially just dog whistles conveying people's discomfort or lack of faith in candidates of color and women, and it happens everyday at the state level, too.
When most of our political system is still dominated by strategists, elected officials, and donors who are predominantly white straight men, it's almost inevitable that the candidates they gravitate towards will look and sound like them. Even in Colorado, where we have a long legacy of giving women more voice in politics, I get phone calls almost every day from our candidates who get questions like, "Who's home with your kids while you're out knocking on doors?"
Unless we put real intention behind electing women, achieving equitable representation is going to be slow going. To that end, 45% of our alumnae are women of color, 30% are LGBTQ, and 25% are union members. We don't just need women at the table, but women of all backgrounds, to help us create a more just and equitable future.
CP: Your organization is by design aligned with the Democratic Party's priorities, so presumably you're not helping unaffiliated or third-party women, much less Republicans, run for office. But is there latitude for Democrats who might not all reside in the same place on the center-left political spectrum? Is there room in your stable, for example, for decidedly pro-business candidates — in a year in which some Democratic presidential contenders aren't shying away from socialism? How about candidates who are softer than the Democratic platform on issues like climate change, abortion rights or guns?
Rosenoer: To be eligible for an Emerge training you must be a registered Democrat and self-identified woman. Beyond that, we don't have a litmus test on policy issues, though we do ask our applicants to talk through it with us if they have any strong opposition to their local Democratic Party platform.
In the end, we want to recruit and train candidates that fit their districts and will represent their constituents well. We recognize that the Democrat that may be the best fit for Denver City Council, for example, is very different from the Democrat who could best represent Mesa County, and we'll happily train them both (and indeed, we have). In fact, this year we are running three trainings across the Western Slope specifically to better support Democratic women in rural areas who may not have the support, training or networks to feel ready to run and win otherwise.
CP: While both sides of Colorado's political divide have mounted various candidate-training efforts over the years, a distinctive feature of your organization is that it also explicitly targets nonpartisan offices. Emerge developed three successful candidates for city council in Aurora and currently is touting a number of candidates for municipal as well as school board posts — all officially non-partisan — in the upcoming November election. How does that dovetail with Emerge's overall strategy? How would you respond to critics of our political culture who might say you risk making an already hyper-partisan political landscape even more partisan?
Rosenoer: To ensure we have more women elected in higher offices, we need to support them as they begin their careers at more local levels. And for many, local office is where they'd prefer to be. Nevertheless, the truth is that nonpartisan races often have extremely partisan results. Many big political conversations right now about transportation, air quality, affordable housing, immigration, education funding, and more are playing out at the local level.
To that end, we've seen millions of dollars of out-of-state dark money from corporate, right-wing interests dumped into local elections across the Front Range over the past few years to defeat Democratic candidates. To ignore the detrimental impacts of our local elections being bought and sold by folks like the Koch brothers is to ignore the most vulnerable members of our communities.
CP: Speaking of partisanship, what is Emerge's strategy for engaging with Colorado's largest — and most rapidly growing — voting bloc, unaffiliateds?
Rosenoer: We know unaffiliated voters are drawn to candidates who best reflect their lived experiences. With that in mind, we focus on recruiting and training women who are great reflections of the people and values in their districts, including unaffiliated voters. Some of the most decisive voters over the past few years in Colorado, for example, have been suburban, college-educated single women. So supporting and training women candidates is actually increasing their engagement in elections, because voters are seeing candidates they can recognize themselves in.
CP: Tell us a little about your own background and how it influenced your overall politics. What inspired you to enter the world of political advocacy?
Rosenoer: My mom is one of 10 children who grew up working-class in a farming town in California. She joined the military with the hope that it would help her afford to go to college. My dad, on the other hand, is a British immigrant whose Jewish parents survived World War II in Europe, though many of their friends and family members did not.
Both my parents' backgrounds, and the way they raised me, planted within me ideas about fairness, justice and what institutional oppression can look like. While at UC Berkeley, I ended up studying environmental policy and economics, hoping to better understand the two systems — climate change and the wealth-disparity gap — that seem to be two of the most defining injustices facing America today.
But after the 2016 elections, when I was working as an organizing manager for Conservation Colorado, I was much more motivated to work on elections full-time than policy advocacy. We need great leaders to move great policy forward, and I'm proud to be part of the movement ensuring women — especially those living closer to the intersections of oppressive systems — are part of that picture.
CP: What do you believe is the political trend line for Colorado? Do you think the shift to the left in November 2018 will have staying power and is part of an ongoing evolution of the public's political sensibilities? Or, will voters prove themselves as fickle as in the past, and the pendulum will swing back to Colorado's historic comfort zone — somewhere in the middle?
Rosenoer: The majority of Coloradans want to be able to send our children to good public schools and have them come home safely, access health care at a reasonable cost, act on climate change, keep the government out of our bedrooms, and protect the most vulnerable in our communities. Those aren't radical ideas, but unfortunately they are ideas many in the Republican Party leadership has abandoned over the past few years, instead turning to bigotry and fear-mongering. For now, at least, Colorado will continue to turn blue as the Republican Party turns away — and turns off — reasonable people.