A third night of confrontation and clashes resumed in downtown Denver on Saturday in advance of an 8 p.m. curfew to help tamp down the damage that occurred the last two nights.
Protests began initially as a demonstration against the killing of George Floyd, a black Minneapolis man who died while being arrested by the police on Memorial Day.
COVERAGE: 
Watch 9News live video and read a reverse chronological account of the day's events.
---
9:20 p.m. Some in the crowd set fires in trash bins and cans as police methodically moved a line to push protesters out of Civic Center and into surrounding neighborhoods. For the most part, larger gatherings have dispersed. Many pockets of people are still walking around, as are police officers.
8:20 p.m. The crowd has lessened to the west and over at the Capitol. The confrontations are focused on 13th and 14th streets and Broadway as police move the crowd south.
8:05 p.m. Police have moved off the line on Colfax to just west of the Capitol building. The line of police officers are slowly moving people south.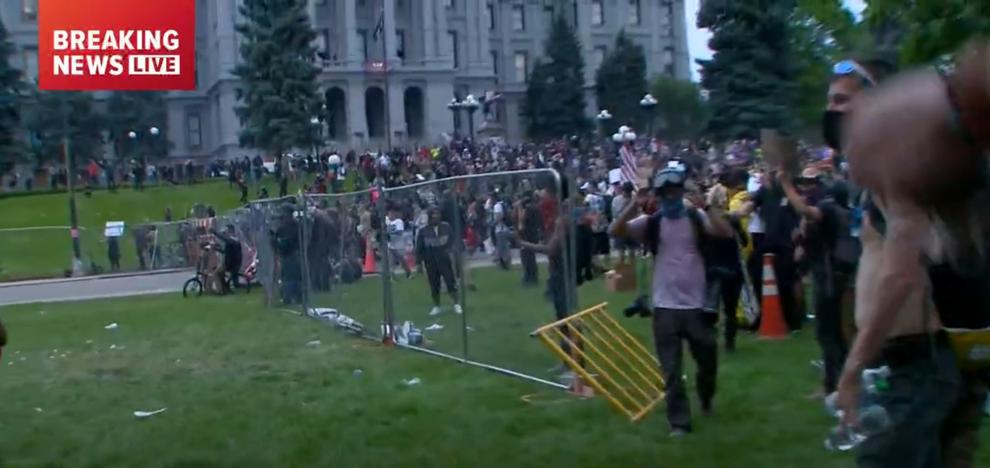 7:55 p.m. Protesters have moved back from the Colfax standoff line and are situating behind makeshift barricades on Lincoln Street in front of the Capitol.
7:50 p.m. Emergency alerts went off on cell phones notifying Denver residents of the upcoming curfew.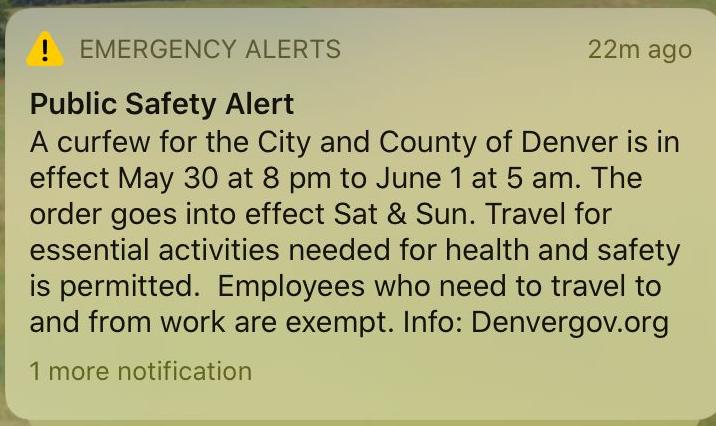 7:38 p.m. 9News reports that protesters are constructing a barricade on Lincoln and 14th street out of fencing and road signs. 
6:56 p.m. A distinct line has formed on Lincoln Street just south of the Colfax intersection with protesters massing on one side facing a line of police officers. The situation appears tense, even from an aerial view. It's described on 9News as "push and resist, push and resist."
6:30 p.m. A person is hurt, unresponsive and bleeding; Denver Health EMTs are on the scene and have transported the person out.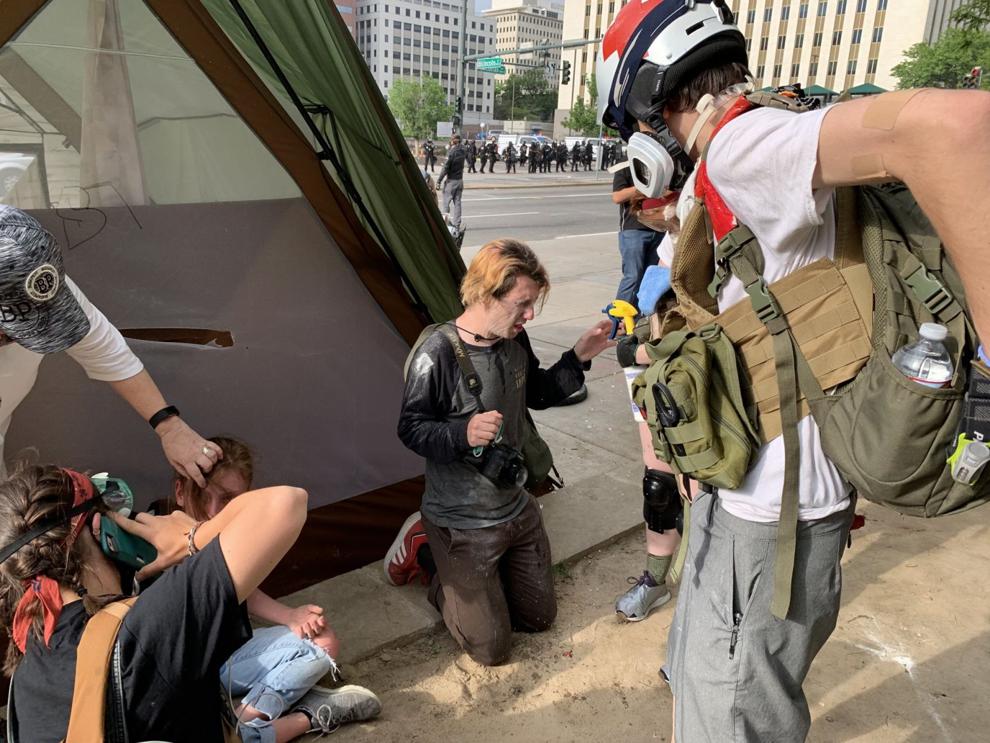 6:18 p.m. Police are methodically moving south down Lincoln, firing tear gas and pepper balls to keep protesters back. They are picking up road signs and barricades. 
6:07 p.m. The situation is incredibly intense. There are flash-bangs, pepper spray and tear gas being deployed. Protesters are throwing rocks and bottles.
5:49 p.m. (Link to video) Police are firing tear gas and pepper spray balls at protesters at the intersection of Broadway and Colfax, to move crowd back and establish a perimeter around the Civic Center bus area.
5:35 p.m. At the RTD lot, a large police response with pepper balls being fired into the crowd.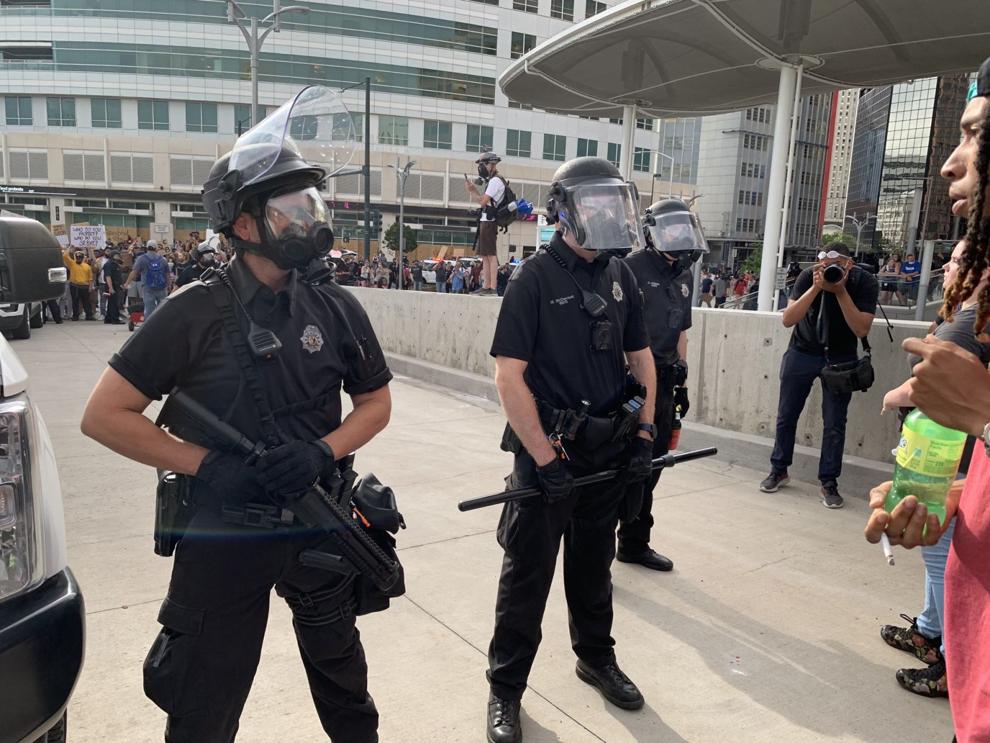 5:28 p.m. Expect events to take a turn; protesters at the Capitol are beginning to make "teargas solution" — baking soda and water — to help blunt the effects. A group has gathered over by the Civic Center bus terminal, according to 9News helicopter footage. 
4:52 p.m.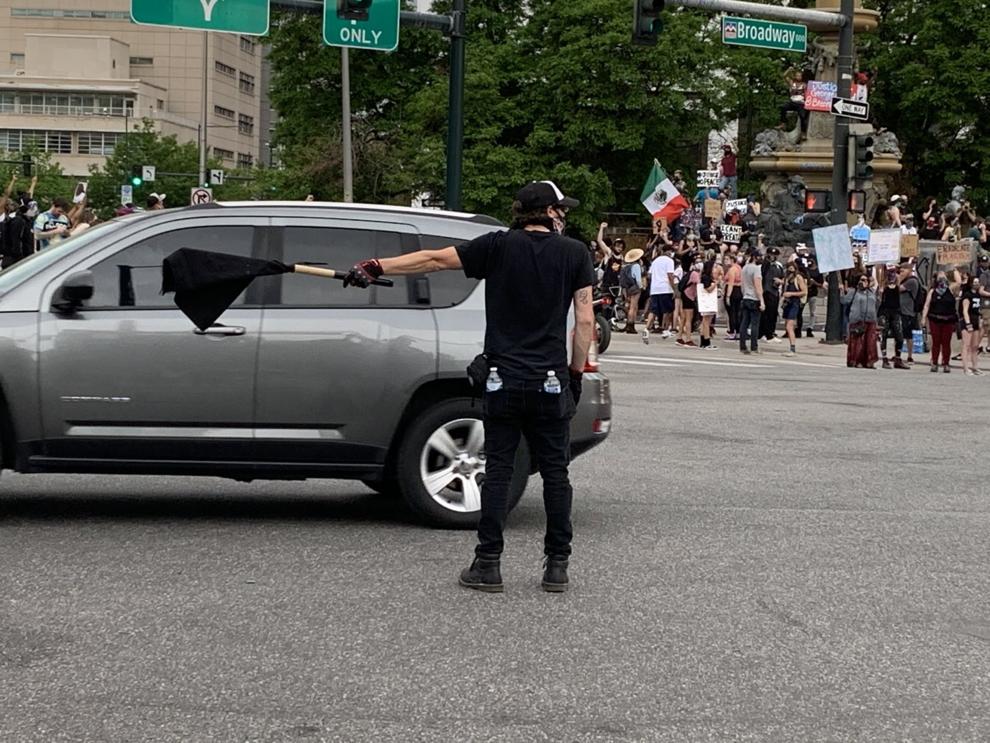 4:40 p.m. There has been one major confrontation between protesters and Denver Police at the District 6 police substation at Colfax Avenue and Washington Street. Tear gas was used.
The crowds have thinned to a couple of hundred from about a peak. Now people are marching up and down Colfax.
The organizers, who made it clear the rally is over at 5 p.m., have left. Those still here likely include those who intend to ignore the curfew, or at least are saying they will. 
4:15 p.m. The Colorado State Patrol officers inside the Capitol are in full riot gear.
3:56 p.m. Reports of tear gas deployed in the area.
3:40 p.m. Confrontations and tensions have begun to rise — police have activated to surround the Denver Police Department substation on Colfax. In addition, several heavy dump trucks and dozers have pulled into the Civic Center bus terminal area at Colfax and Broadway, ostensibly to block that area off.
3:32 p.m. DPS' Anderson tweets, "The protest going on now is being led again by white folks ignoring the request from #BlackLivesMatter to head home, so nobody is unintentionally targeted."
3:28 p.m. The word is out about the Hancock order. "(Expletive) your curfew we want justice!" is chanted in the crowd.
3:22 p.m. A large contingent of marchers have just come down 14th Avenue from the east and are massing on Lincoln Street.
3:15 p.m. The crowd at the state Capitol has thinned out considerably.
2:53 p.m. Meanwhile, in Colorado Springs, a small crowd is building for a protest there at 3 p.m. Follow Liz Henderson at @GazetteLiz on Twitter for updates from that event.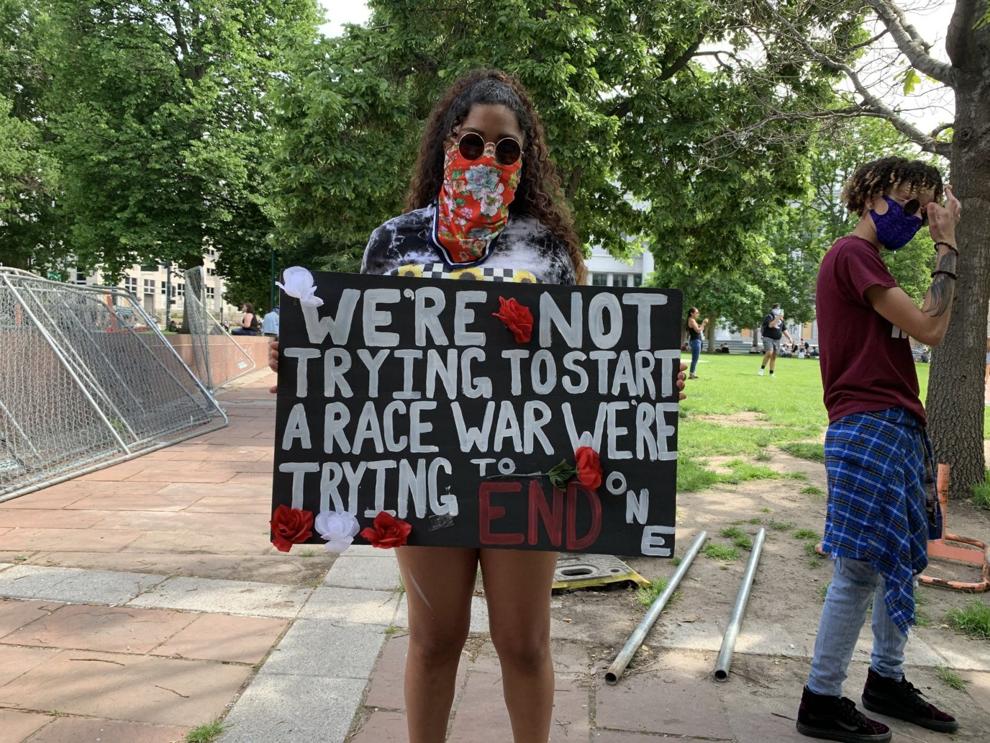 2:47 p.m. The protest march is now making its way back toward the Capitol.
2:24 p.m. Senate President Leroy Garcia, an Iraq war veteran whose pickup was damaged at the Capitol Thursday after the first day of protests turned destructive, tweeted:
"As the only member of color on leadership in the General Assembly, I understand and empathize with the pain and horror so many are feeling. I stand with those peacefully protesting for change.
"The system is still broken, but I believe that we can fight back through protests as well as through policy.
"We must be aware of agitators and instigators who use legitimate protests to ignite chaos between protestors and police. Those seeking only to destruct and destroy should not be associated with those asking for change.
"With the recent announcement by the governor to deploy the National Guard, I must emphasize that their first priority should be the health and safety of those who choose to demonstrate. We cannot allow the militarization of our great state."
2:23 p.m. The protest is now marching south on Broadway.
2:15 p.m. Observation from reporter Marianne Goodland: Many more people of color at this protest than in the past two days.
2:10 p.m. A worker is attempting to scrub graffiti off the pillars outside the Ralph Carr Justice Building, named for a governor who stood up against Japanese internment in World War II.
1:40 p.m. Marchers walking north on Lincoln Street. Police are nowhere in the immediate vicinity, although they've now blocked off northbound Lincoln and eastbound 14th Avenue.
1:31 p.m.
Gov. Jared Polis authorized the Colorado National Guard to support city officials with public safety activities through the weekend. They previously had been providing assistance related to the COVID-19 response; that work continues uninterrupted, the governor said in a statement.
Here is Polis' full statement:
"Friday's demonstrations against the senseless killing of George Floyd and far too many innocent black Americans before him began as a peaceful day time protest and unfortunately shifted into disorder late into the evening.
"It appears the disruptors that caused damage throughout the city were not necessarily the same peaceful protesters from the day time. Unfortunately, because of a few individuals who were more focused on causing unrest and damage rather than advocating for justice, people awoke to images of smashed out windows, graffiti, and the smell of tear gas.
"We are all filled with grief about the unjust murder of George Floyd and I stand ready to join hands with those hurting today as we peacefully work for justice. Today is a new day and it is my hope and the hope of all Coloradans that any future demonstrations remain peaceful. To those peacefully protesting at a safe social distance, know that I see you and I am listening.
"Mayor Hancock has requested the support of the National Guard to help keep people safe and prevent further destruction and I have granted that request."
RELATED: Denver Mayor Hancock implements curfew, calls in state National Guard in preparation for destructive clashes
1:30 p.m. (Twitter VIDEO link)
At least 1,000 protesters are laying on the grass, on the street, on graffiti-covered steps at the Capitol for 9 minutes, chanting "I can't breathe." Some are laying in the broken glass of last night's violence.
The protesters are taking a stance similar to George Floyd, on their stomachs with their hands behind their backs. It's a powerful moment.
1:28 p.m. State Sen. Julie Gonzales, D-Denver, is at the protest. She tells Colorado Politics, "I've been shocked at the concern for property, and I wish there was that same level of concern for life. That is the work. That will be our work."
1:25 p.m. DPD chief Pazen reiterates that the police are not looking to infringe on anyone's rights, but that the violence is overshadowing the message.
1:15 p.m. Mayor Hancock, Denver Police Chief Paul Pazen and Denver director of safety Murphy Robinson are among those officials holding a press conference at the moment. They are officially announcing the 8 p.m. curfew. 
"This was a very difficult decision," Hancock said.
1:13 p.m. The protesters have been requested at 1:30 to lay on their bellies for 9 minutes and chant "I can't breathe."
1:10 p.m. Rep. Leslie Herod tells Colorado Politics, "The people who are organizing the protest, the people who are  here today are nonviolent. We are here in nonviolent protest. We are holding each other accountable and we will continue to hold each other accountable." 
"We are here to stand against police brutality, against injustice in our community. ... We will be back and we will keep fighting for policy change."
1:05 p.m. Organizers are being vocal on trying to keep control of the protest, with Anderson telling the group gathered at the Capitol that they'll tell them when it's time to march.
1 p.m. Police have closed off northbound Lincoln at 13th Avenue; they are still letting cars go through at 14th. Denver Public Schools board member Tay Anderson, among the protest organizers, is addressing the large crowd at the Capitol.
12:45 p.m. A Saturday morning email from Skye Stuart with the mayor's office, obtained by Colorado Politics, details additional steps the city will be taking in Saturday's night protests to "to help keep people safe and protect public and private property downtown," Stuart told city leaders in the memo. The new measures will be as followed:
Bringing in the Colorado National Guard to provide additional support.
Activating Denver's Emergency Operations Center to respond specifically to the protest activity.
Installing additional fencing around multiple facilities and boarding up multiple broken windows.
Bringing in mutual aid from surrounding police agencies.
Imposing an 8 p.m. to 5 a.m. curfew starting tonight and extending until Monday morning.
According to Stuart's email, 34 arrests have been made during the protests over the past two nights.
12:43 p.m. Protesters are marching east down 14th Street, chanting "I can't breathe!" The crowds appear larger than Friday.
12:12 p.m. Denver Reps. Leslie Herod and James Coleman stood in Civic Center to announce that the protest will end at 5 p.m., Saja Hindi from The Denver Post tweeted. Anything that happens after that time would not be part of the protest or agenda.
11:45 a.m. Saturday's protest is scheduled to begin around noon, with as many as 10,000 people expected. Denver Mayor Michael Hancock will address media at 1 p.m. at the City and County Building.