A new state audit claims Colorado's school safety programs lack coordination and don't reach the students who need it most, and that some programs duplicate effort.
And there's no way to tell if any of those programs, in which the state has invested more than $103 million, are actually making schools safer, the audit asserts.
Released Wednesday, the audit looked at 12 key programs funded by the General Assembly dating back some 20 years. Eight of the 12 school safety programs "offer some level of support to address student mental and behavioral health needs, but the programs are not coordinated to reach the most students. Two of the programs also offer training on bullying, school violence, sexting and suicide, but do not work together to reach a wider audience and avoid conflicting messages," according to a statement from the state auditor's office.
Almost all of the state's 178 school districts use at least one of the programs available; the most commonly used is Safe2Tell, which allows students to anonymously report when someone is threatening themselves or others. The audit said that 141 districts have taken advantage of Safe2Tell. The audit also reported that 160 school districts accessed at least one school safety program in fiscal years 2018 and 2019. Few districts tapped into more than five programs available.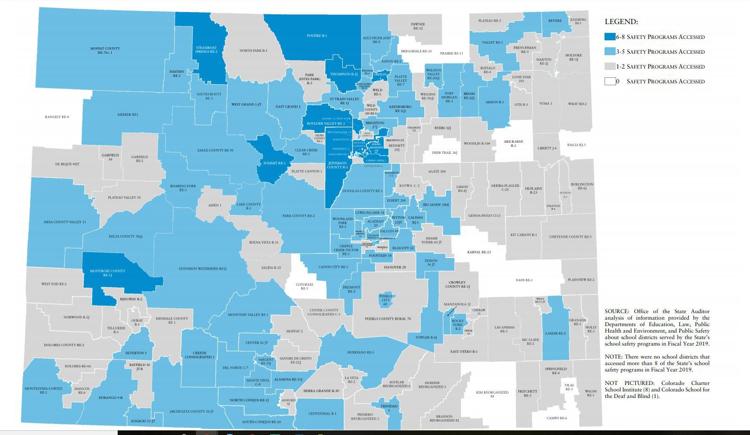 On Thursday, the Legislative Audit Committee review the audit; the legislature's school safety committee is scheduled to look at it Friday.
School safety programs have been available for 20 years, dating back to the days after the Columbine High School massacre in 1999. Among the key programs: Safe2Tell, which became a state program in 2014 (prior to 2014 it had been operated by a nonprofit) and the School Safety Resource Center, which helps schools prevent and prepare for emergencies and acts of violence, and which was established by the General Assembly in 2008. 
The audit was intended to be informational and did not make formal recommendations for improvements. 
The 12 programs reviewed fit into five categories:
tiplines, including Safe2Tell;
training and technical support to implement safe school practices, staffed by state employees who provide training in areas such as bullying prevention and threat assessments, and funded in part by federal grants;
grants for capital improvements to make schools physically safer, including intercom systems, door hardware, reconfiguration of exit routes and video cameras. These programs include Building Excellent Schools Today (BEST), which is funded by marijuana tax revenue;
grants to improve emergency preparedness and response; and
grants for environmental and behavioral initiatives to improve school climate, including programs on suicide and bullying prevention and a program to help school staff screen students.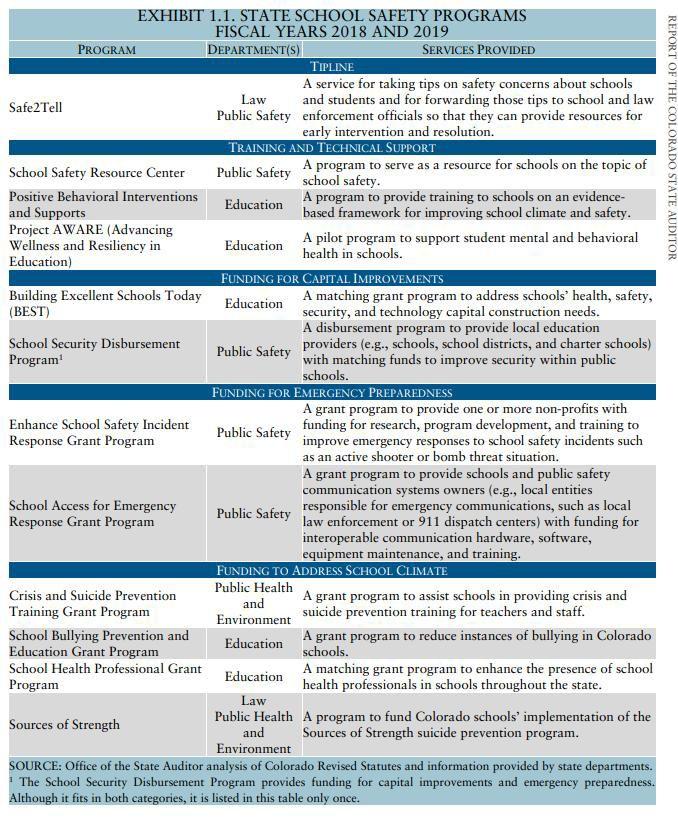 Four new programs — primarily for school climate — were added by the General Assembly in 2019 for fiscal year 2019-20.
The audit looked at coordination, or the lack thereof, among the four state agencies tied to the school safety programs: the departments of law, education, public safety, and public health and environment.
The coordination that worked, including eliminating duplication of efforts:
Before awarding BEST grants for security improvements in Fiscal Year 2019, Department of Education staff checked with Department of Public Safety staff about the schools and projects funded by the School Security Disbursement Program;
Staff who manage school-safety related grants at the Department of Education and at the Department of Public Health and Environment sit on the board of the School Safety Resource Center to help with information sharing;
The departments of law and public health work together to provide funding for suicide prevention programs, "since suicide accounts for the greatest share of tips received by Safe2Tell"; and 
The departments of law and public safety now coordinate resolution of Safe2Tell tips; in the past, the departments "independently followed up with schools and law enforcement on the resolution of tips."
Matt Baca, director of community engagement in the Department of Law, told the audit committee that the Safe2Tell tipline took in 20,000 tips last year. They're starting to see duplicate tips, where multiple students report the same person in danger. Suicide tips have been the top calls for years, he said, followed by tips on drug use and bullying.
But the lack of coordination on many programs means duplication of efforts, the audit reported. 
Eight of the 12 programs deal with student mental or behavioral health. For example, four programs within the Department of Education all deal with behavioral health; programs with the departments of law, public safety and public health all deal with suicide prevention, duplicating some of the work of Safe2Tell.
The audit said that a staffer in one of the programs said, "There is a lot of duplication in the state concerning mental health in schools, and there needs to be one message going to schools."
Both Safe2Tell at the Department of Law and the School Resource Center at the Department of Public Safety reported they "give trainings to schools that touched on bullying, mental health, school violence, sexting, substance abuse and suicide, and that they did not coordinate the content or scheduling of their trainings," the audit reported.
Are the programs actually effective in improving school safety? No way to know, the audit indicated. While most track and report some data about their operations, the audit said, "There is no mechanism to determine the extent to which the programs, in combination, are improving Colorado's school safety landscape."
State law does require the School Safety Resource Center to "conduct regular research and assessment projects to determine the efficacy of statewide and local policies and programming." While the resource center's reports in 2018 and 2019 had looked at the effectiveness of the strategies, "They do not provide an assessment of the efficacy of the state's overall approach, as required by statute," according to the audit.
Lawmakers were most interested in whether the state is being efficient in its spending on schools safety programs.
"The burning issue for me is efficiency," said audit committee chair and Democratic state Sen. Nancy Todd of Aurora. "We have been very reactive in the legislature — let's run a bill and fix it — without coordinating or looking at what's already in place. ... We are all very concerned about every single dollar going to our schools," as well as prioritizing the safety of teachers and students. 
"There will be more school shootings," opined Republican state Rep. Lori Saine of Firestone. "We don't have something in place with a 30,000-foot view to prevent it." 
Commissioner of Education Katy Anthes told the committee the report has been very helpful. Over time, new grants and programs are authorized, she said, and she appreciates the external perspective on how those efforts can be more coordinated. 
Dr. Jill Hunsaker Ryan, executive director of the Department of Public Health and Environment, told auditors she appreciated that they had "pointed out a system of patchwork funding and approaches in areas where us in state agencies can collaborate more," and she pledged her agency would work on that.
However, she said, sadly, the suicide rate has escalated by 58% in the last few years, which shows there's more stress among students.
"There's gaps in information in the public health field around suicide, and we need to get to root causes and what's changed in the last three years," she said, adding that she believes "frontier counties" lack access to funding.
"I don't know if what we're offering schools is comprehensive enough," Hunssaker Ryan said, but added that Gov. Jared Polis has brought cabinet members together to work on services tied to suicide prevention.
Data doesn't lack on the the programs administered by the state, but a question from Republican state Sen. Paul Lundeen of Monument elicited responses on the data collected and how it may be confined to each agency silo.
"Where is the data," including on root causes, upon which lawmakers can make judgments, Lundeen asked.
Each program collects a different piece of that information, responded Anthes, although she admitted her department doesn't collect data on student stress or what they're feeling.
Hunsaker Ryan added that her department is grounded in theories that make students feel safe.
"We collect all sorts of data" to see who's impacted, on suicide attempts for example, and then look to science to look for strategies, she said. "In the programs we implement, we need to keep evaluating them and keep up with the literature and review data to see when things are changing."
"This pinpoints how complex this issue is," Todd added. "While we continue to strive to reduce" the problems, the schools aren't waiting, she said.
"It won't be a matter of passing another bill that will fix it; it's how we're assisting and supporting the efforts already in place."
Todd said she hopes the school safety committee — which will look at the report Friday — will look at how to reduce duplication and make the safety programs more effective.