Last week's massacre at an El Paso, Texas, Walmart and immigration raids in Mississippi have some Hispanics in Colorado feeling increasingly unsafe in the country they call home.
"Certainly, the past week has put people on edge — and with good reason," said Eric Pavri, an immigration attorney for the Catholic Charities of Central Colorado.
Immigration and Customs Enforcement agents raided seven Mississippi chicken processing plants Wednesday, arresting 680 mostly Latino workers in the largest workplace sting in at least a decade.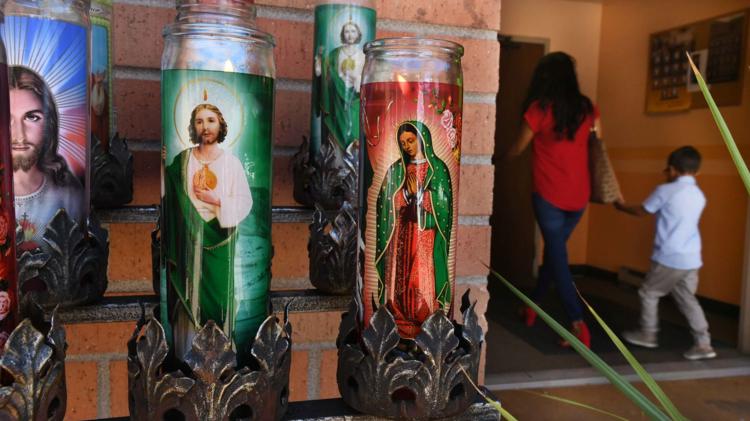 The raids, planned months ago, according to federal authorities, took place just hours before President Donald Trump visited El Paso, the majority-Latino border city where a 21-year-old man was charged in a shooting that left 22 people dead. Authorities say the man confessed after surrendering and said he had been targeting Mexicans.
"(The shooting) is having the intended effect, I'm sorry to say, of frightening people," Pavri said. "The clear intent of the shooter in El Paso was to inflict terror on people. I certainly think that many people, immigrants and non-immigrants, are frightened and confused and scared in the wake of it."
The ICE raids, he said, "are particularly troubling in that it doesn't appear that any provision was made for the children, who in some cases were left without parents without warning."
Yolanda Avila, a Colorado Springs city councilwoman, said she recently has noticed some Latinos avoiding public places out of fear of violence or being swept up in a raid.
About once a week, she goes to a taco truck near South Academy Boulevard and Airport Road. Most of the customers are Spanish-speaking, she said.
"Usually when I go, it's packed," said Avlia, who represents southeast Colorado Springs. "And I've noticed the last couple of times I've gone, especially when there was supposed to be a raid, I think a couple weeks ago, there was hardly anybody there. And, you know, it's hurting business."
The most recent U.S. Census Bureau data show that about 18 percent of Colorado Springs' population is Hispanic.
Avila said that while it's tempting to listen to the rhetoric around immigration and say, "This isn't who we are," the United States has a history of forced relocation, from the Trail of Tears that moved Native Americans west in the 1830s to Japanese-American internment camps in the 1940s.
Avila's father, who was born in Garden City, Kan., was deported to Mexico in the 1930s during a series of roundups known as "repatriation."
She said that when she heard the news of children in Mississippi whose parents were taken away while they were at school, she started crying. She thought, "When does this stop? And when are people going to just say, 'We're not going to tolerate this. We've gone through this in our history, and we're just not going to do it anymore.' It's a hard time. It really is a hard time, and I know that people from all walks of life and all races are really concerned."
When she heard about the shooting in El Paso, her mind went to her own family.
"I can imagine my mom or my kids — it could be me," she said. "And I think that when we see this, it's kind of PTSD, right? It's traumatizing, it's retraumatizing, because growing up as me, Mexican-American, I have been told many times in my life to go back to Mexico."
She recalled receiving a message on Facebook soon after she was elected to City Council in 2017: "Now it's really time to build that wall."
"At times, I feel helpless, like what can I do to help? What can I do to stop this? What can I do in my town? I feel like should be doing something, so I send money to help people go through the asylum process or making sure that they're clothed and they're fed. At least me, and I think a lot of other people, are like, 'Am I doing anything? Am I doing enough? Am I going to look back at history and say, did I let this happen?'"
People are feeling "disappointed, discouraged and even with a little fear," said the Rev. Homero Cardozo Vargas of Our Lady of Guadalupe, a Catholic church with services in English and in Spanish.
"Of course, I understand them — we feel insecure," said Vargas, the church's parochial vicar. "It is the perception in the whole community, I think. They feel insecure."
He tries to reassure them, he said.
"I know, I firmly believe that everything happens for our good, and God has control of everything," he said. "This is the message I always give to the community: God has the control of our lives ... and he takes care of us. Nothing's going to happen without his will, his desire, so we have to live in peace. We are in his hands."
The fear felt across the Hispanic community isn't new, said Benjamín Gallegos-Pardo, coordinator for multicultural retention initiatives in Pikes Peak Community College's Center for Diversity, Equity & Inclusion. It's been building for years alongside an increase in anti-immigrant, anti-Hispanic rhetoric.
When the 2016 presidential campaigns began, "there was rhetoric about invasions, about rapists and murderers and drugs," Gallegos-Pardo said.
"It seemed like certain groups and certain people wanted to pin a lot of society's problems and try to put stereotypes on our community, and that's just ignorant. ... The unfortunate thing is the leaders that are currently in power, not just on the federal level, but local parties, local leaders, want to use those stereotypes to inflame and garner votes, or strengthen their base."
In the past, that rhetoric has been chalked up to "ignorant individuals," he said. "But I think in the last three years, because we have leaders that are using that rhetoric in their speeches, in the way they talk about policy and the way that they 'lead,' all of a sudden now that is seen as acceptable, and that has added an ugly side to what people see as patriotic. We are a country that is made up of every single ethnicity, culture, language, and that's something that we used to be proud of."
That rhetoric has power, he said.
"Once words are said and once messages get out, there's no way of knowing who's hearing those messages or how those are being received," he said. "Words have an impact, and when you've got a hostile mixture of anger, of ignorance, of maybe mixed messages, of violence or whatever it might be, you get a perfect storm for what happened in Texas."
President Donald Trump often has railed about an "invasion of illegals" at the southern border, words echoed in a screed the El Paso shooting suspect apparently posted that called the attack his response to a "Hispanic invasion of Texas."
Some extremism experts believe that may not be an accident. They say historical data suggests a link between heated rhetoric from top political leaders and ensuing reports of hate crimes, only adding to the fears of those who could be targeted.
The rampage in Texas has brought new attention to the dangers of immigration-motivated hate crimes and violence in a country with 58 million Latinos amid daily political rhetoric from the White House, conservative politicians and the dark corners of the internet about migrants coming across the border.
"At least for Latinos, in some way, it's the death of the American dream," Dario Aguirre, a Mexican-American lawyer in Denver and a registered Republican, told The New York Times about the impact of the mass shooting.
Aguirre, 64, moved to San Diego from Tijuana when he was 5, and was raised by his grandmother in poor Mexican neighborhoods. He enlisted in the Air Force and later became an immigration lawyer.
"Many clients tell me, 'We're the new Jews, we're just like the Jews,'" Aguirre told The Times. "It's quite a transition from being invisible to being visible in a lethal way. It's something new to my community. We are used to the basic darkness of racism, not this."
As anti-Hispanic messages gain traction, some fail to recognize that not all Latinos are recent immigrants, Gallegos-Pardo said. While some are first- or second-generation immigrants, some have lived in the American West for hundreds of years.
"It's a beautiful mixture," he said. "When someone hears someone speaking Spanish and they jump to the conclusion that, 'Oh, they must be from another country, they must be an immigrant,' they have no way of knowing that that family or that person probably has roots here for a very long time."
His Mexican-American family on his mother's side has lived for more than 400 years in the area that is now Colorado and New Mexico. His father moved to the United States from Bogotá, Colombia, in the '80s.
"A lot of people have told me before, 'Oh, well we're only talking about those types of immigrants. We're only talking about those types of Mexicans.' Or, 'You're one of the good ones,' or something like that. And that's such a slap in the face, because they're painting such a stereotypical picture."
The Associated Press contributed to this report.
-
-
-
-
-