The Regional Transportation District intends to maintain its voluntary face covering policy for passengers, despite Denver's plan to institute a mandatory mask order.
"We are urging our riders to the greatest extent possible to wear a mask or face covering when using RTD services," said Pauletta Tonilas, RTD's assistant general manager for communications. "With rear-door boarding, the operators are not in a position to monitor if everyone who gets on their bus is wearing a mask. But more importantly, we will not put our operators in the position of being enforcers when they need to be focused on moving people safely."
She provided an image of a sign installed in every bus and railcar requesting riders cover their faces.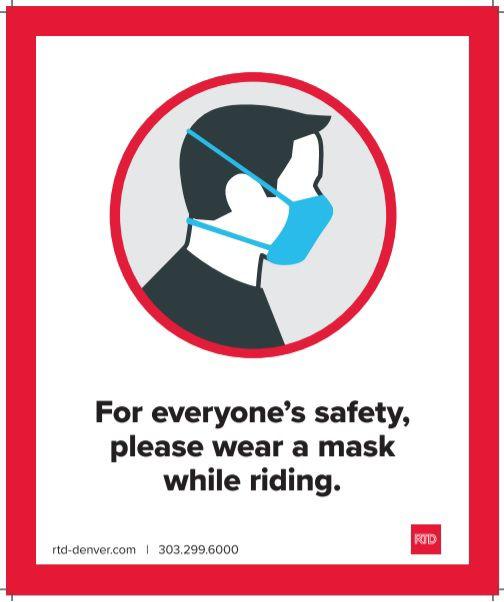 A handful of other jurisdictions in Colorado have mandated face coverings for people in public, and Gov. Jared Polis indicated he will support localities that choose this policy. RTD officials said during a pair of telephone town hall meetings on Wednesday night that the agency would follow the lead of Denver or the state, should there be a mandatory mask order.
Tonilas clarified on Friday that because RTD spans eight counties, "It would be nearly impossible for us to enforce this given that our buses and trains move throughout the region and people traverse different cities/counties during their travel."
She added that if Denver follows through with a mask requirement, passengers should follow "the spirit of the orders."
Amalgamated Transit Union Local 1001, which represents approximately 1,500 operators, favors a mask requirement. The local's president wrote to the Federal Transit Administration on April 15 requesting that the federal government come out in favor of mandatory face coverings for all transit riders. The FTA has not yet endorsed that policy.