The last of five efforts to recall Colorado state lawmakers came to an end in bizarre fashion Friday, when organizers of a recall targeting Democratic Senate President Leroy Garcia of Pueblo turned in just four signatures.
That's not a typo.
Recall volunteer Dave DeCenzo initially told reporters that backers were turning in "at most" 120 signatures on four petition packets. The recall drive needed 13,506 valid signatures to make the ballot.
As it turned out, while there were three petitions submitted, with room for 40 signatures on each, there were only four total signatures among those packets, Secretary of State Jena Griswold said.
Proponents for the petition to recall @Leroy_Garcia submitted signatures for review earlier today. The petition contained 4 signatures. To be sufficient, 13,506 valid signatures are required. Therefore the petition is insufficient. #copolitics #coleg

— Colorado Sec. of State (@COSecofState) October 18, 2019
The end of the Garcia recall Friday means that each of the four recalls attempted against Democratic state lawmakers, as well as the recall targeting Gov. Jared Polis, have failed, leaving no remaining active recall drives of state officials.
DeCenzo said recall proponents were only turning in a few signatures because they feared their petition signers would be "doxxed" -- harassed by those who oppose the recall. When asked why they were turning in fewer than the required 13,506 valid signatures, he said he "promised our circulators and volunteers we would follow through" by turning in the petitions.
DeCenzo said the petition effort was plagued with harassment at events where they tried to collect signatures, including the Colorado State Fair and the Pueblo Chile Fest last week. 
Garcia issued a statement shortly after the petitions were delivered, saying, "In the last 60 days, we spoke to tens of thousands of Puebloans. Republicans, Democrats and Unaffiliated voters told me they didn't want this. They know I'm working every day and getting results for Pueblo. Now, we can get back to the business I was elected to do, to work for all of my constituents and focus on solving problems and not playing politics."
Curtis Hubbard, spokesman for the anti-recall group Democracy First Colorado, said that "the scammers behind this year's recalls have flamed out in spectacular fashion -- but not before lining their pockets and loading their databases with money and personal data from unsuspecting Colorado voters. Deceptive to the bitter end, we are not at all surprised by this outcome, despite recent reports to the contrary. Senator Garcia is serving Pueblo well -- a sentiment voters across the district reaffirmed in the thousands of conversations we have had over the last 60 days."
Normally, once petitions are turned in, those who sign them are not allowed by law to sign another recall petition for the same elected official within the same term. However, Joel Albin, ballot access manager for the Secretary of State, told reporters that those signatures will not be certified, given that it's obvious not enough were turned in. As a result, those few who signed the petition could sign another recall petition, were one to be put forward.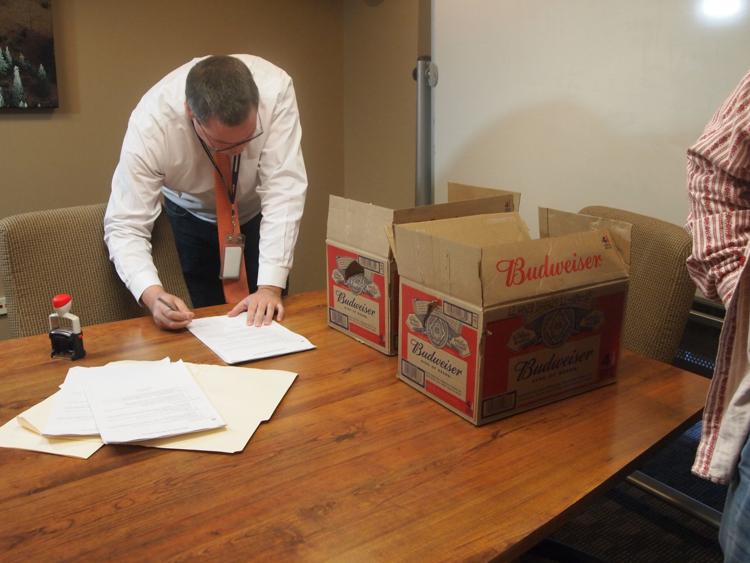 DeCenzo, who also worked on the successful recall of Democratic state Sen. Angela Giron of Pueblo in 2013, said that's possible, perhaps as early as next spring.
Petition organizers cited as their reasons for attempting to recall Garcia that he did not represent the best interests of the district. 
They specifically cited his vote for Senate Bill 19-181, the law to change the state's regulations around oil and gas. Those restrictions, organizers said, would jeopardize steel jobs and revenue in Pueblo.
Garcia also cost taxpayers tens of thousands of dollars in legal fees tied to lawsuits over some of his legislative decisions, according to the recall organizers.
And while it wasn't cited in the recall statement of purpose, they also pointed to House Bill 19-1177, the "red flag" law, which police to remove guns from someone deemed by a judge to be a significant risk to themselves or to others. Garcia voted against the bill, but recall supporters said he could have stopped the measure from going forward in the Senate.
DeCenzo said Friday the 2019 effort wasn't as organized nor were supporters as passionate as the 2013 recall, which focused largely on gun control measures. 
He said he's also going to start looking at a ballot measure on petitioning, due to the number of places that turned away the petition circulators, including Walmart and Home Depot. Those big box stores, which have driven out small business in Pueblo, should be required to allow petition circulators, he said.