We all walk on the same planet regardless of our politics. And keeping that planet healthy, Amy Roberts will tell you, is not only good for her industry, but it's also something all our elected leaders should be able to agree on.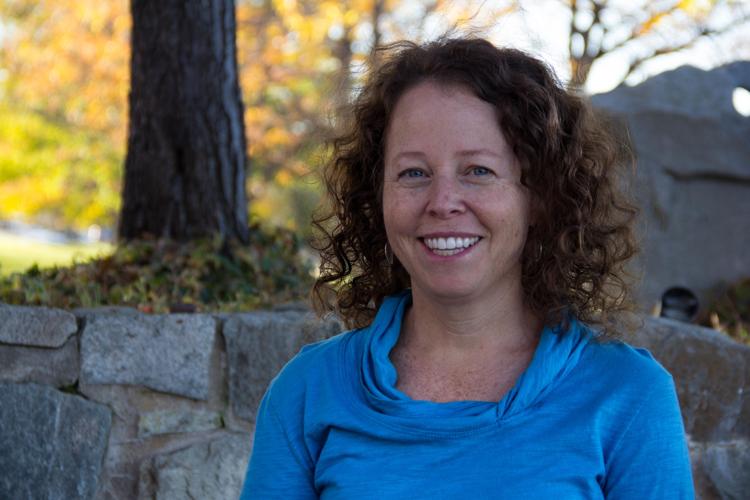 She's the executive director of the Outdoor Industry Association, which represents some of the biggest brands in the world of outdoor recreation.
The Boulder-based national trade group made waves a couple of years ago when it helped relocate the Outdoor Retailer show — the mother of all outdoor-rec expositions — from its longtime perch in Salt Lake City, to Denver. It was in protest of Utah's support for the Trump administration's public-lands policies, and Roberts tells us in this week's Q&A whether the move got Utah's attention.
We were also curious about the influence of her industry and its consumer base on the political culture of outdoorsy Colorado — and whether it's helping change the state's trajectory. We wondered if the ski-and-kayak set is making us not only greener but also bluer. A stretch? Maybe, but Roberts indulged that and other questions with some savvy insights. Enjoy. 
Colorado Politics: OIA's membership in some ways defies the business community's old political paradigm — the traditional chamber-of-commerce agenda of being at loggerheads with government as well as with the environmental movement. You represent an industry whose members, by contrast, champion environmental regulation and public-lands preservation, and arguably are more concerned about cutting carbon emissions than cutting taxes.
Given the prominent, and growing, role the outdoor rec industry plays in Colorado's economy, do you think it also stands to have an impact on the state's overall political culture? Not just on industry-related, environmental and conservation issues, but more broadly — amid demographic shifts toward more kayakers and skiers and bicyclists — on politics in general?
Amy Roberts: The outdoor recreation industry is really just a generation old, so we view ourselves as part of a new, emerging economy. Outdoor recreation currently represents about 2 percent of national GDP and is growing faster than the U.S. economy overall. We also see ourselves as reinforcing other sectors of the economy, whether that is attracting companies and employees seeking to locate in areas with parks and trails or offering new ways to develop rural economies in transition. 
We see communities like Fruita and Grand Junction developing vibrant economies with outdoor recreation as a centerpiece, which attracts other businesses, raises home prices and creates healthy outlets for families in the community.
We do believe that the outdoors and specifically our public lands system is something that inspires pride in people of all political backgrounds, so we hope to inspire elected officials in Colorado to come together in a bipartisan way to support our public lands and the environment. 
The recent public lands bill that permanently reauthorized the Land and Water Conservation Fund passed overwhelmingly in Congress with Republicans and Democrats singing its praises. [U.S. Sens. Michael] Bennet and [Cory] Gardner consistently come to Outdoor Retailer together to tour the show and talk to businesses who make products and contribute to Colorado's economy. 
Finally, proposals to sell off our public lands have led to large protests at state capitols in the West attended by kayakers, hikers, hunters and anglers of all political stripes.
---
Amy Roberts
Executive director, Boulder-based Outdoor Industry Association, since 2015. Served earlier as OIA's vice president of government affairs and corporate sustainability.
Previously was director of sustainability for the Mountain Equipment Co-op in Vancouver, B.C.
Was government affairs director at Micron Technology, 1996-2002.
Served as press secretary and director of communications for Idaho's then-Gov. Philip Batt, 1994-1996.
Earned a bachelor's degree in journalism from the University of Missouri at Columbia.
---
CP: Your organization not only uses its clout like other trade groups to influence public policy — endorsing industry-friendly political candidates, publicly messaging its top causes, etc. — but it also has leveraged your industry's heft in more aggressive ways. Notably, OIA helped orchestrate the move in 2017 of the industry's signature trade show — the twice-a-year Outdoor Retailer Show — out of its longtime base in Salt Lake City. It was Denver's gain, of course, and the economic impact on both cities is sure to be felt. What about the move's political impact, though — on Utah? Has the message been received and did it have the desired effect?
Roberts: It was clear at the time that Utah's elected officials underestimated our industry's resolve to leave the state, so they were caught flat-footed when we did move the show. Outdoor Retailer was a very important contributor to the Salt Lake economy, and we then saw that very congressional seat change hands in the 2018 election cycle. Was moving the show the major cause? Hard to say, but I do think the issue was raised in voters' minds. 
Congressman [Rob] Bishop, who was a chief proponent of scaling back the [Bears Ears and Grand Staircase-Escalante national] monuments in the state, did run a number of pro-recreation ads during his campaign and did shift to support some recreation-friendly legislation, including LWCF reauthorization. 
Finally, most definitely the San Juan County Commission near Bears Ears had a dramatic change in leadership, and that body now supports the monument designation. I believe we are going to see a continued discussion of these issues in Utah in the 2020 governor's race, and we intend to be a part of that discussion.
CP: The association has a national reach and an office in Washington to provide a voice on Capitol Hill, but it's based in Colorado and undoubtedly has a special relationship with the state. What are the top Colorado-focused issues — at the statehouse or even at the local government level — that are of interest to you, and are you hoping to have some influence over them?
Roberts: There are a lot! First looking back, we fully supported the renewal of the Colorado Lottery Division that supports Great Outdoors Colorado and the Conservation Trust Fund. We also endorsed voter-approved ballot measures in Denver, to expand parks and trails, and in Chaffee County, to protect forest health, manage recreational assets, and conserve open space and working lands. 
We know from the 2018 Conservation in the West poll that 75 percent of Coloradans consider themselves conservationists and outdoor recreation enthusiasts; we'll continue to support community-driven efforts to generate more funding for outdoor recreation and want to strengthen the recreation economy throughout the state.
To this end, I had the opportunity to serve on Gov. Polis's transition team focused on providing ideas to develop, more evenly, Colorado's economy. We will continue to present economic data and ideas for recreation as an option for rural economies that are moving away from reliance solely on traditional resource extraction to new, more balanced economies. 
Recreation amenities can be a foundation of creating new jobs in our economic sector; they also attract businesses like tech and health care that recruit employees in a competitive job market who want to live near mountain bikes trails and ski hills.
CP: OIA is nonpartisan, like other such groups, and it doesn't appear to play favorites, endorsing candidates of both parties. Yet, your industry's, and your organization's, biggest policy initiatives — from public lands to climate change — seem to dovetail more with Democratic Party priorities. Is there ultimately room enough in the industry's tent for both parties? Is there a place for Republican Party principles not only in your industry, but in the environmental movement?
Roberts: If you look at our 25-year history of working in public policy, the issues we care about — whether it be funding for public lands or addressing environmental issues — have remained largely unchanged. As an industry, our values of sustainable business, investing in our land and water, and preserving wild places have remained steady. I would argue that it is instead the views of some elected officials that have changed over that time. We believe there are still Republicans who believe in the legacy of Teddy Roosevelt and we want to support their efforts. 
The Department of the Interior requested public comments during the national monuments debate and more than 3 million Americans submitted comments with more than 90 percent asking that the monuments be left intact. Yet, the administration ignored that input. I think that elected officials who don't support conservation are out of step with the majority of Americans and the recent public lands vote in Congress demonstrated that. We have not seen a bill of that size pass so overwhelmingly in both Houses in some time. A major factor in the widespread support was that elected officials in every state had constituents who benefited from land and water protections, which we know spur economic development and healthy lifestyles. 
We are optimistic that outdoor recreation can continue to be a unifying issue for a nation that is sometimes badly divided. In fact, we think President Trump and leaders [Mitch] McConnell and [Nancy] Pelosi should stop meeting in the Oval Office and instead take a walk in a local park.
CP: In 2018, OIA started its Vote the Outdoors initiative, aimed at educating voters and promoting the industry's priorities. Did the effort have its desired effect, and will it play a role in the next big election in 2020?
Roberts: Vote the Outdoors was a new effort for OIA, so we focused on just a few western states in 2018, including Colorado. Our goal was not to elect a certain candidate but rather to get the word out on the recreation economy and to raise the importance of conservation and support for public lands funding in voters' minds. 
For instance, in Colorado, outdoor recreation contributes $28 billion to the state's economy and supports 229,000 jobs.  So, Vote the Outdoors encouraged people to find out where candidates stand on issues that bolster the outdoor recreation economy. We also developed a scorecard that is available on the OIA website that provides information about how current members of Congress are voting on issues that support public lands and outdoor recreation. 
The most important moment for our Vote the Outdoors campaign occurred when our members began to share it with their consumers, which vastly amplified our message. We ended up reaching 14 million Americans with an opportunity to educate them on our issues.
CP: Tell us about your partnership with the Ski Industry Association and National Ski Areas Association to work on climate change issues. What kinds of advocacy might it lead to, and why is the issue so important to the industry?
Roberts: Our motto at OIA is, "Together We are a Force," and you can see this visually on our website, but more importantly in action as our industry is highly collaborative. Whether it is through advocacy or figuring out how to make products that are lighter on the planet, our members are willing to put aside competitive issues to work together. 
The partnership allows us to bring together business owners and executives from related outdoor sectors to advocate for climate policies at the state and federal level that will make measurable impacts on addressing climate change or identifying ways to adapt to and mitigate the impacts of climate change through recreation and the outdoors. 
If you look at the partnership members, we are bringing together product manufacturers, retailers who sell their gear and the ski areas providing the end-consumer experience during winter and now increasingly in summer, too. So, when we advocate for solutions to address climate change, we represent the entire spectrum of the supply chain and outdoor activities. 
It is key that policymakers hear from businesses on climate change and that we are able to provide specifics to the impact on our industry. Shorter winters mean less certainty for businesses that depend on winter recreation, and lower spring run-off impacts flows in rivers, which in turn impact the fishing and boating industries. Of course, climate change is directly tied to an increase in the intensity and frequency of wildfires which can shut down national parks and forests for weeks, harming economies in gateway communities.
CP: Will there ultimately be a showdown at high noon between green industries like yours and the fossil-fuel industry — another big player in Colorado's economy — as both vie for the hearts and minds of everyday Coloradans?
Roberts: I don't believe so. We believe in balanced use of our public lands system and that outcomes are best when decisions are made with all parties at the table and in the light of day. I also believe that we will see a shift to more renewable sources of energy over time because of efficiencies and decreasing costs and that fossil fuel companies who want to stay in business will eventually lead this transition. 
Further, the outdoor industry is uniquely positioned to help communities experiencing transitioning economies — communities with traditionally strong fossil-fuel economies often possess the natural assets to develop outdoor recreation economies that can help create new jobs and economic stability. Grand Junction is a great example of a city that made investments in outdoor recreation as part of their economic diversification and now exemplifies a thriving community where different industries need not be at odds.