A portion of the parking lot at the Denver Coliseum may be "under serious consideration" as the city's first temporary Safe Outdoor Space — a sanctioned and managed camping space for people experiencing homelessness during the pandemic — but if it's up to nearby residents and two councilwomen representing them, it won't be for much longer.
Veteran Councilwoman Debbie Ortega, who represents the city at large, and first-time Councilwoman Candi CdeBaca, who represents District 9 in which the Coliseum sits, are demanding a more equitable stopgap solution on behalf of Denver's Globeville and Elyria-Swansea neighborhoods, home to low-income communities of color.
Since April, the GES neighborhoods have also served as the location for two temporary 24-hour emergency homeless shelters inside the Denver Coliseum and at the nearby National Western Complex, which together hold up to roughly a thousand people. Residents say the influx of people into their neighborhood has led to more strangers sleeping near their homes, in their alleys and around their parks, making them feel fearful.
"Once again, Globeville/Elyria/Swansea is expected to bear the brunt of addressing the problem of where to 'direct' our unhoused neighbors," Ortega wrote July 15 in a lengthy email to Councilwoman At Large Robin Kniech, who worked with the mayor's office to identify that location. "Despite the lip-service made to equity and transparency, this is yet another example of city power brokers making decisions behind closed doors that negatively impact low-income, communities of color without their input or involvement."
Kniech told Colorado Politics in an email Tuesday that she has "fought alongside the residents of GES on equity issues such as land trusts, anti-displacement policies, and access to open space, and while I recognize and hear their concerns, there are tough equity considerations on both sides of this site and potential future sites."
Kniech also said she will continue to support "robust community education, dialogue, and input on the best ways for future sites to integrate with their neighbors, in GES or elsewhere." She cautioned, however, that "action to house or shelter those experiencing homelessness cannot be predicated on permission from those who live more safely at home nearby, or our community will fail even more seriously than we already have, because unfortunately I've been in more rooms fighting to keep these solutions out than inviting them in over the past decade."  
Cole Chandler of the Colorado Village Collaborative, the nonprofit that will run the campsites, said Tuesday that the group has been looking for sites "all over the city from the very beginning." 
The campsites were "never intended to be something that were just located in District 9," he told Colorado Politics in a phone interview. "The fact that we have an overburdened and historically marginalized neighborhood, ... we believe that we really need to do better and find another site where this responsibility can be more equitably distributed across the city." 
During public comment before Denver City Council's weekly Monday night meeting, Drew Dutcher, the president of the Elyria-Swansea Neighborhood Association, told council members that residents are already "overburdened" by the Interstate 70 expansion project.
"Construction has literally torn up our neighborhood, increasing stresses at all levels on all residents," he said. "We simply cannot take anymore."
Dutcher called the city's public outreach efforts "a cruel joke," and said the process has been "sneaky" and "not transparent."
In Ortega's email to Kniech, she echoed Dutcher, deeming it "appalling" that the neighborhood would be given "less than 24-hours' notice" of the intent to rush, or "direct file," a contract through the Council that would place the homeless camp in their neighborhood.
Chandler said "you can never reach everyone — you can do your best, and we can do better and we're going to try to do better and work really closely with Councilwoman CdeBaca's office to do better — but it's just a very difficult process."
Kniech has yet to direct file the measure, since she first told council members in a July 15 email about her plans to do so as soon as the following day if "all is a go." 
In a fact sheet Kniech provided to council members in that same email, the Coliseum parking lot was identified as a potential site because it met several criteria: "It is proximate to the 24/7 auxiliary shelter for people experiencing homelessness inside the Coliseum. The use is allowable under existing zoning. It meets engineering and flood-plain requirements, is easily accessible by public transportation, and is conveniently located for service providers."
Kniech told Colorado Politics that the Coliseum lot would also have come "without a price tag" at a time when the city faces a $227 million budget shortfall due to the pandemic.
Mayor Michael Hancock's spokesperson Theresa Marchetta told Colorado Politics in an email Tuesday that one of the "more challenging aspects of serving people experiencing homelessness is where to deliver those services.
"There will never be an ideal location and there will never be enough public outreach," she wrote. "That said, we remain committed to connecting unsheltered people living on our streets with services and housing, while always listening to and protecting our neighborhoods."
The search for spots to set up camp officially kicked off after Hancock announced July 1 "with some reluctance" his support of the Safe Outdoor Space proposal that was first brought forth in April by the Colorado Village Collaborative, which runs the city's "tiny home" village.
Hancock said he based his decision on these being "extraordinary times that require extraordinary measures," a pivot that comes eight years after the city passed its urban camping ban and barely a year since Denver residents voted overwhelmingly to uphold it. (A Denver county judge has since ruled the camping ban unconstitutional, and the city has appealed that decision.) 
A week later, Hancock asked for help finding locations from a group of council members who, in late April, had written to him lobbying for a temporary sanctioned outdoor space.
In Hancock's letter to Council members Kniech, Ortega, CdeBaca, Amanda Sandoval, Jamie Torres, Paul Kashmann, Stacie Gilmore and Chris Hinds, he said the city's intent was to work closely with the Colorado Village Collaborative to set up one to three 50-tent campsites, each with enough room for up to 60 people.
Only four councilors — CdeBaca, Hinds, Sandoval and Torres — formally submitted proposals to the mayor's office, according to Skye Stuart, Hancock's legislative director.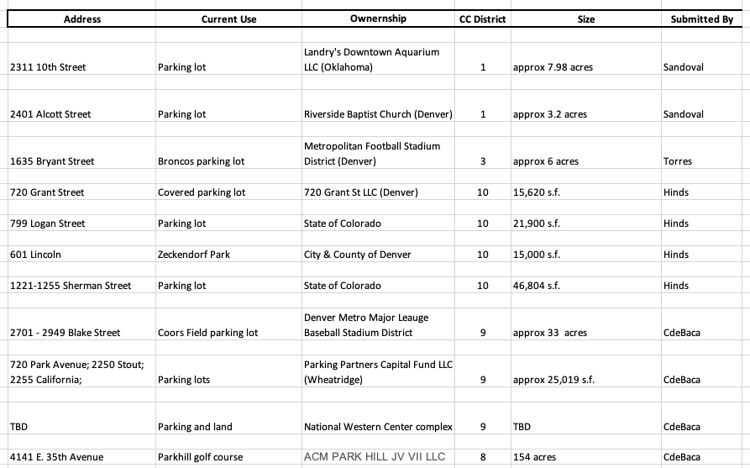 The plan is for each temporary site, wherever they are placed, to be staffed 24/7 by the Colorado Village Collaborative and accessible around the clock. The goal is to mitigate the spread of the coronavirus and connect the unhoused with health care, hotels, housing and other resources.
Each camp will be equipped with bathrooms, showers, hand sinks, food, water, shade tents, electricity, internet and laundry services. There will also be daily wellness screening and COVID-19 testing access.
No violence, weapons, drug use "in common areas," theft, fires, "disruptive" behavior or personal guests will be allowed for residents of the sanctioned spaces.
Hancock on Monday morning highlighted the Safe Outdoor Space plans in his State of the City address, which CdeBaca attacked in a press release.
"It's not enough to repeat the slogan 'we can do better' and point to the Safe Outdoor Space (SOS) proposal, an initiative the mayor resisted for months, as solutions to the current homelessness crisis," CdeBaca said in a statement later that afternoon. "SOS is a harm reduction measure that needs to be implemented citywide and at a scale to meet the need in our city — I will not allow District 9 neighborhoods of color to continue to be a dumping ground for failed administration policies."
Around Denver and across the metro area, homelessness continues to rise.
At least 4,171 people were without housing in Denver, according to this year's Point in Time survey, which was conducted in January prior to the coronavirus pandemic. Among the more than 6,100 people living unhoused in the entire metro area, a quarter of those surveyed said they were staying outdoors. 
Of the populations identified, 759 people were actively fleeing domestic violence, 627 were veterans, 278 were unaccompanied youth and there were at least 420 families.
"These data demonstrate homelessness was a crisis before COVID," said Matt Meyer, executive director at the Metro Denver Homeless Initiative, which coordinates the PIT each year and reports the data to the U.S. Department of Housing and Urban Development.
"With eviction moratoriums and other protective measures ending, we fully expect to see dramatic increases as a result of the economic impact of the pandemic," he said earlier this month. "Reinstating these moratoriums on a local or state level would significantly decrease the impact for those households on the edge that now face homelessness."
Editor's note: This story has been updated with comments from Denver Councilwoman At Large Robin Kniech.