Colorado Gov. Jared Polis has appointed state Attorney General Phil Weiser to investigate "potential criminal activity" involving Brittny Lewton, the elected district attorney for seven northeast Colorado counties.
In an executive order issued Aug. 15 (a copy of which is attached to this story), Polis said he is "aware of allegations of misconduct and potential criminal activity involving the elected district attorney for the 13th Judicial District."
The district, based in Sterling, covers Kit Carson, Logan, Morgan, Phillips, Sedgwick, Washington and Yuma counties.
Polis' order says that Matt Karzan, the newly appointed district attorney in northwest Colorado's 14th Judicial District, "conducted a preliminary investigation into these allegations and concluded that further investigation is warranted. ... The Governor therefore finds that it is necessary for the Attorney General to act as the State's prosecutor and investigate and, where the evidence permits, prosecute potential criminal activity involving the elected district attorney for the 13th Judicial District."
The matter was first reported by Colorado Public Radio News' Allison Sherry.
The order does not state the nature of the "allegations of misconduct and potential criminal activity."
CPR News, citing "a source with knowledge of the investigation," reports that the "allegations are connected to Lewton using her position as a prosecutor to improperly obtain prescription opioids."
The news outlet says employees in Lewton's office "raised concerns to local law enforcement about Lewton's behavior."
Karzan, whom Polis appointed 14th Judicial District DA as of July 1 to fill a vacancy, told Marshall Zelinger of 9News that the Colorado Bureau of Investigation had launched an investigation of Lewton. He said Tom Raynes, executive director of the Colorado District Attorney's Council, then asked him to review the CBI case.
Karzan's district, based in Hot Sulpher Springs, covers Grand, Moffat and Routt counties.
Karzan told 9News that under normal procedure, the 19th Judicial District in Weld County would review an investigation involving the 13th Judicial District. "He said he was picked because he was new, didn't know Lewton and was far away from her district," Zelinger reports.
Karzen told 9News that he determined that further investigation of this case was warranted, and he notified Polis and Weiser.
Polis said in his order that he tapped Weiser to investigate because "the conduct of elected officials is a matter of statewide importance, as is the integrity of the offices of the twenty-two elected district attorneys responsible for prosecuting crimes in our state."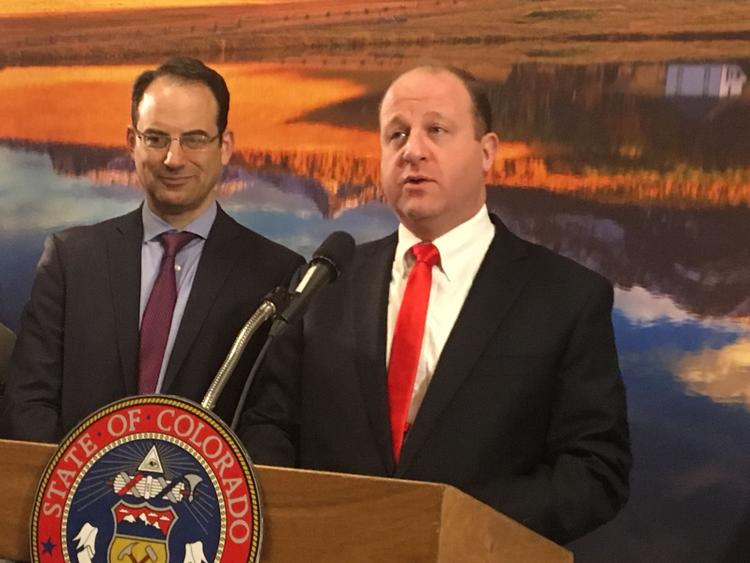 Stan Garnett, a former Boulder-area district attorney and now a private attorney who is representing Lewton, raised questions about a Democratic governor appointing a Democratic attorney general to investigate a Republican elected DA.
Lewton endorsed Republican Walker Stapleton, Polis' opponent in last year's race for governor, and endorsed George Brauchler, Weiser's GOP opponent in 2018.
"We're trying to figure out exactly what's going on and what the agenda is," Garnett told 9News.
He also questioned why Polis would be the one to appoint a "special prosecutor" in such a case.
"The Colorado Constitution protects carefully the right of district attorneys to be the only officials that are able to bring charges in a case," he told 9News.
According to information on her official website, Lewton was born in Denver and earned her law degree at the University of Wyoming School of Law.
She was hired by the 13th Judicial District Attorney's Office in 2005 after working there as an intern, and served as lead drug and sexual assault prosecutor before being promoted to chief deputy and then to assistant district attorney, the official biography says.
She was first elected DA as a Republican in 2012 and was re-elected in 2016 by a 2.5-to-1 margin over Democrat Paul Wiese.
Garnett told CPR News that Lewton will "continue her constitutional obligation to run the DA's office."
CPR News quoted an email from Lewton to her employees asking them to cooperate with the investigation, adding, "I am doing fine. ... I intend to continue to show up to the office every day, carry out the obligations and duties that I swore to fulfill as a lawyer and as an elected district attorney."
Under state law, Lewton remains in office unless recalled or impeached or unless she loses her law license.