Four Denver mayoral candidates split Wednesday night on issues of growth and development and how much is too much when it comes to cities.
All of them agreed that a city can reach its capacity, but they differed on whether that's the case today in Denver.
The hour-long debate was co-sponsored by 9News and Colorado Politics and took place at the station's studios with no in-person audience. Kyle Clark and Marshal Zelinger of 9News moderated, and this reporter asked questions about growth and homelessness.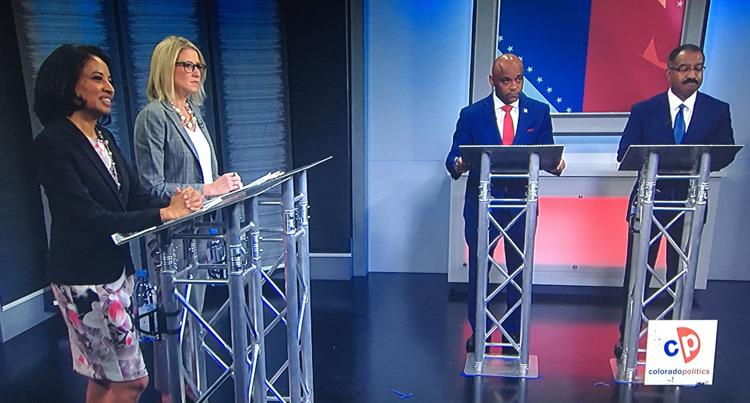 Growth and development have been the predominant theme in the campaign so far which is now 20 days away from the results of the city-wide mail in ballot.
The candidates were asked: "How much growth is too much, or is a city is a dynamic thing where the concept of capacity does not apply?"
Mayor Michael Hancock, who is seeking a third and final four-year term, responded that he does not believe Denver has hit capacity yet but that market pressures will determine when it has.
"We also have to wait for the market to work itself out," Hancock responded. "We're already seeing kind of the ebbing of the population growth in Denver. People are already beginning to choose … and are moving other places."
But Hancock also asked residents to appreciate what Denver has achieved during a decade of unprecedented growth
"I want us all as the city of Denver to take a bow and to embrace the fact that we are the most desirable city in the country," he said.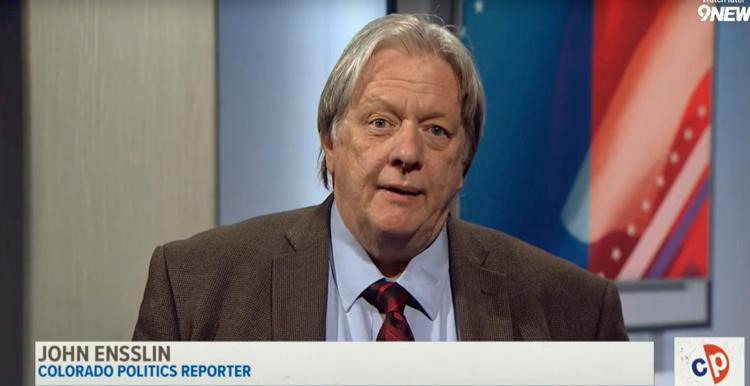 His three challengers – all of whom have tried to tap into frustration over the city's rapid growth – hammered the mayor for not doing a better job of managing that growth. But there were subtle differences among the challengers as well.
Lisa Calderón, a Regis University criminal justice professor, said Denver already has reached its capacity in terms of its infrastructure.
"Our infrastructure has not grown as the city has grown," she said. "It's interesting that the mayor has taken credit for all of the growth but takes no responsibility for any of the growing pains that go with it, including people being pushed out of their communities."
Penfield Tate III, a former state lawmaker, said the city still has room to grow, but it depends upon how that growth is managed.
"We've grown in a fashion that isn't compatible with neighborhoods," Tate said.
"Capacity is impacted by management style," Tate added. "What you can handle is a function of how you let your growth and development occur."
Jamie Giellis, a planning consultant and past president of the River North Arts Districts, also saw room for growth if managed properly.
"Cities are evolving growing things. A city can accommodate a lot of growth and change over the course of time or the course of history. We know that," she said.
"It's how the change is managed," she added. "Right now, what we see is, there are traffic issues. Cost of living here is tough. People are having to work multiple jobs just to afford what they're doing."
Two other mayoral candidates on the ballot, disabilities rights activist Kalyn Rose Heffernan and community activist Stephan "Seku" Evans, were not included in the debate. Both trail well behind the other four candidates in terms of fundraising.
When the challengers were asked whom they would support if there were a runoff between Hancock and another candidate, Calderón said Heffernan, and named Tate as a second choice; Tate said he would support Calderón. Giellis said she would support "anybody but Hancock, either Lisa or Pen."
A runoff election of the top two candidates would be held June 4 if no one gets more than 50 percent of the vote.
There was a bit of post-debate trolling that spilled over onto social media.                                                                                    
Even before the debate was over, someone on the Hancock campaign Twitter account tweeted:
"Glad to hear @JamieForDenver just changed her mind and supports the #Comp2040 plan," referring to the Denveright comprehensive plan coming up before the Denver City Council on Monday.
That prompted Giellis to tweet back: "I most definitely do not support passing the comp plan next week, but nice try. I called for a pause and I'll stick to that."
Several of the challengers have called on the city council to delay a vote on the plan until after the election.