Oct. 1 marks the beginning of the 2019-20 water year, and that means looking forward to the next season's snowpack and what lies ahead around demand management and guidelines that will determine how to manage the Colorado River.
The U.S. Drought Monitor reported Thursday that Colorado began the new year with nearly 70% of the state in the lowest level of drought, known as D0, or "abnormally dry." Southwestern and south central Colorado have increased to a D1 "moderate" drought level, which covers about 27.5% of the state. This is typically where the state sees some signs of the worst drought conditions. 
 Just three months ago, Colorado was drought-free for the first time in nearly 20 years, showing just how fast the state can dry out and start to use up water stored in its 79 reservoirs. 
Colorado's reservoir levels are still in good shape, according to reports from the National Resources Conservation Service, a program of the U.S. Department of Agriculture.
Most state reservoirs are still full or nearly so, although signs of stress -- and low water levels -- are beginning to show up in places like the Upper Rio Grande basin, which is in the San Luis Valley and the Lower Arkansas River in southeastern Colorado.
Most reservoirs in those areas have dropped well below half full, according to most recent NRCS reports. Additionally, the water levels in those areas are only slightly ahead of what they were a year ago, showing the demands on those water supplies.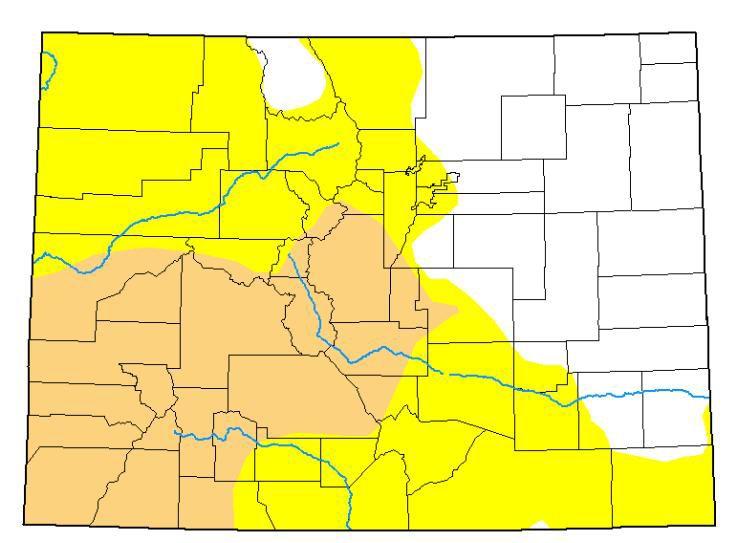 Why Oct. 1 as the start of a new water year? According to Abby Burk, western rivers regional program manager for the National Audubon Society, it's a hydrologic (water geography) determination. It's the point in the year when water levels are at their very lowest, getting ready for the fall and winter snowpack accumulation.
Jim Pokrandt, community relations manager for the Colorado River Water Conservation District, calls it something of an accounting device that reflects the end of the warmer months and the beginning of the winter and snowfall.
A new water year is also a hopeful one, he said. "2018 was horrible, 2019 was bountiful, but 2011 was great but 2012 was one of the worst in the last 20. An average year nowadays feels like a big year."
Pokrandt said if Lake Powell -- the reservoir that stores water for the upper Colorado River basin states of Colorado, Wyoming, Utah and New Mexico -- is ever to fill again, the basin would need four years like 2011 in a row.
"You never know what will happen; we see great variability," Pokrandt said. "If we'd had two years like 2018 in a row, you'd see a lot more urgency around drought contingency planning."
Burk says a new water year is a keystone moment for those who work in water policy.
"We hit the reset button," she told Colorado Politics. "We just came off a tremendous water year, which lubricated some of the harder conversations" around what comes next: Colorado's role in the seven-state Drought Contingency Planning agreement.
"It's been easy to talk about water in the past year," Burk said. "It's easy to talk about it when we have it, and harder when we don't."
The Colorado Water Conservation Board is currently working on a feasibility study, known as demand management, that asks whether Colorado should look at compensated, voluntary and temporary reductions in water use to allow the state to "bank" more of its water in Lake Powell. Banking water would ensure that Colorado remains in compliance with compacts that dictate how much Colorado River water heads downstream out of the state every year.
CWCB officials have said that all four upper basin states have to agree to a demand management plan, otherwise, it's a no-go.
The work around demand management has not been without controversy. Initially, the CWCB required those who participate in those working groups to sign non-disclosure agreements, although after push back, including from task force members, those agreements were rescinded.
The CWCB also has taken heat from lawmakers, including those on the interim water resource review committee, for a less-than-inclusive process and failing to make information more available to the public on how to participate. The CWCB claimed it was using its internet resources as much as possible to publicize the working groups, an answer that failed to satisfy West Slope lawmakers who pointed out that the lack of broadband in Western Colorado means many people don't get their information that way.
Other areas of focus in the 2019-20 water year: the state water plan and what happens if Proposition DD passes, the work of the "For the Love of Colorado" campaign, which seeks to bolster awareness of Colorado's water needs; and what's known as renegotiation of 2007 interim guidelines for the management of the Colorado River.
Proposition DD would legalize sports betting in the state and impose a 10% tax, about two-thirds of which would flow to water projects.
"Every state has its own culture of water use," Burk said. "It will be interesting to see how the states navigate the more variable hydrology, and in light of this and climate change how to create healthy Colorado river that supports all of us."
Colorado is leading the way on discussions around demand management, Burk said. That includes the working groups looking at issues ranging from legal requirements and funding to the impacts demand management would have agriculture and the economy. 
"From here on, we're gaining water to play on, to recreate on, for the economy and for the spring melt," she said. "It starts today."