The Colorado State Fair is underway in Pueblo, and that's the way it should be.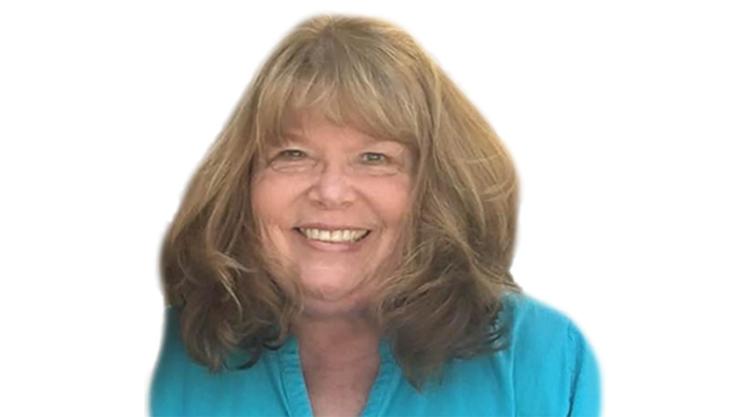 Talk over the years of moving the fair out of Pueblo or even shutting it down because of financial concerns has incensed southern Colorado lawmakers, but in 2006 they got some reassurances from state Rep. Tom Plant, who served on the legislature's Joint Budget Committee.
"Without the State Fair, Pat Benatar, 38 Special and The Guess Who would have nowhere to play," the Boulder County Democrat deadpanned.
(He'll be here all session; try the corn dogs.)
The Pueblo Chieftain recently touted the State Fair in an editorial:
"Every once in a while, we hear talk about moving the fair to some other location in Colorado. Simply stated, that's nuts. The fair has been a fixture in Pueblo since 1872. Its history, its relatively central location and its ties to the rural areas around our community makes it a perfect place for this annual event."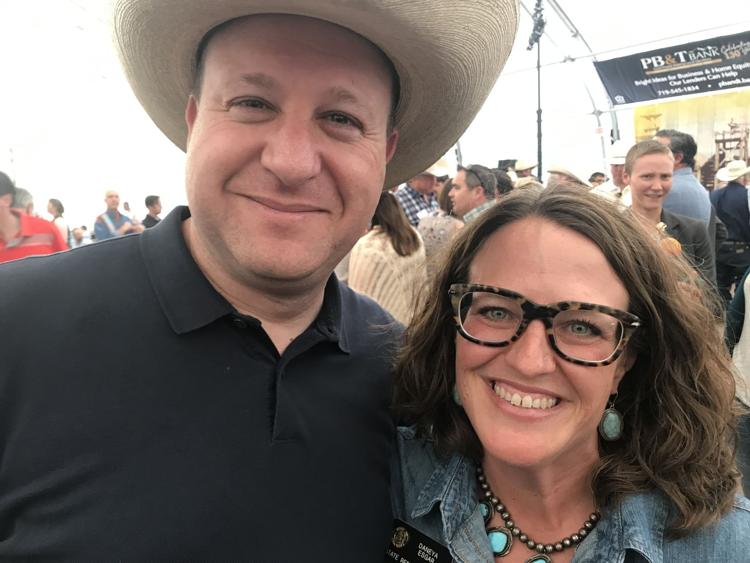 I agree.
I like Pueblo.
There's something about the town that reminds me of working in New Mexico. Maybe it's the early days of the Italians, Slavs and Mexicans working side by side, whether it be in the mines or the steel mill. Maybe it's the chain link fences. Or perhaps it's the weather with those hot, hot, hot summer nights.
Sometime after I started covering the Colorado General Assembly in 2000, I began attending the State Fair legislative barbecue organized by the Pueblo Chamber of Commerce.
The governor and his cabinet members mill about. So do lawmakers, lobbyists, members of Congress and a variety of elected folks from Pueblo and nearby counties. A number wear cowboy hats and cowboy boots. Gov. Jared Polis, who took office in January, wore his blue tennis shoes, as expected.
Some years, the political theater does not disappoint.
Take 2009. Legendary Pueblo lobbyist Wally Stealy, standing near a table laden with steaks and baked potatoes, blistered the governor, fellow Democrat Bill Ritter, for his stance on several labor issues during the session.
And Stealy told folks that former House Speaker Andrew Romanoff planned to challenge U.S. Sen. Michael Bennet in the Democratic primary next year. That was big news. Ritter had appointed Bennet to the vacant seat earlier that year, to the dismay of Romanoff and his fans.
At the next State Fair barbecue, in 2010, the buzz was still about Bennet and Romanoff. Bennet had beaten Romanoff, 54 percent to 46 percent, but the shocker was that Bennet carried Pueblo County by 1,751 votes. Romanoff had kicked off his campaign in Pueblo because of his large base of support there.
Conventional wisdom that August in Pueblo was that Republican Ken Buck would win in November. Instead, Bennet eked out a victory.
In 2013, Pueblo lawmaker Angela Giron mingled with fair-goers, as did those who were trying to oust her for her gun votes during the session. The next month, the Democratic senator lost her job when voters chose to recall her.
This year's State Fair legislative barbecue offered its own subplots.
Bennet, who is campaigning for president, missed the event.
Twelve Democrats, including Romanoff, are vying for the chance to unseat Republican U.S. Sen. Cory Gardner next November. The latest candidate to join the race is former Gov. John Hickenlooper, who dropped out of the presidential race and one week later, the day before the barbecue, announced he would take on Gardner instead.
Romanoff wasn't at the State Fair legislative barbecue on Aug. 23, the fair's opening day. Neither was Hickenlooper, who was at a funeral in San Diego. But three Democratic Senate hopefuls were there: House Majority Leader Alice Madden, former U.S. Attorney John Walsh and state Sen. Angela Williams.
"This won't be a coronation," Williams was widely quoted as saying when Hickenlooper entered the race.
And it hasn't been.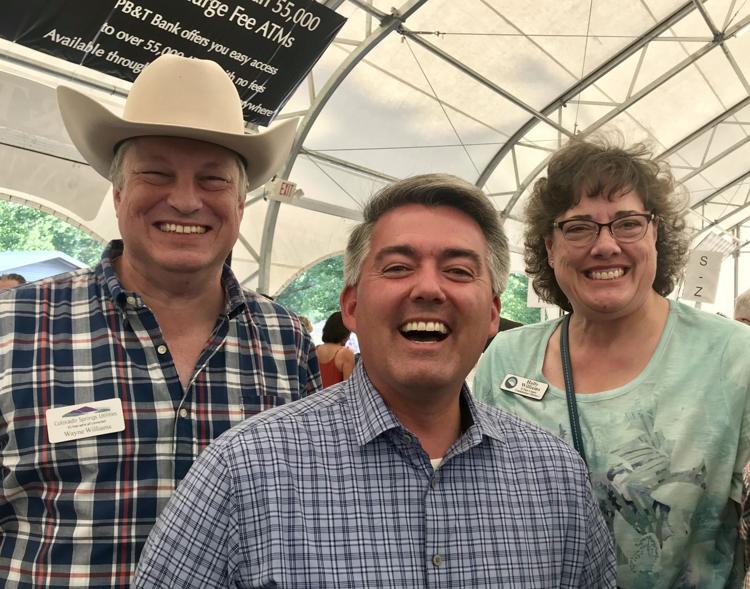 The Colorado GOP couldn't wait to rib Hickenlooper for what he said about the Colorado State Fair while campaigning for prez at the Iowa State Fair.
A short video shows a clip of Hickenlooper talking to a guy in an Iowa T-shirt and comparing the two fairs, noting that Colorado's is nowhere as big as Iowa's. "This is the big time," Hickenlooper says of the Iowa event. "It's like being a baseball player getting up to triple A and thinking you're there, but you're not quite there. "
Hickenlooper's right. The Iowa fair is yuuuuuuge. Still, the GOP couldn't resist. "John Hickenlooper compared Colorado to the minor leagues," an announcer says as baseball-themed music plays in the background.
But it was The Onion that really burned Hickenlooper, facetiously announcing he was dropping out of the Senate race to run for Jefferson County commissioner instead.
Gardner, who ranks right up there when it comes to one-liners, couldn't resist when questioned about the Onion.
"I asked at @CoryGardner about @Hickenlooper getting into the #cosen race and he said he told Libby Szabo (Jeff Co Commissioner) she'd be OK," Denver Post reporter Anna Staver tweeted.
At that same barbecue, I underwent a revelation so earth shattering and life changing I had to immediately share it on Twitter with one of Pueblo's fiercest defenders, state Rep. Daneya Esgar.
For several years, Esgar and I have traded barbs over green chile. Naturally, she prefers Pueblo's and I like New Mexico's Hatch green chile. Esgar even has a tattoo of a green chile on her left shoulder blade that says, "Death before Hatch."
The food table at the legislative dinner featured two big bowls of green chile. I filled my plate with it, covering the beans and the barbecue with those luscious, green slabs of wonderfulness.
My eyes watered. My nose ran. I couldn't have been happier. It turns out I am a fan of Pueblo chiles, a big fan.
But the barbecue is not the end of the State Fair for me.
The following week I join up with the Denver Rustlers, a group of civic and business do-gooders who gather in their Rockmount Ranch cowboy shirts, and enjoy a light meal in the Denver Tech Center. They then board buses and head to the State Fair to bid on livestock shown by young Coloradans.
The Denver Rustlers began 35 years ago during an economic downturn, when a lack of bidding threatened to shut down the Junior Livestock Sale. At the urging of the late Tom Farley, a Pueblo native and former legislator, and then-ag czar Tim Schultz, business folks, including Larry Mizel, rallied to invest in the kids' future by supporting the stock show. Pueblo native Frances Koncilja, a Denver attorney, oversaw the Rustlers for nearly 20 years.
The Rustlers have raised and spent millions on the livestock sale, helping young Coloradans pay for their college. Thank you, Laura Teal, for first inviting me to Rustlers.
Back to 4-H. I belonged to 4-H growing up. I never showed livestock, but along with my siblings we recited the 4-H motto, baked, decoupaged, sewed, played ball and couldn't wait for the county fair.
The sight of a Ferris wheel in the night sky makes me smile -- especially if I'm in Pueblo.
(The Colorado State Fair runs through Monday; information here.)
Lynn Bartels can be reached at againlynn@gmail.com.
-
-
-
-