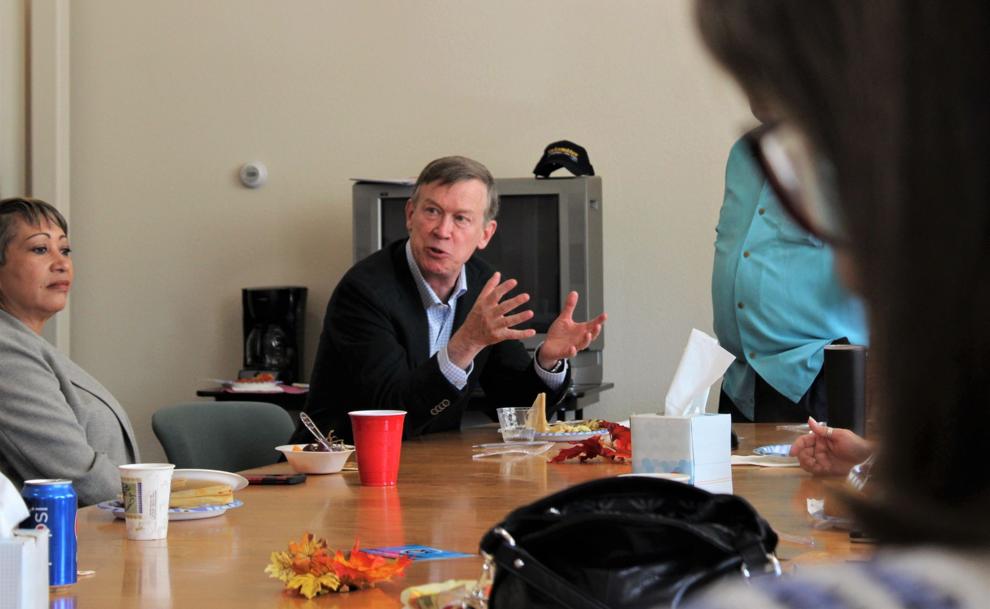 In a sunlit room seated at a wooden table peppered by paper plates with eggs, tamales and red enchiladas, Colorado Democratic U.S. Senate hopefuls —  former Gov. John Hickenlooper and state Sen. Angela Williams, followed separately by former state Speaker of the House Andrew Romanoff — candidly fielded questions from prominent figures in the state's Latino community over a warm Mexican breakfast on Saturday morning.
The three candidates discussed intimately, among a group of about 40, the issues many Latino elected officials and candidates said matter most to their community as they vie to challenge incumbent Republican Cory Gardner next year.
Topping the list: health care, gun violence, immigration, income inequality and climate change.
Frustrations toward the Democratic party have been festering within the Latino community, said David Ortiz, a candidate running for the state House of Representatives.
Many Latinos feel forgotten.
"When is it our turn?" Ortiz asked. "When are we finally going to be a priority?"
Hispanics will represent the electorate's largest minority group in the 2020 election for the first time in history. A record-breaking 32 million Latinos nationwide are expected to be eligible voters next year, according to the Pew Research Center, a nonpartisan research group. That's up from about 27 million in the previous presidential election year.
Colorado ranks in the top 10 states with the largest Latino population, Pew found. The latest census data shows nearly 22% of Coloradans are Hispanic or Latino.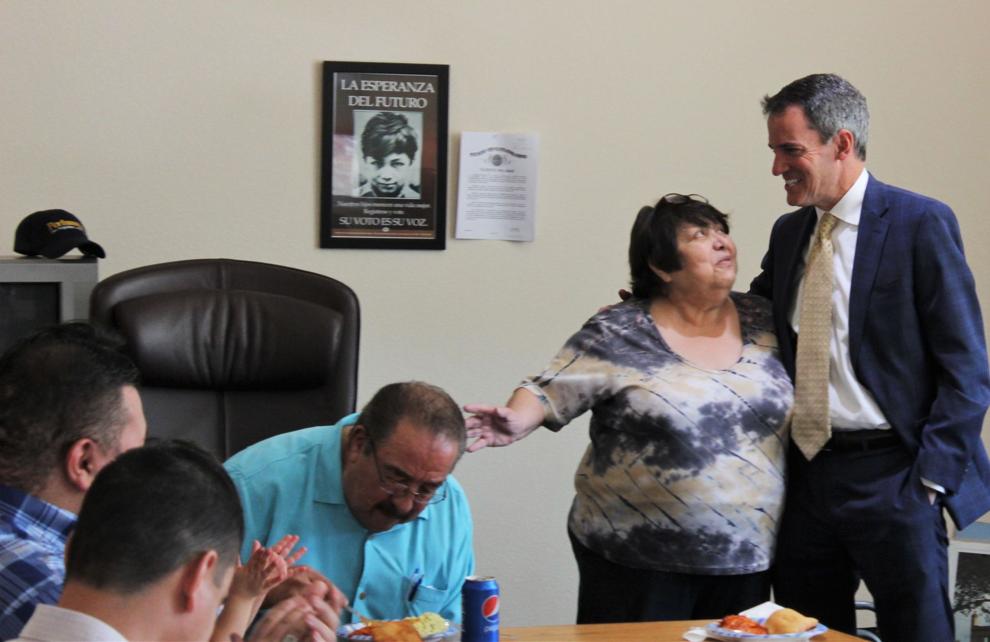 The Colorado Democratic Latino Initiative, chaired by Mannie Rodriguez, hosted the breakfast fundraiser at 5590 N. Pecos St. in Denver. The event provided a platform for candidates to explain how they'll make sure the needs of Colorado's Latino community are heard in Washington, D.C.
Hickenlooper — the Democratic U.S. Senate primary race frontrunner — pointed to his record as a two-term governor.
In 2013 he signed into law Williams' ASSET bill, which provides in-state tuition rates to college students living in the country without legal permission.
Hickenlooper also passed legislation that allows people unlawfully living in the states to obtain a driver's license or ID card, under certain requirements, so that "anybody could feel like part of our community," he said.
"I think in a very powerful way what we did in Colorado for the Latino community and people of color is what we need to do in Washington," Hickenlooper said. "Really double down on making sure that we create equal opportunity."
It's the former governor up here and everyone else down there.
When the issue of gun violence was raised, Romanoff shared the story about the day his family's lives were shattered after his younger cousin ended her own life with a bullet. The tragic experience, he said, led him to starting and running a mental health organization for four years.
In his mind, Romanoff said, a 10-point plan to reduce gun violence in America includes universal background checks, a ban on military-style assault weapons, a ban or "at least a limit" on high-capacity magazines, as well as stronger enforcement of existing laws, such as red flag laws, which he thanked legislators for making happen.
"The gun lobby will tell you — and Gardner, if he bothers to show up in Colorado in the next 13 months, will tell you — that none of the laws I just listed … will stop every shooting," Romanoff said. "And he's right. We won't. No law can do that.
"But if you're holding out for a solution that's going to solve every problem, you'll pass nothing," he said, "which is what they want."
Romanoff said he wants to make sure mental health and substance abuse treatment is a component of universal health care, a system he thinks should be created by taking "a page from other industrialized countries."
When it comes to health care, Williams said she too wants Medicare for all, but sees a need for a public option.
"I don't support just shoving everybody over. I think there should be a choice if you're happy with your plan right now," she said. "But we have to be very careful because turning our health care system upside down on its head when we just got through the Affordable Care Act can be very complex."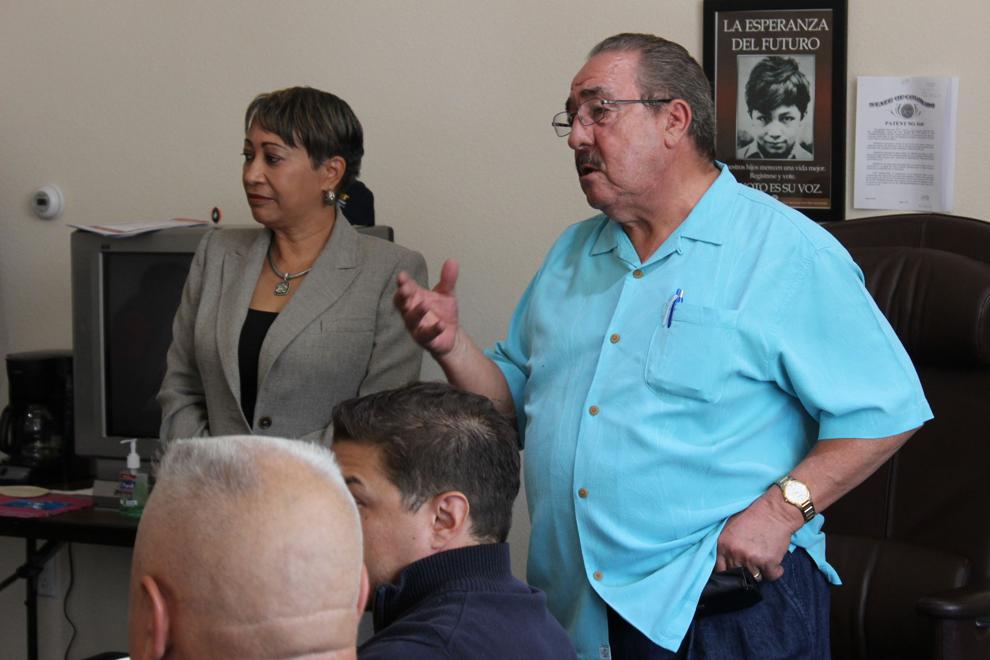 Also brought up were the issues of climate change and Colorado's new health study on oil and gas that found emissions near drilling and hydraulic fracturing sites can have negative health impacts like breathing problems, dizziness and headaches.
Hickenlooper was pressed about both.
Public health is "first and foremost," the governor said, and then pivoted, praising Colorado as "the only state in the country" where the the oil and gas industry can "sit down with the environmental community and measure every single well, every single pump, every single pipe, every single year and look for methane emissions."
He lauded the closure of two coal plants, which he said are being replaced with wind, solar, batteries, and "no natural gas." Coloradans should see their average monthly electric bills fall because of that effort, he said.
When Romanoff was asked about his plans to close the racial wealth gap, he said he wants to strengthen programs like the Earned Income Tax Credit, amend the tax code to "make it more progressive," and increase the minimum wage.
The candidates didn't disagree on much, but they did wholeheartedly agree on one thing: defeating Gardner.
Gardner called out U.S. House Speaker Nancy Pelosi for carrying out what he sees as "a very partisan, partisanized effort."
"When you have a United States senator who can't answer the question of whether or not he thinks it's appropriate for the president of the United States to allow foreign governments to interfere with our elections, we have major problems," Williams said.
"No matter what, we will beat Cory Gardner," Hickenlooper said, a confident promise echoed throughout the morning. "And if I don't get the nomination, whoever is nominated, I will work a thousand percent for that person to make sure, no matter who we have, we're able to beat Cory Gardner."
The former governor has raised about three times what the seven other primary candidates have combined. He reported more than $2.1 million with $1.7 million left to spend at the end of the reporting period.
Gardner raised about $2.5 million, with $6.7 million remaining.
The next fundraising totals for the quarter that ends Dec. 31 are due at the end of January. The state's precinct caucuses are March 7, and the Senate primary election falls on the last day of June.
Editor's note: This article was updated at 5:26 a.m Oct. 22 to correct Rodriguez's name.