Ivanka Trump, daughter of and special adviser to Republican President Donald Trump, wrapped up a two-day tour in Colorado by visiting a child care center near Denver on Friday to highlight the administration's affordable child care efforts.
Next to her, from a safe, 6-foot distance away, was Colorado's U.S. Republican Sen. Cory Gardner, who helped pass the Great American Outdoors Act, which Trump celebrated on Thursday at Rocky Mountain National Park.
Trump and Gardner, who are both parents, met at the Bright Beginnings Learning Center in Greenwood Village early Friday morning to observe the facility's pandemic protocols. They watched, waved and talked with staff as masked kids — some shy, some giddy to see their friends and disinterested in the adults — had their temperatures taken before they entered the daycare.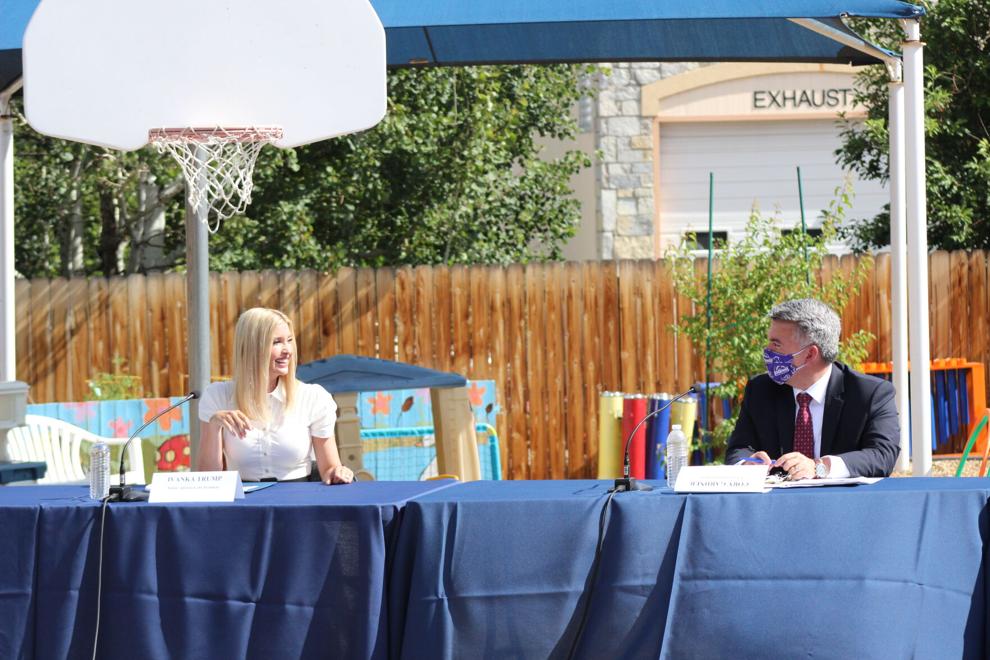 Then the pair headed outside near the playground to hold a discussion about the need to reopen child care centers for working families.
"Bright Beginnings here in Denver, Colorado, is an excellent example of how we can safely return to normal, ensuring working parents, children and child care providers are taken care of and prioritized," Trump said.
The pandemic has "underscored so many of the critical policies for working families," she said, including "high-quality, affordable, accessible child care and early child care education."
Trump praised Gardner for being the "tip of the spear" in ensuring targeted relief for families amid the coronavirus pandemic. Trump and Gardner touted the CARES Act, of which $1.67 billion has gone to Colorado, and the Paycheck Protection Program, which has provided more than 101,000 Colorado businesses with $10.3 billion in forgivable loans.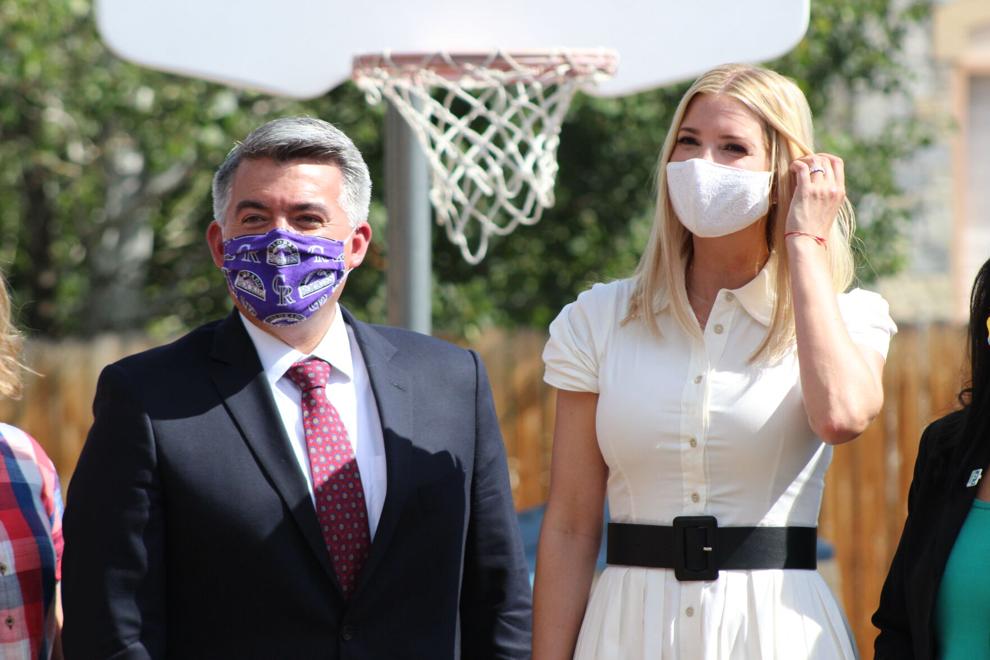 Archie Shinde, the founder of Bright Beginnings and an immigrant from India, said the PPP loan stabilized her business, especially as her clientele dwindled in the height of the pandemic. She not only was able to maintain her payroll and operations, but she was also able to stock up on supplies, such as hand sanitizer, gloves, masks and soap.
Although Trump is "proud" of what the administration has done to date, she said it's "really just at the beginning."
Among some of the panelists, which also included two mothers whose children attend Bright Beginnings, were U.S. Department of Labor Director Laurie Todd Smith; Lynn Johnson, assistant secretary of the U.S. Department of Health and Human Services' Administration for Children and Families; Randi Mendez, the director of quality initiatives at Arapahoe County Early Childhood Council; and David Merage, a "venture philanthropist" and founder of the Merage Foundations.
Trump and Gardner's Friday visit drew praise from the Republican National Committee.
"The Trump administration is working to put the best interests of our nation's youth first and will ensure our schools can safely re-open in the fall," said Andres Malave, the Republican National Committee spokesman for Colorado for the state's Trump Victory campaign. "President Trump and Senator Cory Gardner have continued to renew, restore and rebuild our nation as they lead the Great American Comeback."
Their presence was not warmly received, however, among Colorado Democrats. 
"Ivanka Trump's photo op today did nothing to change the devastating toll that Donald Trump and Cory Gardner's broken promises have taken on working families across Colorado," state Sen. Brittany Pettersen of Lakewood said in a statement Friday. "Trump and Gardner's failure to deliver on child care is proof that they're completely out-of-touch with the challenges that Colorado families are facing, including my own."
Pettersen, who is married to the executive director of ProgressNow Colorado, Ian Silverii, is one of the only lawmakers in four decades to have given birth during a legislative session, when she had Davis James Silverii in January.  
Ryan Hill, a parent who dropped off his two children at Bright Beginnings before attending the event, called it "disappointing."
He highlighted the fact that bipartisanship was a point of focus on the roundtable, and then asked: "So why wasn't Gov. Polis here? He's shown real leadership throughout this entire crisis that President Trump could learn a lot from. Why wasn't Sen. (Michael) Bennett here? Why wasn't somebody else here to show that this really is about the kids, regardless of what side of the aisle they're on?
"By keeping it just one side of the aisle," he said, "we've shown there's a lot more behind this than what's best for the children."
Gardner remains vulnerable in his run for re-election against Democratic challenger John Hickenlooper in a state in which he is highly unpopular with voters. Nationally, President Trump trails former Vice President Joe Biden by 7 points, according to a new Hill-HarrisX poll.