AURORA -- Democratic presidential candidate Elizabeth Warren brought her brand of wonkish populism to Colorado on Tuesday for a rally inside a converted airplane hanger.
"When you have a government that's working great for people with money but isn't working well for everyone else, that's corruption, pure and simple," the Massachusetts senator told an enthusiastic crowd of 1,500 at Stanley Marketplace.
"Here's the good news — I have the biggest anti-corruption proposal since Watergate," she said and then quickly added: "The bad news — we need the biggest anti-corruption proposal since Watergate. If we want to see real change in this country, we need to make big, systemic change."
Warren outlined her plan to "attack the corruption head-on," starting with changing the way things work in Washington, D.C.
Back in the nation's capital, she said, the question that gets asked most often is how to improve the profitability of giant, multi-national corporations.
"Well, I want a government that doesn't work for giant, multi-national corporations, I want one that works for our families," she said to thunderous applause.
Some of the loudest cheers erupted later when Warren described her proposed 2% wealth tax on "the biggest fortunes" in America, which would be imposed on people with assets over $50 million.
"I ask those at the top to pay a little bit more so we can invest in the future for everyone else," she said.
Warren also called for a constitutional amendment to guarantee the right to vote and said she supports the "Medicare for all" proposal, though she believes there's plenty of "low-hanging fruit" the government can pick to reduce costs and increase coverage before implementing a sweeping overhaul of the health care system.
Among the 18 Democrats so far running for president — including former Colorado Gov. John Hickenlooper — Warren has become known for her detailed policy papers, including a public lands proposal released Monday. She began her hour-long speech in Aurora with some of the main points from that plan.
"On the first day of a Warren administration, there will be no more new drilling on public lands," she said, adding that she wants to produce 10% of the nation's electricity from renewable energy projects offshore and on public lands.
She added: "Those national parks belong to us, and I believe that all the national parks should be free."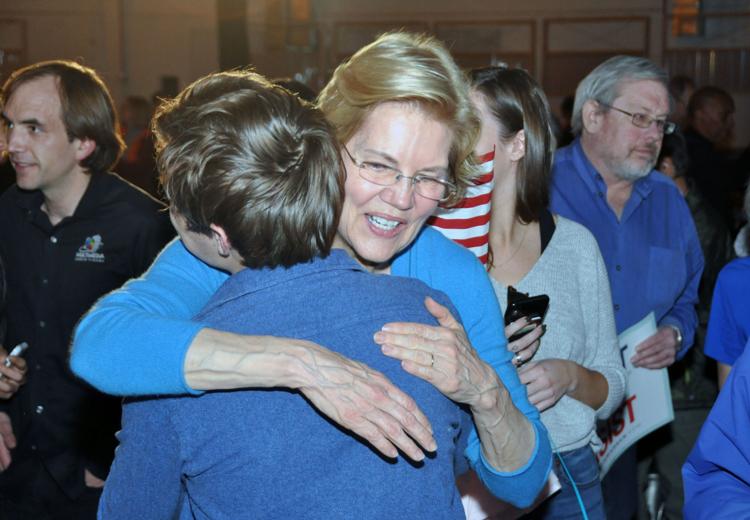 Speaking to reporters after the rally, Warren reiterated her intention to block fossil fuel extraction from public lands.
"Look, climate change is real, it's man-made, and we are running out of time," she said. "We cannot continue to foul our air and poison our water. We've got to make changes in this country, and we've got to make them fast."
The crowd included die-hard Warren supporters — one man wore a T-shirt from Warren's first Senate campaign in 2012 — and others who said they'd come to "kick the tires" on one of several Democratic candidates they're considering ahead of Colorado's presidential primary next March.
"Her message resonates so deeply for me," said Nancy Carroll of Wheat Ridge. "It's very empowering to do something to make a change instead of just complaining about how things are."
She said she feels strongly about Vermont Sen. Bernie Sanders and admires his "many great ideas" but tilts toward Warren because "she has the numbers, the statistics — she's just so knowledgeable about everything. There's some other candidates that just say things, but she's like, 'Here's what we're going to do.'"
Kathy Daly, a Denver Democrat, called herself a fan of Warren's but said she hasn't settled yet on a candidate.
"I'm exploring at this point," she said, nodding her head to the Motown tunes that played before Warren took the stage.
"I love her stance on big corporations. I love the fact she made the Consumer Financial Protection Bureau happen. I'm also looking at Pete Buttigieg, of course," she said with a grin, adding that she's learned how to pronounce the South Bend, Indiana, mayor's name. "And I like [Minnesota Sen.] Amy Klobuchar, I love [California Sen.] Kamala Harris. I would love a strong woman. I think it's time. I hope the country is ready."
A spokesman for the Republican National Committee noted wryly that Warren's visit to Colorado came a day after the deadline to file federal income taxes.
In a statement emailed to Colorado Politics, Kyle Kohli, Colorado communications director for the RNC, dismissed Warren's "plans to hike [taxes] into oblivion with a government takeover of health care, the $93 trillion Green New Deal and countless other higher-tax proposals to pay for her socialist agenda."
He added: "While Colorado Republicans like Cory Gardner have worked with the president to deliver new economic highs and lower middle class taxes, Warren's crippling plans would do the exact opposite."
Gardner, Colorado's Republican U.S. senator, has been working with Warren for more than a year on legislation to let states that have legalized recreational marijuana — like Colorado and Massachusetts — set their own pot policy apart from the federal government.   
At the conclusion of Tuesday's rally, Warren vowed to stay until everyone who wanted to take a selfie with her had the chance, and soon hundreds of her fans had formed a line nearly circling the inside perimeter of the former hangar. 
Cliff Smedley, who drove from Lafayette to hear Warren, stood at the end of the line but said he didn't mind what looked like it could be a lengthy wait.
"I'm a big fan of Elizabeth Warren," he said with a smile. "I'm a bigger fan of Bernie's, but I'm really hoping one of those two makes it."
Smedley said he planned to post the photo of himself with the candidate to his Facebook page, where he'd already inscribed some favorite lines from her speech.
"'What's it going to take for real change? It's going to take all of us fighting for that change,'" he said. "Those are things I actually posted while I was listening."